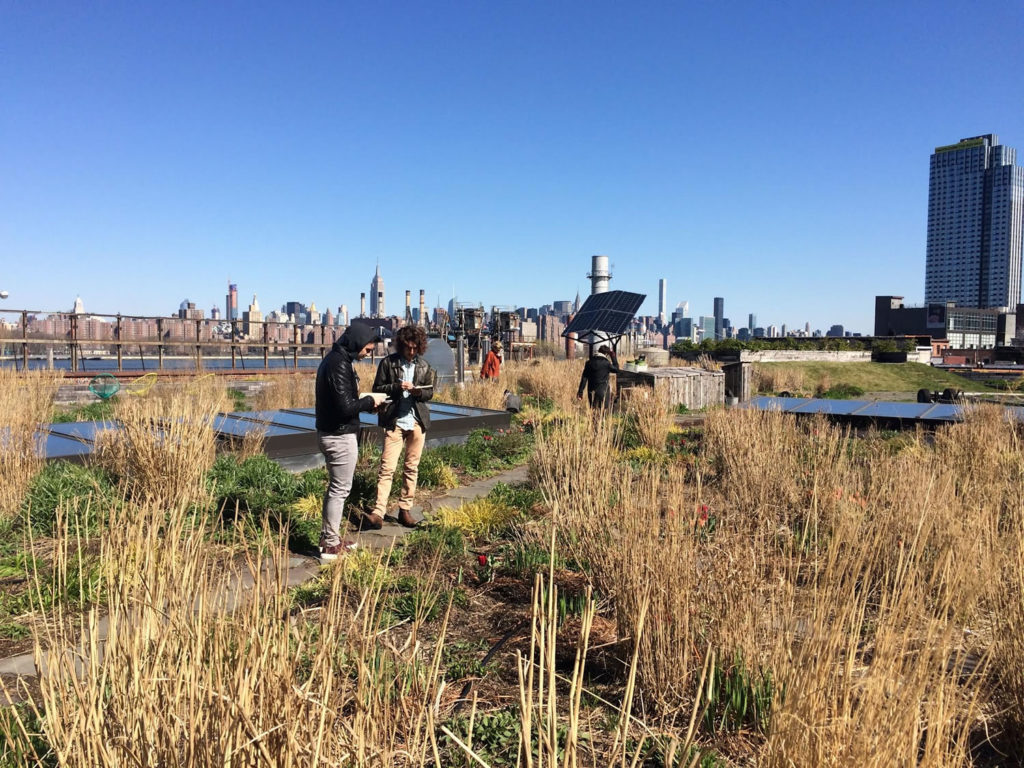 Doom in the Age of the Anthropocene? Parsons Faculty Member Timon McPhearson Envisions a Brighter Future
Many scientists claim that sometime in the 1950s, Earth entered a new geological age, the Anthropocene. The new epoch began when human activities started to have a significant and irreversible impact on Earth's geology and ecosystems.
The dominant narrative around the Anthropocene verges on the apocalyptic: At best, a depleted Earth biosphere threatens humanity's progress and potential; at worst, it threatens its very existence.
Timon McPhearson acknowledges that threat. However, he believes positive visions are needed to replace the negative framing of the Anthropocene, which could hinder action and perpetuate the very future that humanity hopes to avoid.
McPhearson — associate professor of urban ecology, chair of the Environmental Studies program, and Tishman Environment Design Center–affiliated faculty member — makes this argument in "Bright Spots: Seeds of a Good Anthropocene," a recently published article in Frontiers in Ecology and the Environment on innovative sustainability initiatives. By highlighting these initiatives — otherwise known as "seeds" — researchers such as McPhearson are hoping to demonstrate that it is possible to secure a better, more desirable future for humanity.
"We began this project in response to the pervasive negative discourse around the future of humanity," McPhearson says. "To achieve a more positive, 'good' Anthropocene, we need positive visions and on-the-ground examples of how the future is already being built in the present. The 'seeds' in our study are the cases we are collecting that showcase potential positive futures being created now."
Analyzing 100 such "seeds," McPhearson and his co-authors urge action to nurture these initiatives, which they believe would create transformative change. The seeds, which largely exist in North America, Europe, and southern Africa, include technology and design ideas that could reduce ecological footprints, organizations working to improve resource management, and biodiversity conservation and efforts to increase the sustainability of food production.
The project highlights efforts around "seeds" that have proved successful, and lays out plans for how they can be scaled up, replicated, and shared. Rather than being developed through top-down structures, the seeds will be built by grassroots organizations working to create change. New School students are already doing their part; many are working at the Stone Barns Center for Food and Agriculture, a farm in the Hudson River Valley designed to create a healthy and sustainable food system.
"Generating and collecting positive sustainability visions and actions around the world is critical to helping everyone — from local residents to city, state, and global policymakers — see the amazing potential we have as a global society to transform our lives and the planet toward sustainability," McPhearson says. "In the Urban Ecology Lab and elsewhere at The New School, we are helping to collect these stories and actions and generate new visions as part of a ten-city urban resilience project funded by the U.S. National Science Foundation."
The Environmental Studies program is also partnering with a number of local community efforts to create change. Students in the Green Roof Ecology course are working with local green roof activists at Brooklyn Grange to enhance urban farming, while others are collaborating with WeACT on social and environmental justice initiatives.
McPhearson hopes that by gathering and nurturing such seeds, we can transform attitudes and create a better future.