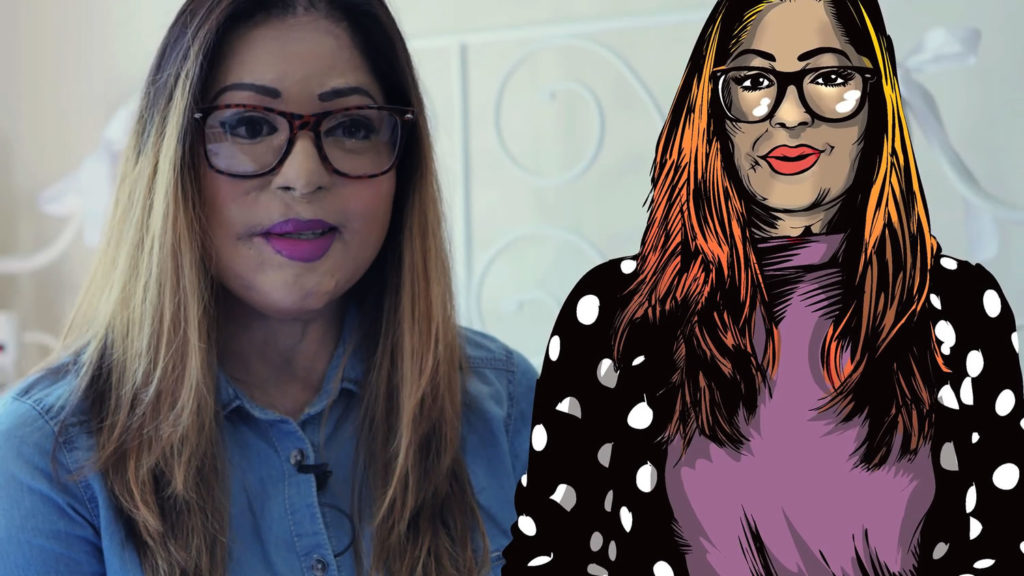 Eugene Lang College Highlights Viral Comic Priya's Shakti in Exploration of Gender Issues
At a protest against the brutal gang rape of Jyoti Singh, a young woman in Delhi, India, in 2012, Ram Devineni struck up a conversation with a police officer. Singh asked him what he thought about the tragedy.
"No good girl walks home at night," the officer replied, implying that the rape victim had either deserved it or provoked the attack.
The officer's response pointed to deeply rooted sexist attitudes toward gender-based violence in Indian society. To challenge this view, Singh realized, would take not only a legal shift but also a cultural one.
The conversation inspired Devineni to create Priya's Shakti, a comic book about a female Indian superhero and rape survivor who travels around her country helping young girls fight injustice. After the comic went super-viral in 2014, Devineni, along with illustrator Dan Goldman, created a second chapter, Priya's Mirror, inspired by victims of acid attacks, including Parsons School of Design alum Monica Singh, Fashion Design '16.
In a recent panel discussion, "Priya's Shakti and Gender-Based Violence," Singh, Devineni, and Goldman discussed the comic book and how it addresses issues of gender violence. They also discussed the violence affecting women in India and around the world and steps society can take to create safer spaces for both women and men.
The event was presented by Eugene Lang College's Gender Studies program, an interdisciplinary area of study that draws its courses from across the university and features substantial public programming and opportunities to explore gender through the arts.
"We're offering students the chance to think about questions of gender through multiple perspectives, with the ongoing presidential election providing particular urgency," says Margot Bouman, the program director. "The panel about Priya's Mirror was the first in a series of events that will help students tackle some of these issues through public conversations."
Now in its third year, Gender Studies is offered as a minor or as a guided area of study. Each year, the program is dedicated to a specific theme; this year, students are exploring the idea of "Space," touching on issues of sexuality, gender, and advocacy.
According to Bouman, this year marks an expansion of public conversations about gender in society—conversations students are encouraged to participate in and shape.
"I'm interested in topics relevant to gender studies that will allow students more opportunities to make their own spaces within the university," Bouman says. "There will be a blog featured on the Gender Studies minor site, and we're going to interview Lang students already engaged in issues regarding gender so that students will learn about each other and their interests."
In addition, Gender Studies will host a series of events, including a talk on October 24 featuring celebrated feminist Carol Gilligan, who will moderate a panel of faculty and students discussing women and the election. Bouman is also working with the Sex-E collective, which is working with the Office of Health and Wellness to engage students in conversations about sexuality.
Although it is only a minor at this point, the Gender Studies program continues to grow. Bouman hopes to increase mobility between the graduate and undergraduate course study offerings. In true New School fashion, Bouman wants to create more opportunities for collaboration and interdisciplinary learning, as she believes gender studies cuts across every field of study and should be taught more broadly.
"I'd like to find a way to offer prospective and matriculated students a more holistic understanding of the work Gender Studies is doing, rather than solely thinking about gender as it relates to their particular field," Bouman says. "This is an incredible moment for gender, and the New School can be a leader in the movement."