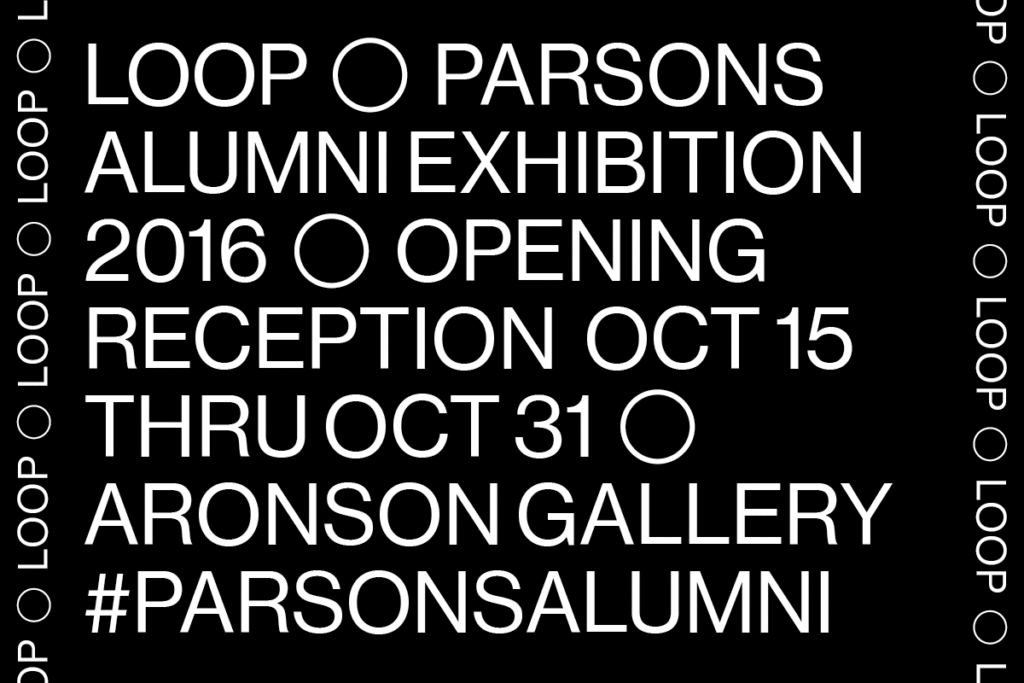 Parsons Alumni Come Full Circle for Reunion and 6th Annual Alumni Exhibition
Parsons School of Design alumni will come full circle this weekend when they return to campus to connect and engage with the next generation of artists and designers.
The alumni will be on hand for Parsons Reunion and 6th Annual Alumni Exhibition Opening on Saturday, October 15, 3-9 pm. The daylong celebration kicks off with tours of Parsons' new state-of-the-art Making Center, followed by Branching Out: Alumni Design New Paths To Success, a panel discussion featuring accomplished alumni, and the Parsons Reunion Reception And Alumni Exhibition Opening. (See the complete schedule for Parsons Reunion and 6th Annual Alumni Exhibition.)
To be held at the Sheila Johnson Design Center, Loop, the alumni exhibition, is an immersive, interactive experience highlighting cross-disciplinary, collaborative work across media. The work, shown in both physical and interactive form via a series of projected loops, was selected by Parsons deans and program directors who were given exclusive access to the creative output of Parsons' visionary graduates. In the process of making their selections, they developed a composite portrait of a multi-generational community of innovators in fields ranging from interactive, experiential design to fashion to urban design.
"Taken together, the works in this exhibition document Parsons' steadfast commitment to producing new ideas, communities, and ways to enrich human experience," says Parsons Executive Dean Joel Towers.
At the start of the day, visitors will have the opportunity to tour the Parsons Making Center. Completed with generous support from the Kay Unger Family Foundation, it is a space where students can explore innovative manufacturing methods, collaborate with their peers across a range of disciplines, and employ state-of-the-art tools to address pressing social needs related to sustainability, human well-being, and reviving urban making.
"This new space allows education and practice to shift from 20th century siloed industrial model, which separates disciplines and thus limits interaction and collaboration, to a cross-platform model, which allows different designers to work together and learn from one another to design the future," said Joel Towers, executive dean of Parsons School of Design. "This approach prepares students to become 21st century leaders within design professions and across management and business."
In "Branching Out: Alumni Design New Paths To Success," a panel of recent Parsons alumni will discuss their work, which has earned recognition by institutions ranging from the Fulbright Association to Forbes Magazine ("30 Under 30") to the Council of Fashion Designers of America. The panel, which will be moderated by Parsons Executive Dean Joel Towers, features Nelson De Jesus Ubri, BFA Architectural Design '15 junior designer at Hecho Inc.; Lucy Jones, BFA Fashion Design '15, social innovator at Eileen Fisher and 2015 Womenswear Designer of the Year; Angela Luna, BFA Fashion Design '16, founder and president of Adiff; and Sophia Sunwoo, BBA Strategic Design and Management '10, principal, startup architect and co-founder of Water Collective.
Alumni members of the Parsons Reunion committee include Amanda Curtis, AAS Fashion Design '11, Co- Amanda Curtis, AAS Fashion Design '11, Co-founder and CEO, Nineteenth Amendment; Carly-Ann Fergus, MA Fashion Studies '16, Program Director, XRC Labs; Ji Lee, BFA Communication Design '96, Creative Lead, Facebook; Prithika Madhavan, BBA Strategic Design and Management '14, User Experience Consultant, IBM; Esther Silber, AAS Fashion Marketing '00, CEO of Esther Inc.; Alvaro Soto, MFA Design and Technology '12, Senior Design Manager, IBM Watson Group, IBM; Savva Teteriatnikov, BFA Environmental Design '93, Vice President of Design, Skechers USA, Inc. and Daniela Velasco, BBA Strategic Design and Management '14, Creative Director at Drift magazine and Co-founder of Ambrosia magazine.