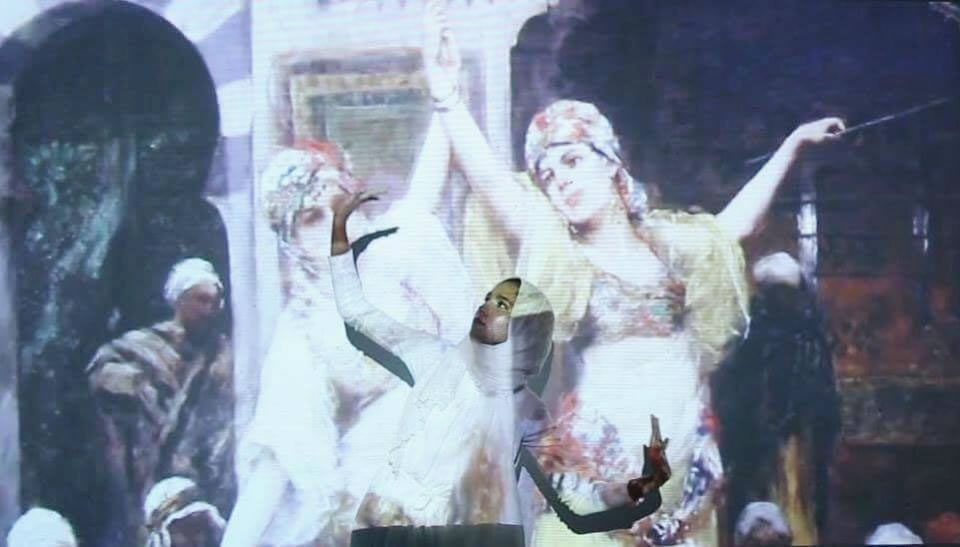 Azzah Sultan, BFA Fine Arts '16, Confronts Muslim Stereotypes with Her Art
First, there were the "little micro aggressions" — the peculiar stares, the insensitive comments. Then there were the shouts of "Go back to the Middle East!" that came from down the street.
They were directed at Azzah Sultan because she wears a headscarf.
"I wear my headscarf because I want something to ground myself in my faith, and I don't want to forget where I came from," says Sultan, who is Muslim. "What a lot of people don't understand is that in a post-9/11 context, Muslims are growing up with negative stereotypes of their religion."
Sultan's exposure to Islamophobia goes beyond her own personal experience. In recent years, she has seen news reports of verbal and social media threats made against Mosques, attacks on Muslims, and, most disturbingly, a Muslim woman who was set on fire on New York's Fifth Avenue.
Given the suspicion of and outright aggression toward followers of Islam, it can be unnerving, even frightening to be a Muslim living in the United States in 2016. Sultan is confronting this issue head-on. A recent graduate of the BFA Fine Arts program who now works as a professional artist, she's channeling her fears and frustrations, and challenging negative stereotypes of Islam, through her art.
"For me, and other people of color, art is an important outlet," says Sultan, who moved from her native Malaysia to the United States in 2013 to attend Parsons School of Design. "It's a way for us to convey our struggles and experiences in a visual form. It's also a way to get our message across to a wide range of viewers and hopefully educate them on issues to which their privilege makes them blind."
Sultan has done just that through a series of socially engaged projects spanning painting, sculpture, video, and found art. For Home Sweet Home, a project that was covered in The Huffington Post, among other publications, she stitched together red, white, and blue headscarves donated by Muslim women from across the country to create an American flag.
The project, which was created right around the time Donald Trump announced his candidacy on an anti-immigrant platform, illuminated the crisis of identity confronting many Muslim Americans.
"During that time, a lot of Muslims felt like they had to pick between being Muslim and being American," Sultan says. "But religion doesn't have to conflict with your nationality. With Home Sweet Home, I expressed this idea that this isn't just an American flag—  it's a flag for everyone."
Sultan's art often explores the experience of Muslim women. According to Sultan, the media, and society at large, misrepresent Muslim women and label them as "oppressed, naive, traditional, backward thinking, submissive — and the list goes on." To subvert this misguided characterization, Sultan created Strings, a series of individual portraits of five Muslim women in spaces with which they are familiar — a means of breaking stereotypes and highlighting their individuality.
While Home Sweet Home and Strings are uplifting, Sultan's senior thesis and current work have a darker tone. Radical Free Zone is an installation of four video collages of footage from more than 200 news reports from Fox, CNN, and other news networks that contain negative rhetoric about Islam. The jarring film leaves viewers feeling disoriented and distressed — the same emotions, Sultan says, that Muslim Americans feel every time they turn on the TV.
"I created a 'brainwashing video,' and it's really not nice to look at," she says. "After a few seconds, you can't stand to look at it anymore. You're in a space where you can't ignore the media, you can't ignore the Islamophobia."
Sultan says the goal of the project is to "build awareness, to make people realize that Islamophobia in the media is a real thing."
"Normally, you have the privilege to look away," she says. "But when you're in this space, you have to deal with the fact that this is a reality for a lot of people."
Sultan continues her exploration of media responses to Muslims in Muslimah Media Watch, a video project on view in Parsons BFA Fine Arts thesis show this past spring. In it, Sultan "takes back the news," posing as a news anchor who discusses with Muslim women, who play the role of correspondents, issues and events affecting them. She also touches on the misguided tendency of political pundits to demand that "moderate Muslims" speak out more forcefully against other Muslims who carry out acts of terrorism.
"What I find interesting is how commentators make reference to moderate Muslims and their need to 'speak up,'" Sultan says. "We are speaking up; we just don't have a platform to do so."
Since graduation, Sultan has expanded her socially engaged practice, working as an artist assistant at Artist of Color Bloc, a group of cultural workers who address the intersectional conditions of artists, workers, and communities of color, and a programming assistant at Triangle Arts Associated, an artist-founded nonprofit art institution in New York City. However, her long-term goal is to become a curator who "creates a space where other Muslim artists can feel safe to showcase their art and create a community." Sultan has already shown the courage to explore challenging issues and traumatic experiences through her art; now, she wants to encourage others to do the same.
"Muslim people are generally underrepresented in the art world," Sultan says. "I want to go into the curatorial field and create a space just for us."