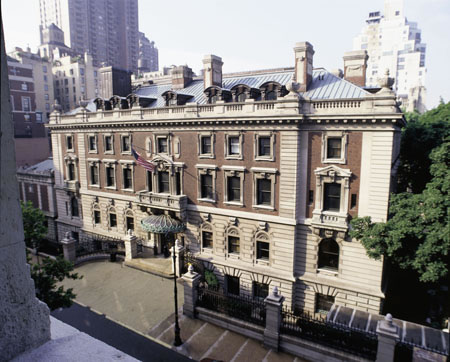 Cooper Hewitt is Offering Free Admission to New School Students
Expanding on a robust, 35-year partnership, the world-renowned Cooper Hewitt, Smithsonian Design Museum located in New York City, is now offering free admission to students at The New School.
Students at The New School—the only comprehensive university with an integrated, globally renowned design school—will be able to experience a rich mix of historic and contemporary design objects from the museum's permanent collection, unique temporary installations, and groundbreaking interactive experiences. As America's design museum, Cooper Hewitt is the steward of one of the most diverse and comprehensive design collections in existence—more than 210,000 design objects spanning 30 centuries. Students can also enjoy a world-class design library, by appointment, and a unique terrace and garden at the museum's campus.
"This generous embrace of the entire New School community brings the newest generation of designers into the preeminent design museum in the US," says Sarah Lawrence, Dean of Parsons School of Art, Design, History & Theory. "The opportunity to immerse our students in the museum's extraordinary collection and its innovative exhibitions will prove to be one of the most important aspects of their education."
"We are excited to open our doors wide to the New School community and enrich the education of thousands of students and educators alike, expanding horizons through the better understanding of design and its impact globally at this critical moment in history," says Caroline Baumann, director of Cooper Hewitt.
The partnership between Cooper Hewitt and The New School has grown out of the shared creation of the History of Design and Curatorial Studies master's program, a graduate program jointly offered by the two institutions that re-envisions historical object-based research and curatorial practice in the context of the museum's celebrated collection. A critical component of Cooper Hewitt's educational programming, the MA program bolsters the museum's commitment to educating, inspiring and empowering people through design.
"Students in Parsons' History of Design and Curatorial Studies program amplify this message through their own creative practices and professional lives," says Sarah A. Lichtman, director of the master's program. "Through their long-standing partnership, the museum and the university together are helping to communicate the relevance of design culture to public life."
More information about free entry to Cooper Hewitt for New School students can be found on the university's website. More information on the MA History of Design and Curatorial Studies can be found on the Parsons website.