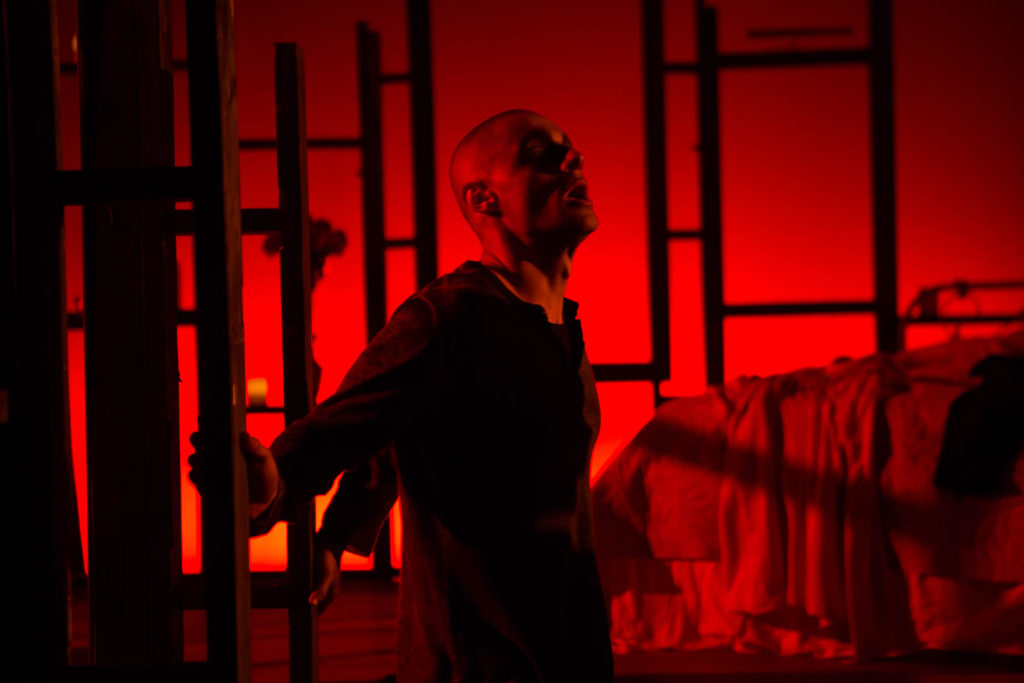 In New Visions Festival, Student Directors Find Their Voices Onstage
Last fall, Lana Russell was going through a breakup while also trying to decide which play to direct as part of the New Visions Festival.
She wanted to pick a play that not only showcased her directing talents but also could be a vehicle for her unique voice and experience. She found it in Noah Haidle's Vigils.
"This play challenged me to speak my truth through performance," says Russell, MFA Directing '17. "The characters go through things that I've gone through. I liked how they dealt with grief, loss, and memories. For me, Vigils became much more than a typical thesis play."
The expression of individual personality, perspective, and experiences is at the core of the New Visions Festival, the School of Drama's annual series of plays in repertory directed by graduating MFA Directing students.
The culmination of the students' three years of graduate training, the New Visions Festival featured performances of Cape Disappointment, directed by Kate Eminger; 8000M, directed by Alice Cash; Vinegar Tom, directed by Daniella Caggiano; and Vigils, directed by Russell. Each performance featured third-year MFA actors chosen by their counterparts in MFA Directing. In the spring, directors and playwrights in the third year of the MFA Directing and MFA Playwriting programs will collaborate on the New Voices Festival, which features new plays written by the playwrights.
"The directors seek out plays they feel passionately about and that will allow them to boldly articulate their voices as directors ready to enter their profession," says Stephen Fried-Brown, assistant professor of directing. "The plays are also the focal point of the third-year actors' fall calendar and are selected with the goal of providing meaningful and challenging acting opportunities for that class."
The New Visions Festival reflects The New School's collaborative, cross-disciplinary approach. To stage their plays, directors work with actors and set and costume designers from across the School of Drama.
Produced in repertory, two of the productions share scenic elements and a single lighting plot. In the typical Broadway production, the set is designed specifically for that play, but in the New School productions, the sets will share certain elements and must be designed with that limitation in mind.
"These productions replicate the circumstances of many Off-Off-Broadway theaters and provide students with their fullest simulation of a professional production process," explains Fried-Brown. "Directors must tackle all of the major challenges they will encounter in mounting a professional production after they graduate."
The plays performed this year have common ground in the way they depict women, either by examining their experiences through a new perspective or by defying stereotypes. While men are typically in the director's seat in the entertainment industry, women make up the entire third-year MFA Directing class. They used the New Visions Festival as an opportunity to tell important stories that might otherwise go unnoticed.
Directing Vigils gave Russell the chance to share her story by means of a compelling script — one in which the protagonist evolves from a submissive woman to one in charge of her own destiny.
"The struggles I've had have helped me find clarity in my work, and people are starting to tell me they can see my style in my work," says Russell. "Without my training at The New School, I wouldn't have found the bravery to choose the pieces I want to direct."