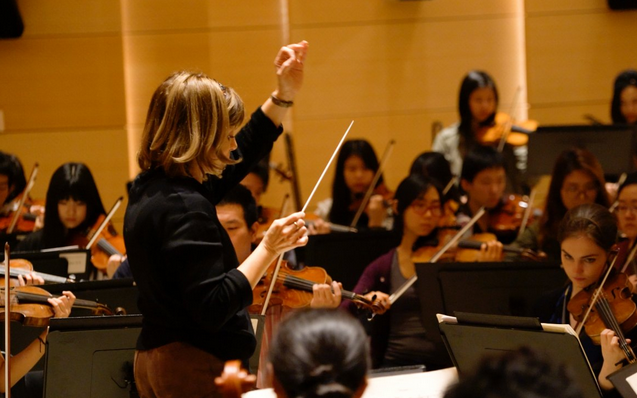 JoAnn Falletta, Performance '76, Conducts Mannes Orchestra in Centennial Kick-Off Concert
When the Nazis blacklisted Bohuslav Martinu in 1939, he found refuge at Mannes School of Music.
It was there that he was allowed flourish. As a teacher at the world-renowned conservatory, he composed Frescos of Piero della Francesca, which pays homage to the cycle of frescoes The History of the True Cross by Piero della Francesca.
The piece was performed by Mannes Orchestra to celebrate the unique history of Mannes at the conservatory's centennial kick-off concert at Lincoln Center's Alice Tully Hall.
Conducted by JoAnn Falletta, BM Performance '76, Buffalo Philharmonic Music Director, the Orchestra performed works by current and former Mannes faculty. In addition to Martinu's Frescos, the program included Paul Moravec's Cello Concerto with soloist Jeffrey Zeigler and Carl Nielsen's Symphony No. 4.
"I was honored to be a part of Mannes' Centennial celebration," says Falletta. "My gratitude to the school is enormous. My journey of learning and development would not have been possible without my Mannes education."
The program highlighted the rich history of Mannes. During World War II, many European musicians found a home at the conservatory after fleeing the persecution of the Nazis, Martinu included. Mannes Orchestra did justice to that history with a "virtuosic, glowing, and unforgettable performance," Falletta says.
"The ferocious difficulty of the program was tackled with matching courage by the superb musicians of the Mannes Orchestra," she adds.
The concert launched a yearlong series of events to mark Mannes' 100th anniversary. A final concert at Carnegie Hall in April will bring alumni and former faculty together with current students, celebrating the achievements of the past while laying the groundwork for the future.