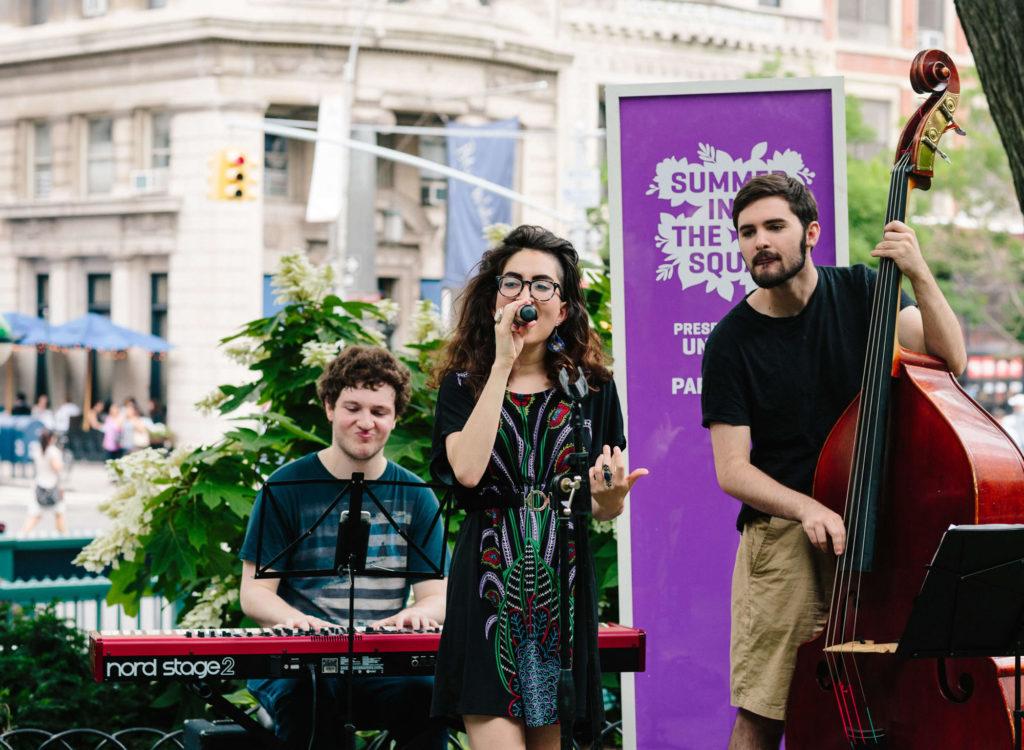 Through Jazz Gig Office, Students Gain Experience as Working Musicians
Four years ago, as a first-year student in the School of Jazz, Zofia Warpeha found herself on the roof of a hotel in Times Square, her violin in hand. Standing before a couple, she performed improvised songs based on recent Bollywood hits for a surprise wedding proposal.
She had never imagined landing a gig like that. Nor did she know quite what to expect. It turned out to be an experience that shaped her education.
"I came to The New School for the well-rounded liberal arts education," says Warpeha. "I've always been interested in science, as well as music. The Gig Office is the perfect way for me to see life as a working artist while still taking the time to figure out what I want to do after I graduate."
Warpeha, Jazz '17 and Interdisciplinary Science '17, is a "bandleader," and one of the dozens of students who perform through The New School's Gig Office. Housed in the School of Jazz, the office connects outstanding Jazz and Mannes School of Music performers with opportunities to play as hired musicians at private and corporate events. Students gain valuable real-world experience and acquire skills they'll need to be successful as working musicians after they graduate. Performing for clients throughout New York City also helps them network and connect with clients they could work for in the future.
"We teach our students how to be successful musicians at the School of Jazz," says Phil Ballman, director of the Gig Office and manager of Community Engagement and Partnerships at the School of Jazz. "The Gig Office creates a foundation for students to understand what the life of a working musician looks like and how they can excel at performing."
Here's how it works: A client contacts the Gig Office with a specific request and a budget. The Gig Office then assigns one of 30 "bandleaders" to the job; he or she is tasked with assembling a musical group in accordance with the client's specifications. Sometimes the job involves helping clients realize their vision for the performance.
"A lot of the requests we receive are from people who don't know exactly what they want, but who definitely want live music," says Warpeha, who has been a member of the Gig Office for the past four years. "The musicians spend a good amount of time figuring out the vibe of the event, coordinating with the client, and then prepping the music from there."
Students play at a range of events. Pop-up wedding proposals are popular, as are cocktail parties, weddings, and cultural events. Celebrated institutions such as the Neue Galerie, the Morgan Library, the New Museum, and the Highline have all hired Gig Office members to perform. They also perform at New School events, including graduation celebrations, retirement parties, and the annual Block Party.
Just like professional musicians, students are expected to bring their A game.
"Becoming a member of the Gig Office is a rigorous process," explains Ballman. "We screen for playing ability, timeliness, attention to detail, leadership ability, and professionalism. We are sending our students out not only to gain valuable real-world experience but to represent the School of Jazz in the best light possible."