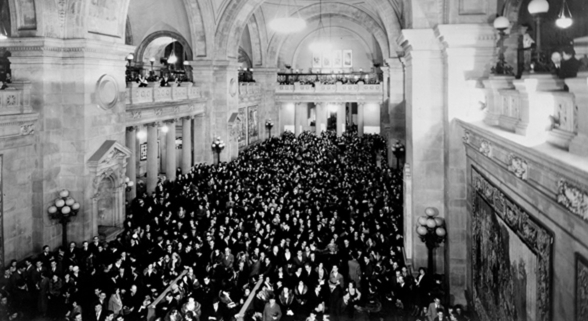 After 70 Years, Mannes Returns to The Metropolitan Museum
During two world wars and the Great Depression, audiences at The Metropolitan Museum were treated to a free concert series featuring musicians from the New York Symphony Orchestra, and later from the New York Philharmonic. David Mannes, founder of Mannes School of Music, and acclaimed violinist and conductor, started the series, which ran from 1905 until his retirement in 1948.
Now, nearly 70 years after the series ended, Mannes is coming back to The Met. Mannes Orchestra, led by David Hayes, will give two performances of The Snowman on Saturday, December 17 at 11am and 1pm in the Grace Rainey Rogers Auditorium.
Nominated for the 1982 Academy Award for Best Animated Short Film, the classic story is about a snowman who, after coming to life, forms a friendship with a young boy and meets Santa Claus. Mannes Orchestra will perform a live score to a screening of the film.
Currently celebrating its centennial year, Mannes is performing a series of concerts, which will culminate in a performance at Carnegie Hall in April featuring notable alumni and current students.