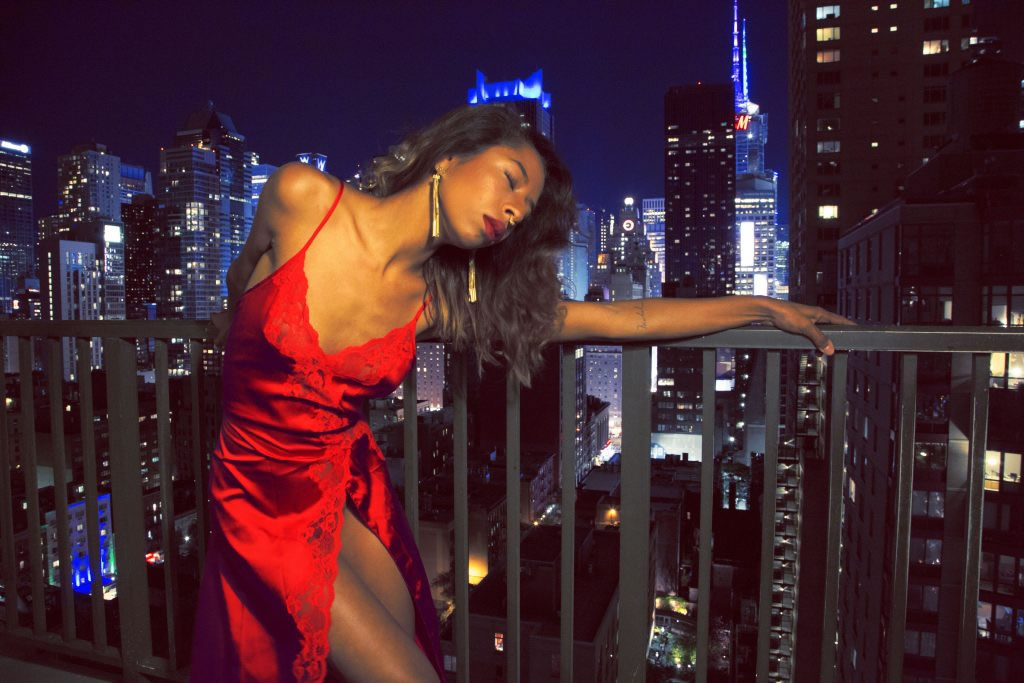 Eugene Lang College Alum Kia Benbow Is Using Art to Change Perceptions of People with HIV
In The Normal Heart, Dallas Buyers Club, and The Hours, actors Matt Bomer, Matthew McConaughey, and Ed Harris played HIV-positive men in performances that came to define the HIV/AIDS crisis.
In Hollywood, people with HIV are often portrayed as gay white men by filmmakers and writers relying on outdated modes of representation. But 35 years after the HIV/AIDS epidemic took hold, emerging voices are challenging stereotypes of individuals living with the virus.
Kia Benbow, The Arts '16, is one of those voices. Born with HIV in 1990 in New York City, Benbow uses photographic self-portraits to challenge the accepted narrative of people with HIV and how they are typically portrayed in mainstream media. She wants to show others that there is more than one face of HIV,and that different people's experiences are equally important in the fight against the HIV/AIDS.
"I always had a love for photography, so I feel like I can represent a group of people who don't have that opportunity or platform," says Benbow. "Putting myself out there isn't easy to do, because I have to be so vulnerable. But if I don't do it, who else will?"
Benbow was initially discouraged from pursuing photography, so she enrolled in liberal arts classes at Lang. However, once immersed in The New School's interdisciplinary, collaborative environment, she was inspired to explore her love of the medium.
"Living in the dorms with the kids from Parsons inspired me to be an artist, because I was watching them create all these projects, which gave me a longing to be creative," says Benbow, who later took photography classes at Parsons.
As a student in Ricardo Montez's photography class, Benbow submitted a series of portraits to Visual AIDS, an arts organization dedicated to fighting AIDS by provoking dialogue and preserving the legacy of the ongoing fight to find a cure. Montez, who curated the organization's art show that year, decided to include three self-portraits from Benbow's series 24. Her self-portraits tell her personal story of living with HIV and showcase the different ways the condition affects her.
Benbow was the only Black woman featured among the 107 artists in the exhibition, which has since traveled to the Tacoma Art Museum, the Zuckerman Museum of Art, and the Bronx Museum of the Arts and included iconic photographs by artists including Annie Leibovitz and Robert Mapplethorpe. As one of the only people born with HIV and the only Black woman to be featured in the exhibition, Benbow is uniquely positioned to reframe the narrative surrounding HIV in America.
Benbow is part of a group of alumni who are actively working to change the negative stereotypes associated with their identities. Monica Singh, Fashion Design '16, an acid attack survivor, has been working to promote awareness of gender-based violence around the world, while Azzah Sultan, Fine Arts '16, uses her art to challenge misguided and harmful assumptions about Muslims.
Since launching her career, Benbow has been recognized by HIV Plus magazine as one of its 20 Most Amazing HIV-Positive Women. She has also spoken on panels at NYU and the New York Public Library and worked with the celebrated ballroom dancing group House of LaBeija, performing at MoMA PS1, the Brooklyn Museum, and other notable venues. She receives emails on an almost daily basis from people who thank her for sharing her story, which inspires her to continue to create her art.
"I use my art to heal myself and others who have similar stories," says Benbow. "I'd like my art to be remembered as never letting anyone silence me, and if it becomes iconic and legendary, it will always be part of the conversation, and it will never go away."