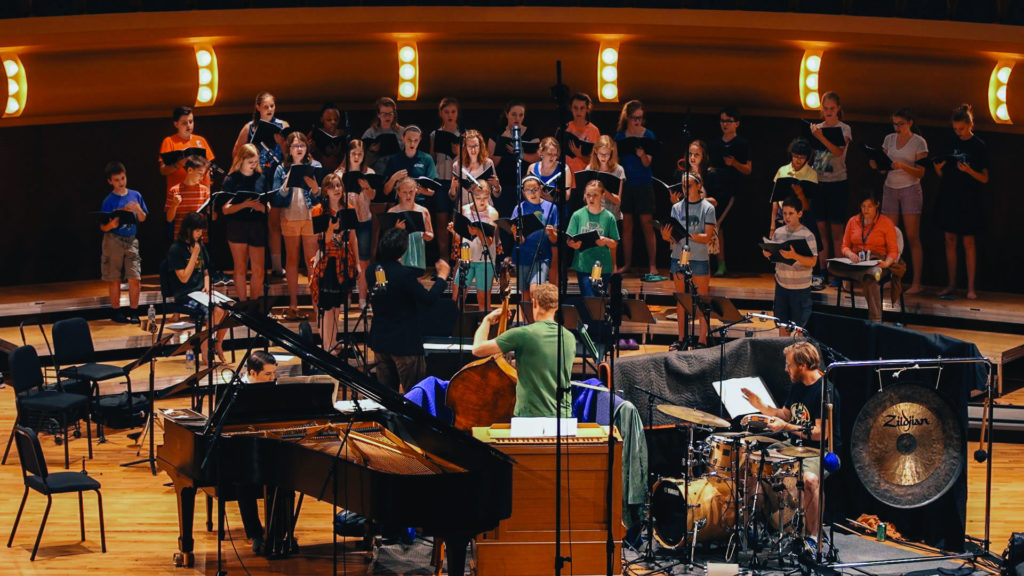 Jazz Alum J.J. Wright Infuses Traditional Choral Music With Jazz
Just four years after graduation, J.J. Wright, Jazz Piano '12, is in good company. His new album, O Emmanuel, is sitting near the top of the Billboard Classical chart, surrounded by Andrea Bocelli, Elvis Presley, and John Williams.
On the album, which debuted at number one on the Traditional Classical Albums chart and peaked at number three on the Classical Albums chart, Wright weaves the traditional texts and melodies of Advent with elements of jazz.
"I'm equally passionate about jazz and sacred music," says Wright, who worked with the Notre Dame Children's Choir, Fifth House Ensemble, and Wright's jazz piano trio on the album. "Both genres have a tradition of being moved 'by the spirit.' There is an innate dialogue between the traditions, as sacred music has always incorporated the improvised music of the day, and jazz is our improvised music of today."
Wright's education at The New School provided a strong foundation for experimentation.
"My professors and peers challenged my ideas about my music, but they always welcomed creative contributions," says Wright. "The New School provided an open learning environment, and one of the strongest things about School of Jazz is the ability to find support from the faculty and fellow students in whatever musical direction you want to take in your career."
A doctoral student in Sacred Music at the University of Notre Dame, Wright is currently living in Rome on a fellowship for the 2016-17 academic year while he researches his dissertation, interning with the Sistine Chapel Choir, and working at the Pontifical Institute of Sacred Music. At the same time, he continues to explore the world of jazz, pondering new ways to inject the modern style into sacred works that date back hundreds of years.
"I think that we've barely scratched the surface of what's possible with incorporating modern styles into sacred music," says Wright. "I feel like there is so much more to explore myself in order to really take advantage of what jazz and sacred music can gain from each other.