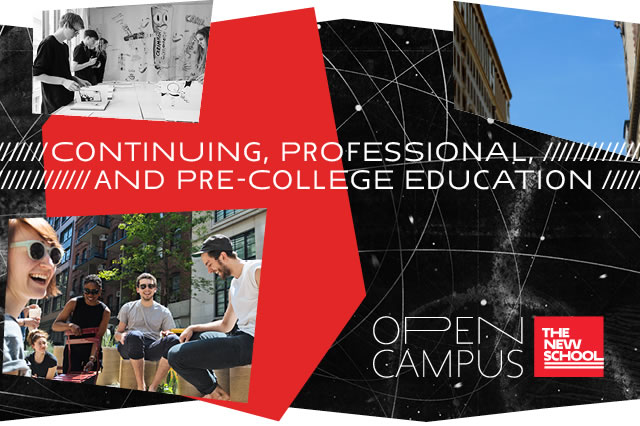 Open Campus — a New Approach to Continuing Education — Launches at The New School
Continuing education has long been a bedrock feature of The New School, with opportunities to take university-level courses in art and design at Parsons School of Design; music at Mannes School of Music; management, leadership, and entrepreneurship; media, film, and technology; languages; writing; liberal arts; and more.
Now, The New School, a progressive university in Greenwich Village, is building on this legacy by reenergizing its continuing education offerings through the launch of Open Campus. The initiative offers a network of resources and array of learning opportunities to continuing, professional, and pre-college students.
Bearing the tagline "More Than a Course, a New Kind of Network," Open Campus features on-campus and online courses and programs designed to offer the immersive, authentic, and inspiring university experiences for which The New School is known. New, original short courses in design thinking, data visualization, and other topics at the intersection of business and design are just one example of the many ways Open Campus brings its approach to life in the classroom.
Open Campus is a reflection of the collaborative, multidisciplinary university in which it is housed. Integrated with the larger New School community, Open Campus allows students to experience the richness of campus life by learning from many of the same faculty, taking advantage of comparable benefits, and in many cases, learning right alongside The New School's wider student body.
"Open Campus is a one-of-a-kind destination for continuing and early education students to find their kind among other eager learners, innovators, and makers at every stage of life," Cynthia Lawson, Associate Provost for Open Campus, says. "The social and personal connections they create will enhance their knowledge, skills, and progress in unexpected ways."
Open Campus features courses and programs for adults, youths and teens, professionals, and organizations. Courses are delivered online and on campus, in condensed and semester-length versions, for credit, noncredit or as part of a certificate program or degree. Noncredit certificate registration for spring 2017 opens Thursday, December 1, and general registration for adult and Parsons Pre-College courses for spring 2017 opens on Thursday, December 8.
To celebrate the launch of Open Campus, The New School will open its doors to the public for a Day of Learning and Open Campus Expo on Saturday, December 10, 12:00–7:00 p.m. The event will feature free pop-up classes in art and design, music, writing, filmmaking, and more; special workshops on design thinking; information sessions for youth and teen programs and the Global Executive MS in Strategic Design and Management; campus tours; raffles; giveaways; and plenty of birthday cake. Visit Eventbrite to register.
The Day of Learning concludes with "What Is an Open Campus? Beyond the Ivory Tower," a panel discussion on Saturday, December 10, 6:00–7:00 p.m. Moderated by Lawson, the panel will focus on educational innovation within and beyond the "traditional university." Panelists include Ajay Singh Chaudhary, Founding Director of the Brooklyn Institute for Social Research; Rob Kingyens of Qubed Education, a partner in Open Campus' Parsons–Teen Vogue certificate program; and Julia Foulkes, Professor of History at The New School. Visit Eventbrite to register. The discussion will also be live streamed.
All events are part of The New School's Nth Degree, a curated series of events featuring thinkers, visionaries, and creators who bring about positive change in the world.