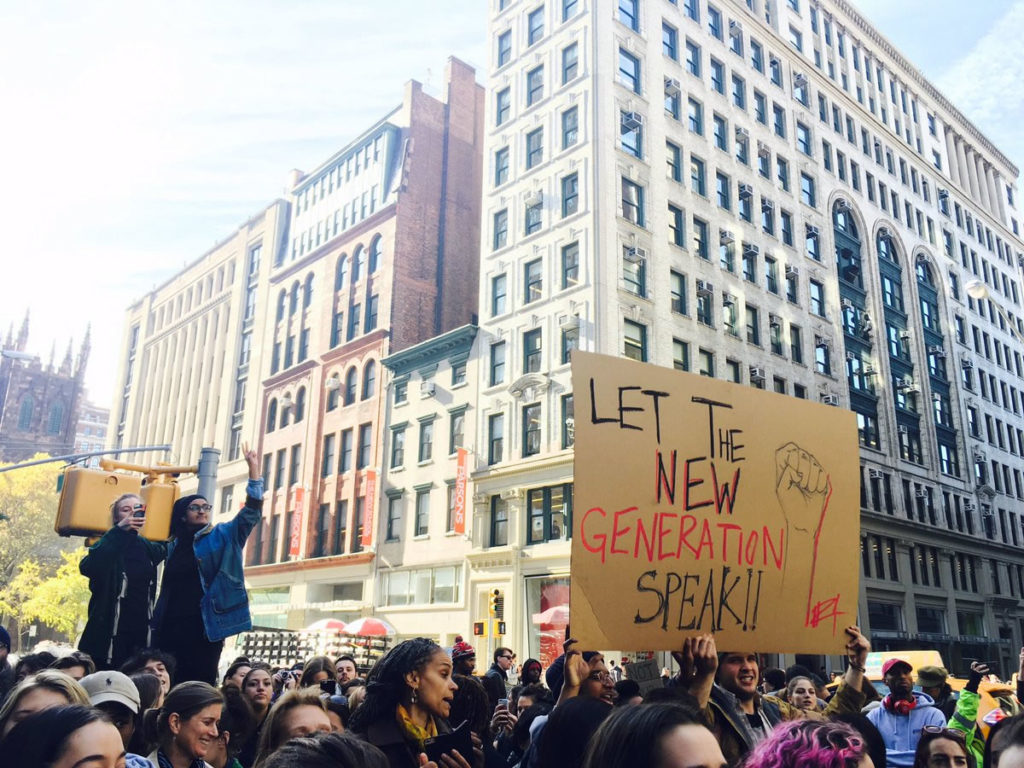 The New School 2016 Year in Review
In the wake of the U.S. presidential election, hundreds of New School community members took to Fifth Avenue to practice their right to organize and dissent.
It was one of the many ways they showed their commitment to civic engagement in 2016.
Learn about how The New School community took action — and other ways it made this a memorable year.
Lost and Found: MLK Recording
Standing before a packed house at the Auditorium at 66 West 12th Street on February 6, 1964, the Rev. Dr. Martin Luther King, Jr. spoke against the injustices plaguing American society: economic hardship in black communities, resistance to civil rights legislation among the political elite, and inequality in the country's public school system. The greatness of the speech, coupled with the context in which it was delivered, made it an important moment in King's campaign for civil rights, as well as a momentous occasion for The New School. And it is for those reasons that when a lost tape of King's post-lecture Q&A was discovered at The New School 50 years later, the university community erupted in celebration. Still, a crucial piece of the puzzle remained missing: the recording of the speech itself. That was until this year, when it was discovered (by Amherst College archivist Mariah Leavitt), marking the end of a search for a treasured artifact. To hear the recording, visit The New School Archives.
Jason Rezaian Returns
Jason Rezaian, a 2001 graduate of Eugene Lang College and a foreign correspondent for the Washington Post, had been working in Tehran when he was detained by Iranian authorities on charges of espionage. He spent 18 months in prison. Then, in January, he was finally released, prompting this statement of gratitude from his alma mater: "Jason's courage in the face of imprisonment, interrogation and mistreatment, and unwavering dedication to his craft, inspired the university community."
The New School Plugs Into SXSW
New School students and faculty members descended on Austin, Texas this year for SXSW Interactive, a city-wide celebration of technology, user experience, marketing, startups, and science. Holding the banner for socially engaged design, students presented wearable tech projects that address human needs and virtual reality experiences that build empathy. Faculty members and alumni led specialized talks that highlighted the university's focus on design-­led solutions to pressing social issues.
Alber Elbaz Shows Love to The New School
For Alber Elbaz, the fashion industry needs a little love. The former Lanvin creative director brought that message, along with his signature joy and humor, to The New School for a memorable discussion. "If we inject a little bit more love into fashion, and less fear," he said, "we will have a beautiful reason to wake up every morning."
Students Make an 'Impact!' on NYCxDESIGN
In May, Parsons students turned an empty storefront in the heart of the Seaport Culture District into a showcase of socially engaged design. The projects were presented in "Impact!", an exhibition exploring the ways in which designers, artists, scholars, technologists, and strategists from different disciplines come together — often in unexpected or complex ways — to create new possibilities for social change. A reception for the exhibition, a part of Parsons Festival, coincided with a gala opening night block party for South Street Seaport's Culture District attended by actress Maggie Gyllenhaal and footwear designer Sarah Flint.
Socially Engaged Designs Hit The Runway
The fashion world celebrated the next generation of designers at Parsons Benefit and Fashion Show at Pier Sixty in May. The annual gala featured a runway show of designs by Parsons students, raised funds for student scholarships, and honored individuals who are acclaimed in their fields. This year's honorees were fashion icon and Parsons graduate Donna Karan; art curator, philanthropist, and New School graduate Beth Rudin DeWoody; actress Sarah Jessica Parker; and Huffington Post co-founder and editor-in-chief Arianna Huffington.
At Commencement, Inspirational Figures Offer Inspirational Words
Boldly breaking with an age-old collegiate tradition, The New School this year presented not one, but six celebrated and inspirational figures to speak at its 80th commencement exercises: Actress Laverne Cox, fashion designer Diane von Furstenberg, Black Lives Matter activist DeRay Mckesson, media critic Anita Sarkeesian, International Rescue Committee president and CEO David Miliband, and forensic anthropologist Mercedes Doretti. Dispensing with the formalities and cliché speeches, the honorary degree recipients took turns delivering impactful, five-minute talks that got to the heart of their advice to The New School's graduating class. Said Miliband: "I look forward to working with you as you seek to fulfill the mission of The New School: To engage with the modern world, not just to study it."
A Store for Impact-Conscious Swag
Tucked away in the University Center, there's a tiny space that had been on the wish list of students, faculty and staff for years. At long last, The New School got its own store — a bricks and mortar boutique that embodies the ethos of the university. Located next to the elevators on the first floor of the University Center, The New Store opened in the fall with sales of university-branded T-shirts, tanks, beanies, and hoodies (regular and zip-up), as well as more avant-garde items such as sustainable, slimline water bottles, natural wool pennants, magnetic poetry kits, and backpack-hoodies. The majority of the products are designed by Made in USA companies, which follow clean manufacturing processes and fair labor standards.
Maya Wiley Takes the Lead on Social Justice Policy
From her experience working at Columbia University's AIDS Anti-Discrimination Law Clinic, to advising New York City Mayor Bill de Blasio, to chairing the New York City Civilian Complaint Review Board, Maya Wiley has worked to foster a more inclusive, just, and equitable society. This year she took that mission one step further as senior vice president for social justice at The New School. In her role, Wiley has been working with the university's senior leadership team and key constituencies to advance the university's social justice agenda both inside and outside of the university. Welcome, Maya!
A State-of-the-Art Space for Collaborative Making
This year, The New School opened a space where everyone — from designers, technologists, and activists, to managers, policy analysts, and entrepreneurs — can work together to create innovative projects. Completed with major support from the Kay Unger Family Foundation, the 28,000-square-foot Parsons Making Center serves as the hub for the 78,0000-square-foot network of making spaces across The New School's Greenwich Village campus. Students can explore innovative manufacturing methods, collaborate with their peers across a range of disciplines, and employ state-of-the-art tools to address pressing social needs related to sustainability, human well-being, and reviving urban making.
The New School Declares Support for Students 'Without Regard to Citizenship Status'
During the presidential campaign, numerous statements were made by President-Elect Trump concerning individuals who are in the United States without appropriate documentation, including those born outside of the U.S. but who have grown up here. The New School, through its Board of Trustees, responded to those statements by passing a resolution affirming that the university will "welcome, admit and support students without regard to their citizenship status." The resolution includes a commitment to protect undocumented students by withholding records that may disclose citizenship status to any law enforcement authority without a court order or a legally enforceable subpoena.
bell's Back
bell Hooks just can't stay away from The New School — and we can't stay away from her. Following the conclusion of her three-year residence at the university, the poet, author, and scholar returned for a lively discussion with Transparent creator Jill Soloway, "Ending Domination: The Personal is Political" (hosted by Eugene Lang College). hooks and Soloway touched on a range of topics, from the importance of safeguarding one's work from unwanted appropriation to ending patriarchal domination. Declared Salloway, "I live in a fantasy world where I believe the patriarchy will be toppled any minute now."
Bill McKibben Speaks on 'The Fate of the Earth'
The World Meteorological Organization this year reported that the five years from 2011 to 2015 were the hottest on record, with hundreds of thousands of deaths likely due to global warming from human activity. Bill McKibben, an author and environmentalist, came to The New School to dispense wisdom on this issue, one of the most pressing of our time. In his talk, he offered a sobering assessment of a threatened planet and what we can do save it.
Teresa Ghilarducci Celebrates 'Rescuing Retirement' 
Standing before a crowd at the Bloomberg Foundation in September, Michael Bloomberg warned about the looming retirement saving crisis. Thankfully, NSSR faculty member Teresa Ghilarducci, who stood beside the business magnate and former New York City mayor, was ready to deliver a comprehensive solution to tackle that issue. In "Rescuing Retirement: A Plan to Guarantee Retirement Security for All Americans," her latest book co-authored with Hamilton "Tony" James, Ghilarducci outlines a deficit-neutral proposal to ensure that all workers can save enough to retire through mandated, individually-owned, and effectively-invested "Guaranteed Retirement Accounts." Bloomberg, Ghilarducci, and James celebrated the release of the book in October.
GPIA Students Raise Bold Questions at Habitat III
As United Nations member states signed onto the New Urban Agenda — a series of commitments to improve urban well-being — at the Habitat III conference in Quito, Ecuador, in October, a delegation of New School students and faculty asked a bold, but necessary question: How can certain countries make new commitments when they haven't lived up to the old ones? After tireless research — laid out in the Habitat Commitment Index (HCI) — New School students and faculty members from Global Urban Futures (GUF) found that more than half the countries that made commitments to the Habitat Agenda were not living up to them. The delegation, which was in attendance at the conference, shared its discovery with attendees and urged that any new commitments must reflect knowledge about the degree of fulfillment of commitments made by governments at Habitat II.
After Three Decades, Jazz Dean Martin Mueller Retires
After guiding the School of Jazz for the last three decades, Martin Mueller announced his retirement from his role as dean of the school in September. The New School community expressed its gratitude for an individual who helped shape the program into the world-class music school that is today.
New School Students Organize and Dissent
In the wake of the U.S. election, students took to Fifth Avenue to exercise their Constitutionally protected right to organize and dissent. This is what #NewSchoolSpirit looks like.
Happy 100th Birthday, Mannes!
During World War II, many European musicians fleeing Nazi persecution found a home at Mannes School of Music. Mannes Orchestra did justice to that history with a "virtuosic, glowing, and unforgettable performance" in October that also launched a yearlong series of events to mark the conservatory's 100th anniversary. A final concert at Carnegie Hall in April will bring alumni and former faculty together with current students, celebrating the achievements of the past while laying the groundwork for the future.
#NODAPL: Teach-In for Standing Rock
Members of the Standing Rock Sioux tribe and their supporters scored a major victory in their fight against plans to build the Dakota Access Pipeline under the Missouri River, not far from their ancestral homeland in North Dakota. Just days before, supporters at The New School held #NODAPL: A Teach-In for Standing Rock. At the event, Indigenous youth, scholars, artists, and organizers discussed #NODAPL in context of the broader history of the dispossession and colonial occupation of Indigenous people and its connection to environmental justice issues.
Hearts Flutter with 'The Birds' (Un)Silent Film Feature
Playing before a packed house and in front of a big screen at The New School's Tishman Auditorium, the College of Performing Arts Theater Orchestra improvised a full score to Alfred Hitchcock's originally scoreless Birds with Jazz student's Nathan Kamal's "musical sketches" as a guide. The result was a spectacularly eerie experience that injected new life into the horror classic and captured the collaborative nature of the College of Performing Arts.
'More Than a Course, a New Kind of Network'
Continuing education has long been a bedrock feature of The New School, with opportunities to take university-level courses in art and design at Parsons School of Design; music at Mannes School of Music; management, leadership, and entrepreneurship; media, film, and technology; languages; writing; liberal arts; and more. The New School built on this legacy by reenergizing its continuing education offerings through the launch of Open Campus in December. Bearing the tagline "More Than a Course, a New Kind of Network," Open Campus features on-campus and online courses and programs designed to offer the immersive, authentic, and inspiring university experiences for which The New School is known.