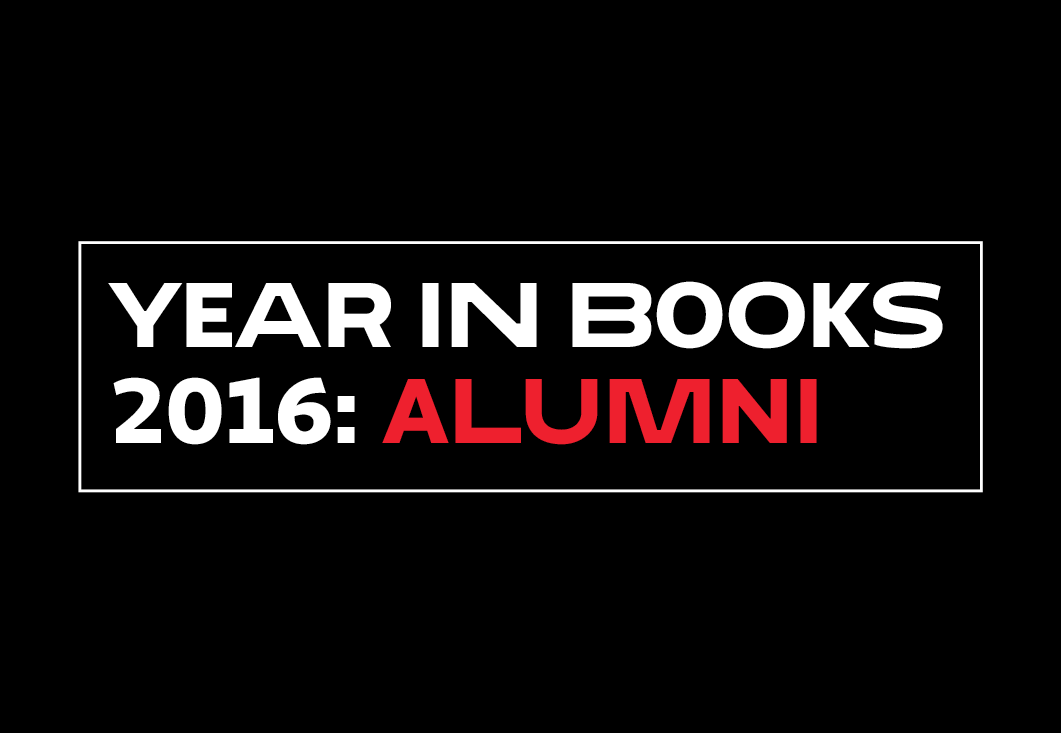 The Year in Books 2016: New School Alumni
This year was an exciting time for The New School's alumni authors, with titles by Stephanie Danler ("Sweetbitter: A Novel") landing on BuzzFeed's Best Books of 2016 list; Jade Sharma ("Problems") long-listed for PEN America Literary Awards; and Amy Kurzweil ("Flying Couch") being named one of the season's best graphic novels by The New York Times. New School faculty made their mark as well.
The following is a list of books by alumni released in 2016. It will continue to be updated as more titles are submitted for inclusion (please email gargans@newschool.edu).
Liz Axelrod, MFA Creative Writing '13 / "Go Ask Alice" (Finishing Line Press)

Marc Bojanowski, MFA Creative Writing / "Journeyman" (Soft Skull Press)

Heather Boushey, PhD Economics, '98 / Finding Time (Harvard University Press)

Kalisha Buckhanon, MFA Creative Writing / "Solemn" (St. Martin's Press)

Caela Carter, MFA Creative Writing / "My Life with the Liars" (Harper Collins Publishers)

Selene Castrovilla, MFA Creative Writing / "Signs of Life" (Last Syllable Books)

Dhonielle Clayton and Sona Charaiportra, MFA Creative Writing / "Shiny Broken Pieces" (Harper Collins Publishers)

Jennifer Close, MFA Creative Writing  / "The Hopefuls" (Knopf)

Alice Eve Cohen, MFA Creative Writing / "What I Thought I Knew: A Memoir" (Penguin Books)

Nick Comilla, MFA Creative Writing / "Candyass" (Arsenal Pulp Press)

Stephanie Danler, MFA Creative Writing '14 / "Sweetbitter: A Novel" (Knopf)

M. Thomas Gammarino, MFA Creative Writing / "King of the Worlds" (Chin Music Press Inc.)

Carol Goodman, MFA Creative Writing / "River Road" (Touchstone)

Mark Guararie, MFA Creative Writing / "Everybody's Automat" (The Operating System)

Scott Alexander Hess, MFA Creative Writing / "Skyscraper" (Unzipped Books)

Kathryn Holmes, MFA Creative Writing / "How it Feels to Fly" (Harper Collins)

Dan Hoy, MFA Creative Writing / "The Deathbed Editions" (Octopus Books)

Lauren Hunter, MFA Creative Writing / "Human Achievements" (Thomas Dunne Books)

Martin Hyatt, MFA Creative Writing / "Beautiful Gravity" (Antibookclub)

Mila Jaroniec, MFA Creative Writing / "Plastic Vodka Bottle Sleepover: A Novel" (Split Lip Press)

Christine Kanownik, MFA Creative Writing / "King of Pain" (Monk Books)

Steven Karl, MFA Creative Writing / "Sister" (Noemi Press)

Yorker Keith, MFA Creative Writing / "Remembrance of Blue Roses" (BookBaby)

Alison Kinney, MFA Creative Writing / "Hood (Object Lessons)" (Bloomsbury Academic)

Heidi R. Kling, MFA Creative Writing / "Not Okay, Cupid" (Entangled: Crush)

Amy Kurzweil, MFA Creative Writing / "Flying Couch: A Graphic Memoir" (Black Balloon Publishing)

Caron Levis, MFA Creative Writing / "Ida, Always" (Atheneum Books for Young Readers)

Robert Lopez, MFA Creative Writing / "Good People" (Bellevue Literary Press)

Cynthia Manick, MFA Creative Writing '07 / "Blue Hallelujahs" (Black Lawrence Press)

Morgan Matson, MFA Creative Writing / "The Unexpected Everything" (Simon & Schuster Books for Young Readers)

Alexandra Oliva, MFA Creative Writing / "The Last One: A Novel" (Ballantine Books)

Ali Power, MFA Creative Writing / "A Poem for Record Keepers" (Argos Books)

Helen Ross, MFA Creative Writing / "What Was Mine: A Novel" (Gallery Books)

Peter Selgin, MFA Creative Writing / "The Inventors" (Hawthorne Books)

Jade Sharma, MFA Creative Writing / "Problems" (Coffee House Press)

Matthew Thorburn, MFA Creative Writing / "Dear Almost: A Poem" (LSU Press)

Siobhan Vivian, MFA Creative Writing / "The Last Boy and Girl in the World" (Simon & Schuster Books for Young Readers)

Simone White, MFA Creative Writing / "Of Being Dispersed" (Futurepoem Books)

Matthew Yeager, MFA Creative Writing / "Like That" (H_NGM_N Books)