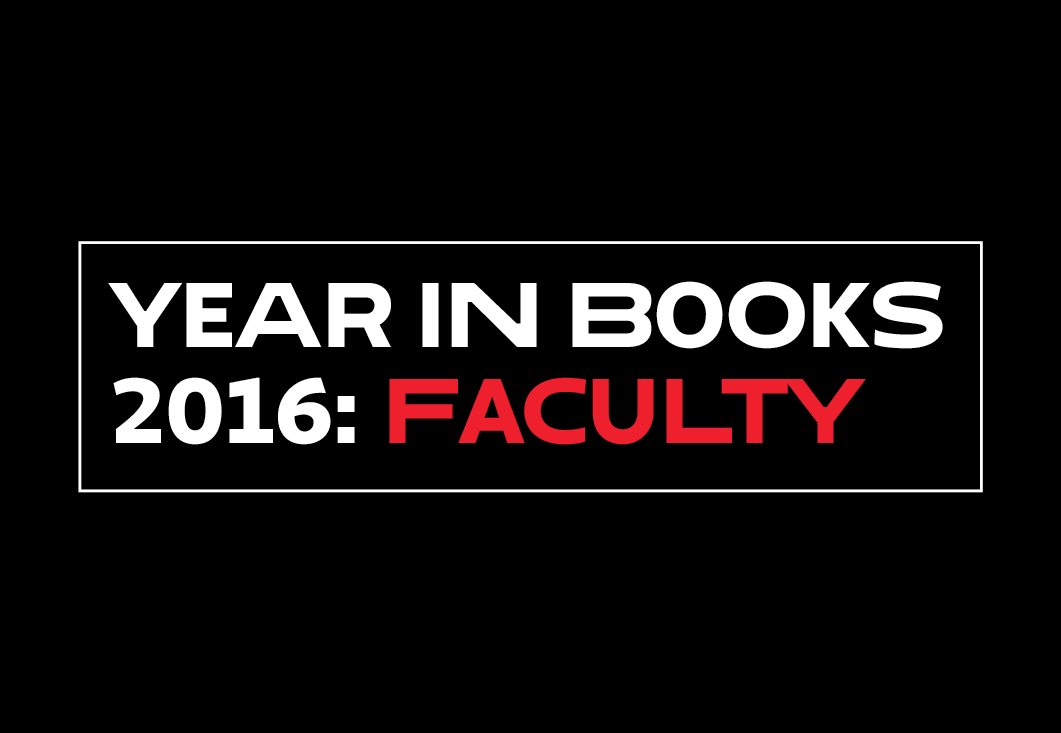 The Year in Books 2016: New School Faculty
From being against everything to being for our retirement accounts, The New School's faculty authors covered a lot of ground — and a lot of book shelves — this year. Faculty members collectively published 40-plus books in 2016, including full-length poetry collections, novels and novellas, short story collections, and books for young adult readers, as well as anthologies and critical studies. New School alumni authors were prolific as well.
The following is a list of books by faculty members released in 2016. It will continue to updated as more titles are submitted for inclusion (please email gargans@newschool.edu).
Zed Adams, Associate Professor of Philosophy / Giving a Damn: Essays in Daologue with John Haugeland (MIT Press)

Andrew Arato, Dorothy Hart Hirshon Professor of Political and Social Theory / Post Sovereign Constituion Making (Oxford University Press)

Cinzia Arruzza, Assistant Professor of Philosophy / Philosophy and Political Power in Antiquity (Studies in Moral Philosophy)

Ana Baptista, Assistant Professor in the Environmental Policy and Sustainability Management Program / Ecological and Social Healing (Routledge)

Richard J. Bernstein, Vera List Professor of Philosophy / Ironic Life (Polity)

David Brody, Associate Professor of Design Studies / Housekeeping by Design: Hotels and Labor (The University of Chicago Press)

Michele Wesen Bryant, faculty member in BFA Fashion Design / Fashion Drawing, Second Edition: Illustration Techniques for Fashion Designers (Lawrence King Publishing)

Alice Cohen, faculty member in the School of Writing / What I Thought I Knew: A Memoir (Penguin Books)

Alice Crary, Associate Professor of Philosophy / Inside Ethics (Harvard University Press)

Anne Margaret Daniel, Faculty Member in Humanities, School for Undergraduate Studies (Editor) / Beauty's Hour (Valancourt Books)

Julia Foulkes, Professor of History / A Place for Us: West Side Story and New York (University of Chicago Press)

Aneta Genova, faculty member in BFA Fashion Design Program(with Katherine Moriwaki) / Fashion and Technology: A Guide to Materials and Applications (Fairchild Publishers)

Teresa Ghilarducci, Irene and Bernard L Schwartz Professor of Economics and Policy Analysis / How to Retire with Enough Money (Workman Publishing Company)
Carol Goodman, faculty member in the School of Writing / River Road (Touchstone)

Mark Greif, Associate Professor of Literary Studies / Against Everything (Pantheon)

Sibel Guler, faculty member in MFA Photography / Crafting Wearables: Blending Technology with Fashion (Technology in Action) (Apress)

Joseph Heathcott, Associate Professor of Urban Studies / Capturing the City: Photographs from the Streets of St. Louis (University of Chicago Press)

Clara Hemphll, Director of Education Policy and Inside Schools at Center for NYC Affairs / New York City's Best Public Pre-K & Elementary Schools (Teachers College Press)

Ann Hood, faculty member in the School of Writing / The Book That Matters Most (W. W. Norton & Company)

Heike Jenss, Associate Professor of Fashion Studies / Fashion Studies: Research Methods, Sites and Practices (Dress, Body, Culture) (Bloomsbury Academic)

Hettie Jones, faculty member in the School of Writing / Love, H: The Letters of Helene Dorn and Hettie Jones (Duke University Press Books)

Ben Katchor, Associate Professor of Illustration / Cheap Novelties: The Pleasures of Urban Decay (Drawn and Quarterly)

Nancy Kelton, faculty member in the School of Writing / Finding Mr. Rightstein (Passager Books)

Amy Kurzweil, faculty member in the School of Art and Design History and Theory / Flying Couch: A Graphic Memoir (Black Balloon Publishing)
James Lasdun, faculty member in the School of Writing / The Fall Guy: A Novel (W. W. Norton & Company)

Benjamin Lee, Professor of Anthropology and Philosophy /Derivatives and the Wealth of Societies (The University of Chicago Press)

David Lehman, Associate Professor of Writing (Editor) / Best American Poetry 2016 (Scribner)

David Lewis, Associate Professor of Architecture / Manual of Section (Princeton Architectural Press)

Caron Levis, faculty member in the School of Writing / Ida, Always (Atheneum Books for Young Readers)

Robert Lopez, faculty member in the School of Writing / Good People (Bellevue Literary Press)

Colleen Macklin, Associate Professor of Media Design / Games, Design and Play: A Detailed Approach to Iterative Fame Design (Addison-Wesley Professional)

Katherine Moriwaki, Assistant Professor of Media Design (with Aneta Genova) / Fashion and Technology: A Guide to Materials and Applications (Fairchild Publishers)

Orin O'Brien, Faculty Member at Mannes School of Music / Double Bass Notebook: Ideas, Tips and Pointers for the Complete Professional (Carl Fischer)

Fabio Parasecoli, Associate Professor of Food Studies / Feasting Our Eyes: Food Films and Cultural Identity in the United States (Columbia University Press)

Dale Peck, faculty member in the School of Writing / The Soho Press Book of 80s Short Fiction (Soho Press)

Dominic Pettman, Associate Dean for Faculty Affairs / Humid, All Too Humid and Infinite Distraction (Polity)

Timo Rissanen, Assistant Professor of Fashion Design and Sustainability / Zero Waste Fashion Design (Fairchild Books)

John Reed, faculty member in the School of Writing / Free Boat: Collected Lies and Love Poems (C&R Press)

Kristin Reynolds, faculty member in the Environmental Studies department / Beyond the Kale: Urban Agriculture and Social Justice Activism in New York (University of Georgia Press)

Anwar Shaikh, Professor of Economics / Capitalism: Competition, Conflict and Crises (Oxford University Press)

Laurie Sheck, faculty member in the School of Writing / Island of the Mad: A Novel (Counterpoint Press)

Andrew Smith, faculty member in Food Studies / Fast Food: The Good, the Bad and the Hungry (Food Controversies) (Reaktion Books)

Ann Snitow, Senior Lecturer in Liberal Studies and Associate Professor of Literature / The Feminism of Uncertainty: A Gender Diary (Duke University Press)

Ann Laura Stoler, Willy Brandt Distinguished Professor of Anthropology and History / Duress Imperial Durabilities of Our Times (Duke University Press)

Catherine Texier, faculty member in the School of Writing / Russian Lessons (Rawmeash)

Jilly Traganou, Associate Professor of Spatial Design / Designing the Olympics: Representation, Participation, Contestation (Routledge Research in Sport, Culture and Society) (Routledge)

Antina von Schnitzler, Assistant Professor of International Affairs / Democracy's Infrastructure: Techno-Politics and Protest after Apartheid (Princeton University Press)

Jeremy Varon, Professor of History / Nuclear Threats, Nuclear Fear and the Cold War of the 1980s (Cambridge University Press)

John Stanislav Sadar, Assistant Professor of Interior and Environmental Technology and Material Science / Through the Healing Glass Shaping the Modern Body through Glass Architecture, 1925-35 (Routledge)

Terry Williams, Associate Professor of Sociology / Harlem Supers: The Social Life of A Community in Transition (Palsgrave-Macmillan)

Elliott P. Montgomery, Assistant Professor BBA Design and Management Program / Extrapolation Factory: Operator's Manual (CreateSpace Independent Publishing Platform)