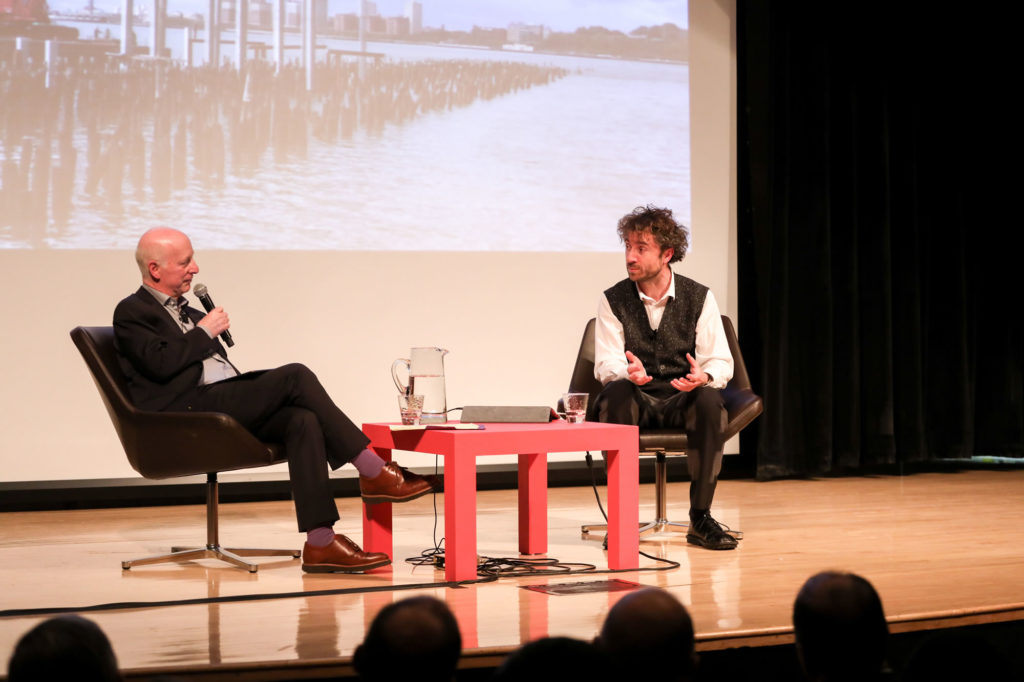 Designer Thomas Heatherwick Talks Designing for Social Good at the Parsons Table
Over the past few years, architects such as Frank Gehry, Bjarke Ingels, and the late Zaha Hadid have dramatically altered the New York City skyline with a series of ambitious projects. Now, a new visionary is about to leave his mark on the city in a way that transforms not only the physical but also the cultural landscape of the city.
Thomas Heatherwick, a London-based designer, recently unveiled his studio's plans for Vessel, a massive, eye-popping public installation that will be at the center of the new Hudson Yards development. The honeycomb-like structure will be 15 stories tall and feature 154 interconnecting flights of stairs that will allow visitors to view their surroundings from multiple vantage points.
Heatherwick shared the plans for Vessel and other upcoming projects in New York — including a new public park and performance space at Pier 55 and the redesign of David Geffen Hall at Lincoln Center — during his recent appearance in the series At The Parsons Table with Paul Goldberger. The series features Goldberger, Pulitzer Prize–winning architecture critic and Joseph Urban Professor of Design, in conversation with luminaries of the design world.
Although Vessel is a stunning artwork, Heatherwick was driven more by pragmatism than idealism in creating the work.
"I don't have the confidence to design a thingy that makes you go, 'Wow,'" said Heatherwick. "Our team thinks about what something does, and for us, looking at each other, and looking out, mattered. How do you design something that augments the social design of the square?"
When designing a new project, Heatherwick Studio focuses on the human experience — how the project will actually be used. One of the reasons for the success of his projects is collaboration, a theme Heatherwick touched upon throughout his discussion with Goldberger. Heatherwick designs projects around the world, working with other leading architects, production companies, builders, artists, and of course, everyday citizens.
"When I first started the studio, it felt like all about me," Heatherwick said. "There was an agony of working alone in the beginning, but now it always works better when I work with someone else."
The Rolling Bridge — a curling movable bridge completed in 2004 as part of the Grand Union Canal office and retail development project at Paddington Basin —brought Heatherwick his first dose of design acclaim. With the commission of a new double-decker bus in London in 2010 and the Olympic cauldron for the Summer Olympics in the UK in 2012, Heatherwick established himself as one of the leading British designers.
While focusing on his past work, Heatherwick also imparted his own wisdom to students in attendance.
"When I was 24, it was hard for people to trust me, which is why we turned the process of our smaller projects into those that resembled something bigger," he said. "It's important to find the gap in what others are doing and make that yours. I saw one between architecture, craftsmanship, product design, and public art."
Goldberger praised Heatherwick for creating works that are surprising and logical, beautiful and functional. His projects have elements of whimsy and eccentricity but still serve a vital purpose.
Despite his array of accomplishments, there are still design challenges Heatherwick wants to tackle. That urge resonated with the New School students in the audience at Tishman Auditorium, who are encouraged to solve design challenges and address pressing social problems.
From creating mobile bookshelves for New York City prisons to designing clothing collections for seated disabled people and refugees, students from every school are addressing social issues that often go ignored by large corporations and renowned designers.
"I'd like to design more humane prisons, hospitals, or nursing homes," said Heatherwick. "We haven't figured out how to make those places where people want to be. I'd like to find an alternative that emphasizes value and isn't rubbish."
Heatherwick's projects in New York will create lasting value, giving New Yorkers and tourists alike space to explore the city and interact with one another.
"Pier 55 gives people permission to feel different," said Heatherwick. "They can have the experience of leaving New York City behind, and arriving somewhere new."