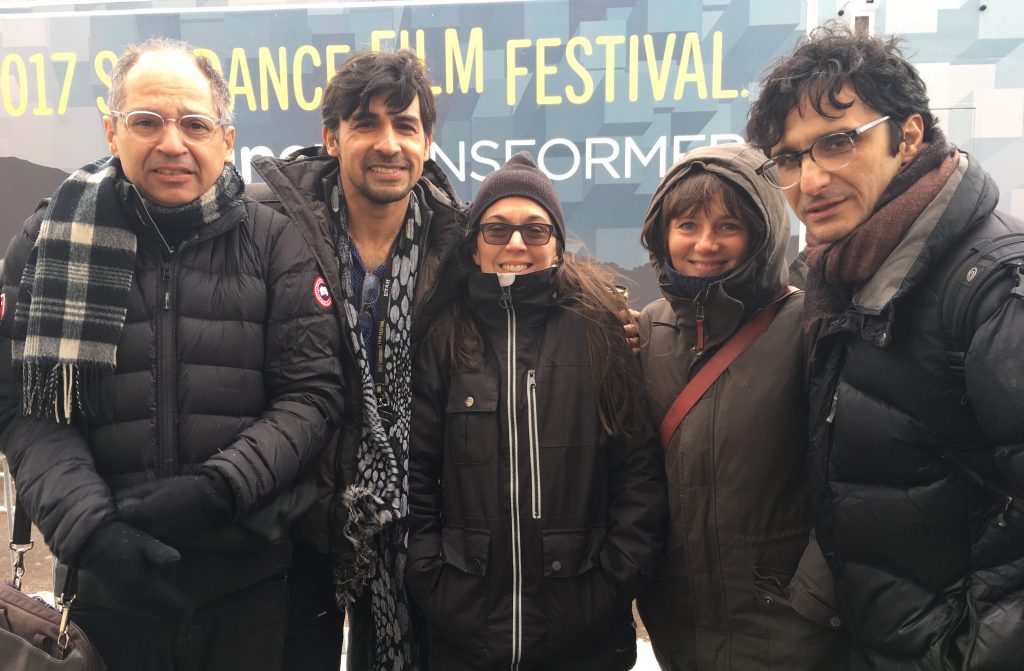 At Sundance, Faculty Members Show How Experimental Filmmaking Provokes Social Inquiry
Throughout the 1800s, in lighthouses across America, women were in charge, responsible for keeping the lights on and guiding countless ships to safety. These determined working women inspired Erica Fae's new movie, To Keep The Light, which explores the struggle of one female lighthouse keeper to hold her post as she deals with personal turmoil.
Fae, a faculty member in the School of Drama, created the film in part to show what history has often ignored: the stories of pioneering women.
"By mining them and sharing them on stage or screen, I feel I'm doing my small part to help people realize that women have been trailblazers for centuries," Fae told the Huffington Post. "I think if women and men knew about more of these fore-sisters, it might lighten the load in our ongoing push for equality. Plus, I think they're simply great stories!"
Fae is one of the many filmmakers who use experimental filmmaking and storytelling to provoke social inquiry and activism — an approach that drives The New School's pedagogy and which was the subject of a recent panel discussion featuring university faculty members at the Sundance Film Festival.
Moderated by filmmaker and educator Michael Bodie, the panel discussion also featured Caveh Zahedi, assistant professor of screen studies at Eugene Lang College; Melanie Crean, assistant professor of communication design and technology at Parsons School of Design; Nitin Sawhney, assistant professor of media studies; and Abou Farman, assistant professor of anthropology at the New School for Social Research.
During the panel, faculty members took turns discussing their practices and sharing illustrative examples of their work, inviting attendees to consider the use of experimental techniques to conduct social inquiry and probe the empowering effects of unconventional filmmaking. They touched on topics ranging from performance and film as ritual, embodied practice, and the role of memory in storytelling to issues of privacy and ethical conflicts and inspiring social action through film.
Crean walked the audience through Mirror/Echo/Tilt, a performative workshop, curriculum, and video series that experiments with personal histories of formerly incarcerated individuals and explores the way they can be reframed from a position of power as opposed to that of "criminals."
"My work uses site-specific performances as a mode of inquiry, so people can move, speak, and feel in a way that's not determined by their incarceration," Crean said. "My work is about hero stories and who is traditionally a hero, and can be used by other people who are using performance as social inquiry."
Like Crean, Sawhney and Farman use site-specific works to foster social change. Farman produced the film Icarus: A Vision, which deals with, among other issues, the destruction of crops that are crucial to the survival of people living in the Amazon.
"When I think about socially engaged films, I think about the afterlife of the film," Farman said. "They showed Icarus to communities in Peru after they finished the film as a way to raise consciousness about the corporations coming to their communities, destroying the land, and leaving. Now, communities know what to expect when corporations come in and say, 'We have a deal for you.'"
The panelists' work reflects a broader effort of The New School — as an institution and among faculty members and students — to use storytelling to effect social change. Kia Benbow, The Arts '16, challenges the traditional narrative of HIV-positive people through photographic self-portraits. Additionally, The School of Media Studies hosted "Making Media That Matters: Amplifying Stories of Refugees," a panel discussion that brought together Jill Biden with actor, director, and advocate Ben Stiller and members of refugee communities, refugee service providers, government officials, and leaders from the technology, media, and entertainment industries to discuss strategies for harnessing the power of storytelling to highlight the plight of refugees.