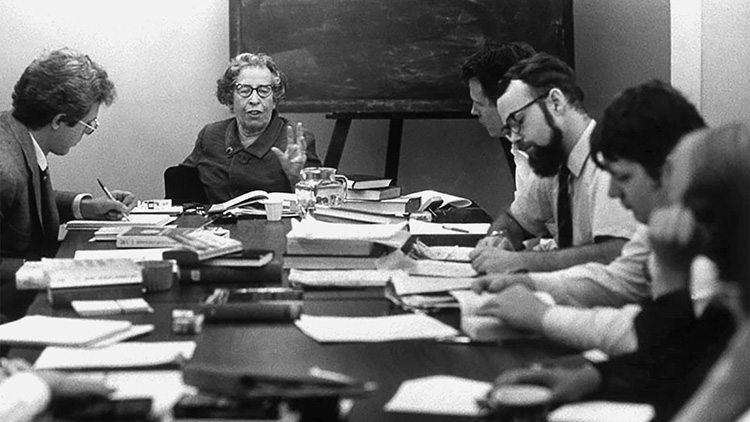 President Van Zandt: Trump Executive Order 'Threatens' Educational Mission
On Friday, President Trump signed an executive order temporarily barring refugees and citizens from seven countries whose populations are majority Muslim — Iran, Iraq, Libya, Somalia, Sudan, Syria, and Yemen — from entering the United States.
It didn't take long for President David Van Zandt to speak up. In a letter to The New School community, he declared the order a "threat" to the university's educational mission and, referring to a Board of Trustees resolution issued in November, reaffirmed its "commitment to creating a safe environment for our students to pursue their studies . . . and our identity as an inclusive community that stands for social justice."
"The New School's extensive international community is among our greatest strengths," Van Zandt said. "A variety of cultural, political, ethnic, racial, and religious perspectives — and diversity in all its forms — add immeasurably to the level of our scholarship, creativity, and ability to engage effectively with complex global issues."
He added that, in 1933, The New School founded the University in Exile, a safe haven for international scholars who were facing persecution in fascist Europe.
"That courageous and bold stance not only had a profound influence on U.S. scholarship, it also galvanized the core values that continue to define our university today," he said.
Van Zandt said the university is working with attorneys who specialize in immigration issues to understand the full implications of the Executive Order and its legal challenges so that it can provide appropriate guidance. The New School's International Student and Scholar Services is monitoring the issue closely, updating information on its website, and reaching out to students who are directly impacted. For now, students and faculty from countries included in the Order are advised to consult an immigration attorney if they are considering travel outside of the United States.
Following the Order, members of The New School community took to social media with statements of support for the university and its international student community.
Proud to be part of @TheNewSchool community. I never thought the phrase "academic asylum" would emerge from history to be relevant again. https://t.co/hAKMcnb1ZN

— Paul Goldberger (@paulgoldberger) January 29, 2017
The refugee grandparents of this NS alumni took classes at @thenewschool after they fled Hitler! Hope this institution stays safe & radical. https://t.co/15sn49R38T

— Zina Rose (@ZinaGoes) January 29, 2017
This is who we @TheNewSchool are and why we are. https://t.co/noDvb5gNVd

— Melissa Friedling (@DeanMFriedling) January 31, 2017
While The New School, as an institution, does not take political positions, faculty members made their voices heard in essays and commentary in the media. In an essay published on Public Seminar, T. Alexander Aleinikoff, director of the Zolberg Institute on Migration and Mobility, argued that the Trump Administration's declaration that Syrian refugees are "detrimental" to the interests of the U.S. "is a statement so at odds with American traditions and values that one hardly knows where to begin in responding."
"One would think that our national shame over these laws and executive actions would have been a bulwark against this disgraceful Executive Order," he wrote. "But not, apparently, in the age of Trump." He concludes his essay, saying, "Mr. Trump's Executive Order inflicts injury on tens of thousands of innocent people. And it harms all Americans by diminishing the moral standing of the nation in the eyes of the world."
In keeping with its mission and history, The New School community is staying engaged. Students, faculty, and staff have taken to the streets during the Women's March, co-organized by alumna Vanessa Wruble, MA Psychology '08, participated in wellness as a form of social activism, read up on the history of dissent, and signed up for a series of courses on post-election America.
Said Van Zandt, "Our values as a community are more important than ever and I encourage you to remain vigilant in your support of those ideals and your fellow New Schoolers."