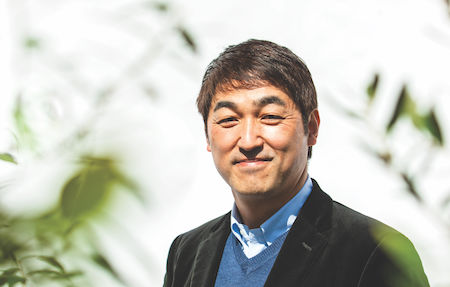 The New School Works with Hirokazu Nagata on Design Solutions to Disasters
Ever since he lived through Kobe's Great Hanshin-Awaji Earthquake, Japanese designer Hirokazu Nagata has dedicated his career to preparing communities for earthquakes, tsunami, typhoons, volcanic eruptions, and floods.
He has since become one of Japan's most active and respected leaders on disaster preparedness, working with designers, social innovators, and architects to design solutions to mitigate the devastating impact of cataclysmic events.
He has found an enthusiastic partner in the School of Constructed Environments at Parsons School of Design. Over the next year, the school, and other members of The New School community, will engage in activities and coursework that will culminate in an exhibition at the Sheila C. Johnson Design Center in Spring 2018. The exhibition and related public programs will encourage a collaborative, interdisciplinary examination of disaster preparedness across New York City, Kobe, Chiang Mai, and other communities to which the exhibition will ultimately travel.
The project kicks off with This Could Save Your Life: Creative Design & Disaster Preparedness. Co-organized by Parsons SCE and the Japan Foundation Center for Global Partnership, the talk will introduce his broad body of work, which includes preparing children through games and survival camps, collaborating with major corporations on disaster-ready products, and creating easy-to-use pocket survival manuals, multi-functional emergency shelters, and other imaginatively designed products. The event, which will be hosted by Robert Kirkbride, dean of SCE and associate professor of architecture and product design, takes place Thursday, February 23, 6:30 p.m. at The New School's Starr Foundation Hall, 63 5th Ave.
In the wake of cataclysmic events such as Hurricane Sandy and the 9/11 terror attacks, students and faculty members at SCE have developed a greater awareness of the need for disaster preparedness. Through its programs, projects, and curriculum, as well as technologically innovative buildings, interiors, lighting, and products, the school is committed to using socially and environmentally sustainable solutions to foster climate and infrastructural resilience.