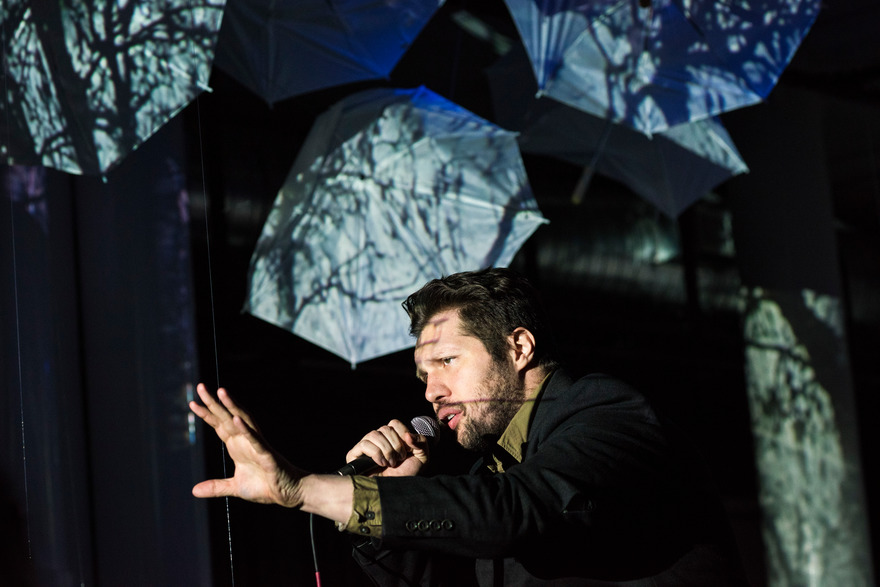 In Performance of Robert Ashley's Dust, CoPA Connects to Tradition of Experimentation
Inside the Ernst C. Stiefel Concert Hall, five actors sat perched on black box stools, enveloped in video projections of a city park awash in snow. White umbrellas suspended from the ceiling provided cover from the "elements" while handmade signs — "In Need of Help," "Seeking Human Kindness" — pleaded with imagined passersby.
Synthesized loops of astral ambiance filtered through the room as a man living in the park (Mario Diaz-Moresco, PSD '18) unspooled stream-of-consciousness poetry. He spoke of life-changing events, missed opportunities, memory, and regret — of "life's irreversibilities."
He introduced his fellow street people: Green Pants, a woman who taunts cops by calling them "Motherfuckers Against Drunk Driving" (Evelyn Rivera-Cardenas, BA Acting '18); Lucille, who "used to be sort of cute, but now she's getting older, and the guys don't flirt with her so much" (Julia Meadows, BM '18); Shirley Temple, a woman who, as a child, was a stand-in for Shirley Temple (Samantha Scully, MM '16); and an old man known simply as The Rug (Alexander Greenzeig, MM '18).
Because this is an opera, audience members at some point might have expected to hear operatic singing, but there wasn't any — at least not in the conventional sense. Instead, the performers took turns telling stories — delivered in a rhythmic recitative punctuated by occasional melodic flourishes — about the life of a friend who lost his legs in an unspecified war. They shifted into an extended spoken word sequence, layering and harmonizing their voices to dreamy and hypnotic effect. Then, they broke into a set of electronic pop songs.
When the lights came up, one was left wondering: Was that really an opera?
CoPA students performed DUST in February 2017. (Photo/Martin Seck)
DUST was no doubt a drastic departure from the College of Performing Arts' past productions of classic works, including Gaetano Donizetti's L'Elisir d'Amore, Giacomo Puccini's Suor Angelica and Gianni Schicchi, and Daniel Catán's Il Postino. But in other ways, the remarkable performance of Robert Ashley's avant-garde masterwork was in keeping with a long and respected tradition at The New School — one of boundary-pushing experimentation, artistic openness, and engagement with some of the most pressing issues of our time.
"Robert Ashley could not have known when he wrote this groundbreaking work in 1998 that its message — one that calls attention to the societal ills of drug addiction, homelessness, and a disappearing social safety net — would be so timely nearly 20 years later," said Richard Kessler, dean of Mannes School of Music and executive dean of CoPA. "The New School has long been a home to artists — Henry Cowell, John Cage, Martha Graham — who worked and lived outside of the mainstream; Robert Ashley is among this cohort. We believe in the importance of presenting and celebrating artists like Ashley and the impact that their work can have on society."
With DUST, CoPA made its own impact. Echoing the success of the production's 1999 premiere at The Kitchen, Dust garnered copious press attention (The New York Times and The New Yorker both covered it), leading to a quick sellout of all four performances well before opening night.
DUST musical director and Mannes faculty member Joan La Barbara, who performed in its 1999 debut, attributed the fanfare to the infrequency with which the opera is performed, its wildly experimental nature, and the immense challenge of tackling a production that makes unusual technical demands on its singers. La Barbara noted that the production "isn't notated like a typical score," leaving it to each performer to develop his or her own vocal line. The performers also use microphones — a cumbersome proposition for classically trained opera singers.
"These are singers who have been taught to project to a large house; the idea of using a mic was very new, as was the idea of singing quietly, lightly," La Barbara says. "You're teaching these new techniques to a group of singers who have been trained in a certain way, so there's a learning curve."
"I've had people ask, 'What are you doing?'" Meadows tells The New York Times of her experience rehearsing for Dust. "'That's a crazy piece; it's so irrelevant to what you're studying.'"
Marisa Karchin, MM '16, performed as Shirley Temple in CoPA's production of DUST. She alternated the role with Samantha Scully, MM '16. (Photo/Martin Seck).
However, in stepping outside of their comfort zones, students got a leg up in their professional careers. While the demands to control the pitch and rhythm of the spoken word are rarely called for outside of Ashley's body of work, teachers at CoPA, including Bill Gustafson, who produced and directed DUST, said the experience would shape the students into more versatile performers.
"The good singers don't use four or five different voices," Gustafson says. "They have their core technique and they know how to approach a certain composer in a really authentic way."
La Barbara added that DUST, more than any other opera, "forces performers to bring a lot of themselves to their roles." That's because Ashley, while providing a basic blueprint for performers to follow, left a lot of room for creative license. She compared his approach to a jazz musician's penchant for improvisation.
"If you think about jazz, you don't get notated music; you have to improvise," she says. "With DUST, you're given 'pitch center,' which is the terrain you want to focus on, and the rest is up to you."
That focus on the expression of individual personality, perspective, and experiences is the core of CoPA's educational mission. Another key aspect, which Kessler alluded to, is the focus on pressing social issues — a concern that drove Ashley's poignant exploration of homelessness, addiction, and reintegrating veterans into society.
"It feels amazing to be doing something that speaks to today, and not the 18th century," Meadows says.
Those issues are just as relevant today as they were 20 years ago when La Barbara performed in the premiere of DUST. She believes the opera's prescription for those ills — love — can be just as effective now as it was then.
"In the last song in DUST, Green Pants sings, 'There's nothing wrong with you that a little love won't fix,'" she says. "All of the songs have conflict, there's heartache, but ultimately, each song — and this entire production — contains a strong message of love."