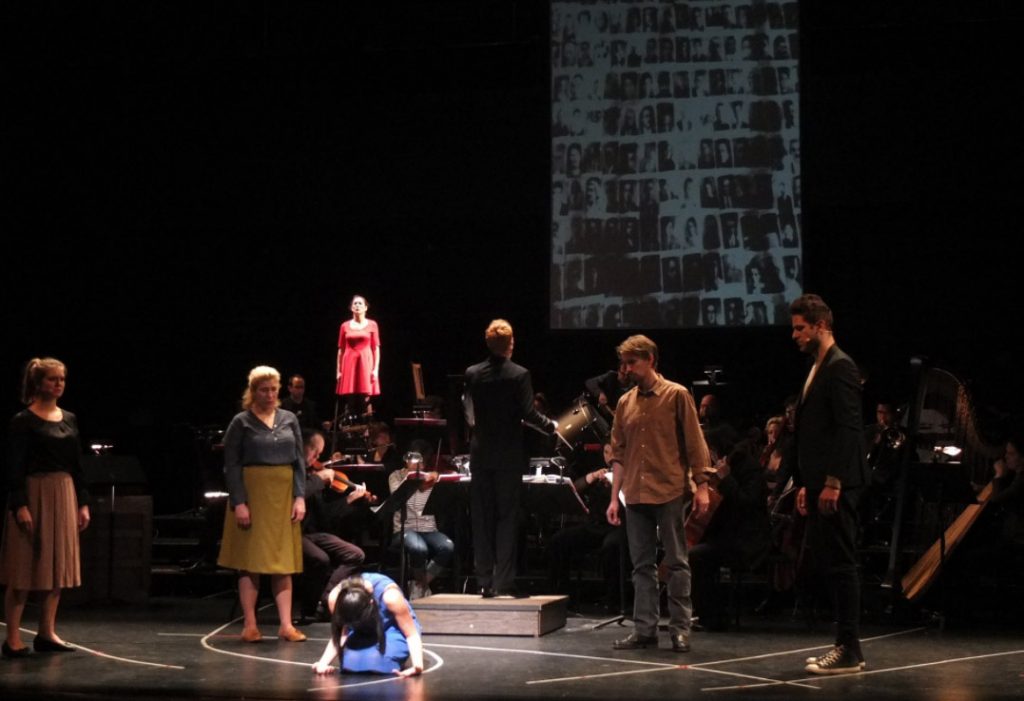 Kaija Saariaho, Mannes Composer-in-Residence, Opens Up Opportunities for Real-World Opera Experience
At the ripe age of ten, Simone Weil declared herself a Bolshevik. Throughout her teenage years, she was heavily involved in the workers' movement in France; in 1934, she went undercover as a worker at a Renault automobile factory to connect with the laborers for whom she was fighting.
Weil passed away in 1943 — but her legacy lived on. After her death, she earned widespread acclaim for her philosophical writings and activism, as well as a legion of admirers who praised her as one of the leading intellectuals of the 20th century.
Kaija Saariaho is one of them. The celebrated Finnish composer was so inspired by Weil that she wrote La Passion de Simone, an opera based on Weil's work and life. Mannes School of Music students had the unique opportunity to celebrate Weil's life with Saariaho when they performed a version of La Passion de Simone during the composer's residency at the music school last year.
"The subject matter highlights important questions concerning human life such as empathy, love, social consciousness, and self-destruction," says Saariaho. "I think it was important to perform the work with and for young people, and I found the students to be very well prepared."
As the composer-in-residence at Mannes during the fall 2016 semester, Saariaho mentored composition students, spoke in panel discussions, and helped produce two fully staged performances of a special version of La Passion de Simone created for chamber orchestra. The performances — produced by La Chambre aux échos, with students from The Mannes Orchestra and members of the International Contemporary Ensemble (ICE) — reflected Mannes' dedication to collaboration and real-world experience.
"For young musicians, working with a living composer is a fulfilling experience; it can help open their minds," says Saariaho. "The performances helped students reflect on their own lives and gave them ideas for future projects."
As composer-in-residence, Saariaho gave individual lessons to composition students while overseeing performances of her work by New York–based music companies, including the Metropolitan Opera, which premiered her opera L'Amour de Loin in December.
Thanks to Saariaho, Mannes students gained real-world experience as they participated in workshop performances of L'Amour de Loin at the Guggenheim Museum and the French Institute Alliance Française before the opera's premiere.
"Composers need musicians, because that's how our music comes alive," says Saariaho. "How to find the right people and how to work with them is central to a composer's life, and the connections made during their studies can last a lifetime."
For students, these invaluable lessons from Saariaho will help them succeed in the constantly evolving music industry after graduation.
"Having a lesson with Ms. Saariaho not only helped me gain a new insight into music and my own work but also made a huge impact on the way I relate to my craft and to others," says Carlos Tabares, Composition '17. "She is such a brilliant and prominent composer, but she never made me feel that there was any distance between us. Instead, she always showed herself attentive, humble, and genuinely caring about what I wanted to express."
Mannes is well-known for its innovative approach to education. Recently, students from across the College of Performing Arts presented Robert Ashley's groundbreaking opera DUST; in 2013, alumni from the School of Jazz started LoftOpera, a company that makes opera more accessible.
"I admire the efforts of Dean Kessler to develop Mannes into a contemporary music school, which prepares young musicians for a musical life in all of its multiple aspects of today," says Saariaho. "The success and happiness of the future lives of these young adults depend on their musicianship and their ability to invent and realize projects."