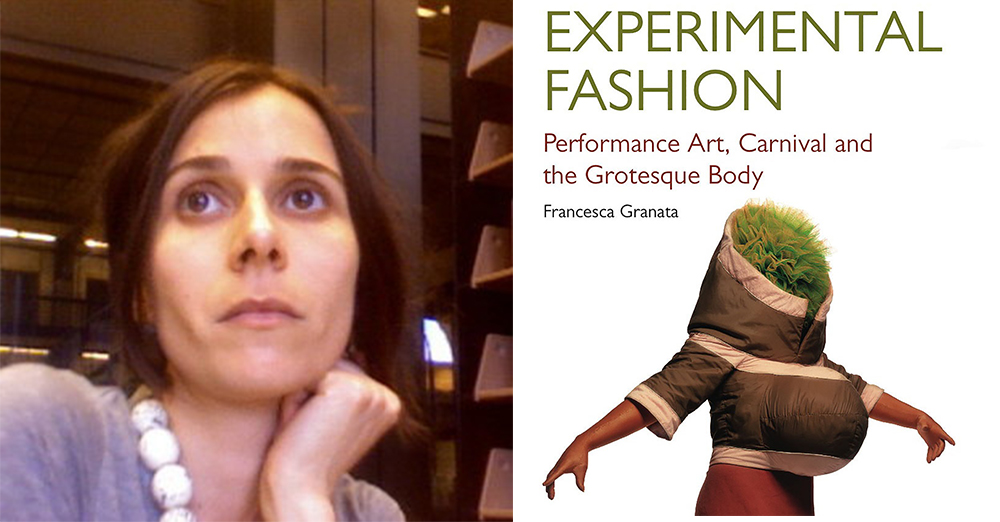 Parsons Faculty Member Francesca Granata Publishes 'Experimental Fashion'
Francesca Granata, Assistant Professor of Fashion Studies, celebrates the launch of her book, Experimental Fashion: Performance Art, Carnival, and the Grotesque Body, on Thursday, March 16 at 6 p.m. in Wollman Hall, 65 West 11th Street. Granata will be in conversation with Bernhard Willhelm, a German fashion designer who has worked with Bjork, Olaf Breuning, Cutler X, Joe Dallesandro, and many others.
In Experimental Fashion, Granata lays out her study of "designers and performance artists at the turn of the 21st century whose work challenges established codes of what represents the fashionable body through strategies of parody, humor, and inversion."
"The book argues that the proliferation of bodies-out-of-bounds in fashion during this period was influenced by feminism's desire to open up and question gender and bodily norms and particularly the normative bodies of fashion," Granata says. "It was also tied to the AIDS epidemic and mediated the fears of contagion and the obsessive policing of bodily borders that characterized the period."
Here's more on the book:
Starting in the 1980s, the book investigates the ways designers such as Georgina Godley challenged the masculinized silhouette of the power suit and its neoliberal exhortations, while Comme des Garçons's Rei Kawakubo questioned the sealed classical body of fashion, in part thanks to her collaboration with choreographer Merce Cunningham and artist Cindy Sherman. Fashion designer, performance artist, and club figure Leigh Bowery upended gender codes and challenged fears surrounding the bodies of gay men through the decade. The book also examines Martin Margiela's "deconstruction fashion" of the 1990s and the way his work challenges norms of garments' construction and sizing.  It enters the new millennium through the work of Bernhard Willhelm which shows the increased cross-pollination of fashion and performance art and the renewed interest in upending codes of masculinity. The book concludes by examining how experimental fashion—particularly in its grotesque and carnivalesque variety—moved from the margins to the mainstream through the pop phenomenon of Lady Gaga.