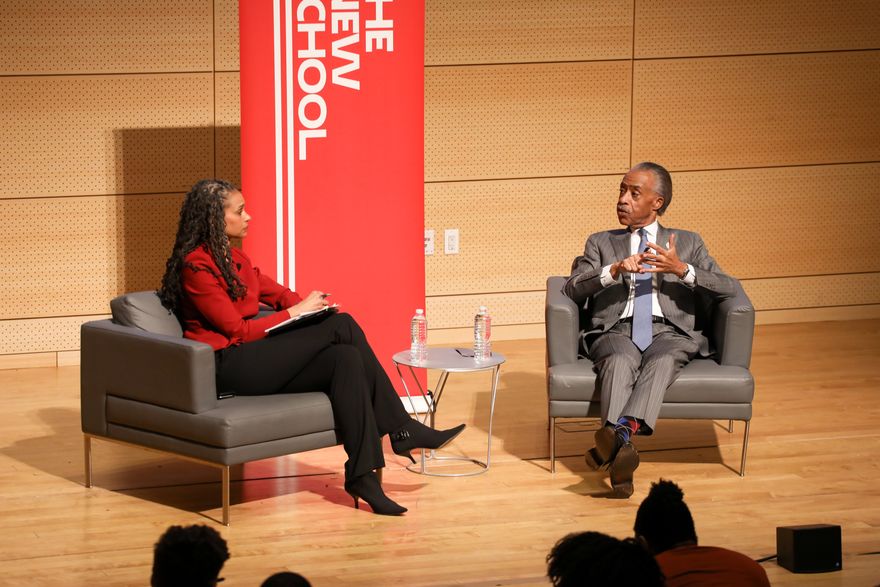 Al Sharpton and Maya Wiley Talk Social Justice at The New School
"Normal people don't fight the system, so you have to have abnormal people."
The words of civil rights leader Ralph Abernathy hung in the air as the Rev. Al Sharpton addressed a crowd gathered at the Tishman Auditorium on the last day of Black History Month.
Urging reform on a host of issues — school choice, same-sex marriage, voting rights, redistricting, and the rights of transgender individuals — Sharpton spoke of the need for people who are willing to challenge the system rather than "people who are looking for ways to find their place and security in the system."
"You can't ask people to have an abnormal commitment when they're embedded in normal processes," Sharpton said. "I never forgot that, and at every meeting I have, I'm reminded that when abnormal people start screaming and yelling, it's when real change happens."
The American civil rights activist, Baptist minister, and television/radio host made his remarks at "Al Sharpton on Social Justice Today": The 2017 Henry Cohen Lecture Series, a discussion of key issues affecting civil rights, social justice, and criminal justice reform in New York City and nationally. The event was hosted by The New School; the Milano School of International Affairs, Management, and Urban Policy; and Maya Wiley, senior vice president of social justice and Henry Cohen Professor at the New School.
Named after Henry Cohen, the founding dean of Milano, the Henry Cohen Lecture Series is devoted to advancing social equity in America. This year, the series will examine how to advance political, social, and economic inclusion in the context of the presidency of Donald Trump.
In the spirit of the series, Sharpton spoke of the need for a broad and radical approach to confronting civil rights abuses.
"Under this administration, we must fight on various fronts at the same time — for immigrants, for members of the LGTBI community, for Muslims — understanding it's all for the same reason," Sharpton said. "The challenge of this generation, on this last day of Black History Month, is creating an intersectional movement that fights for equal protection under the law and equal rights for everybody."
Sharpton spoke of the right of transgender individuals to use the bathroom corresponding to the gender with which they identify.
"I'm one generation away from my mother, who wasn't allowed to go into any white bathroom no matter what gender she was; she couldn't use a public bathroom in hometown until she was in her 40s," Sharpton said. "As the son of a person who had to hold her water until she could find a colored bathroom, I can't support bias against people who are experiencing that same situation."
Following his speech, Sharpton sat down with Wiley to answer questions about his experience finding his way to the civil rights movement, confronting homophobia in the black church, and the intersection of family life and protest movements.
Wiley recalled how, growing up, family activities "meant a sit-in or a rally" organized by her activist father.
"Then, one day, my mother says, 'We're going to go on a picnic,' and my brother went over to the wall of our house, and picked up a picket sign, and started picketing the idea," Wiley recalled. "He didn't know what a picnic was. You were talking about the need for abnormal people. Well, we were right up there with abnormal."
Wiley went on to ask Sharpton about how New School students could build activist movements in the wake of "an incredible expansion of protest" sparked by the 2016 presidential election.
"The idea is to never lose sight of the goal," he said. "Too often, we got caught up in the style and tactics rather than goal. In the end, achieving the goal is what will matter."
And for that, Sharpton said, "We're going to need some abnormal people."