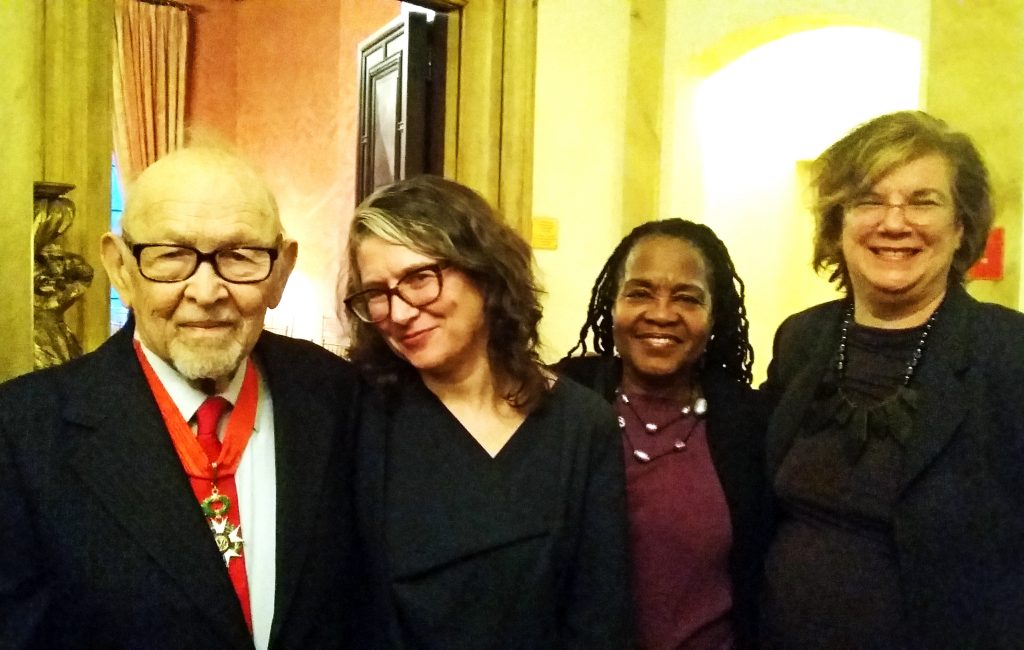 Justus Rosenberg, Longtime BPATS Faculty Member, Awarded Legion of Honor from the French Government
Justus Rosenberg has long been known by members of The New School community as an incredibly knowledgable, funny, multi-lingual teacher of political and cultural history in the Bachelor's Program for Adults and Transfer Students (BPATS).
But his identity runs deeper, rooted in the turbulent times of Vichy France. Rosenberg, according to The New York Times, "is thought to be the last remaining member of an extralegal team assembled by the journalist Varian Fry in 1940 to provide safe passage out of Vichy France to anti-fascist intellectuals and cultural figures fleeing the Nazis." As many as 2,000 people, including Hannah Arendt, Marc Chagall and André Breton, were rescued by Fry's network.
Recently, Rosenberg was honored for his "selfless sacrifice" throughout the war and subsequent "outstanding academic career" with the Legion of Honor from the French Government during a ceremony at the French Consulate in New York City. Mary Watson, New School executive dean, and Melissa Friedling, dean of the School of Undergraduate Studies, were in attendance.
Rosenberg was praised for leaving "a profound mark and [being] a highly influential role model for thousands of young men and women beginning their adult lives . . . and [serving] as an example to all those who have French-American friendship at heart."
After World War II, Rosenberg remained a humanitarian, joining the Forces Francaises de I'Interieur and the United Nations Relief and Rehabilitation organization. He became a faculty member at The New School in 1959, teaching 18 different classes at The New School until his departure in 2013. Amongst his signature courses were "10 Plays that Shook the World," "Literature and Ideology" and "Culture of the Stetl."
Prior to Rosenberg's exit, Terri Gordon, associate professor of comparative literature, arranged for then-New School for Social Research graduate student Scott Ritner to conduct an oral history with Justus. The oral history — funded, in part, through a Jewish Cultural Studies Posen Foundation Grant — is now in The New School archives.