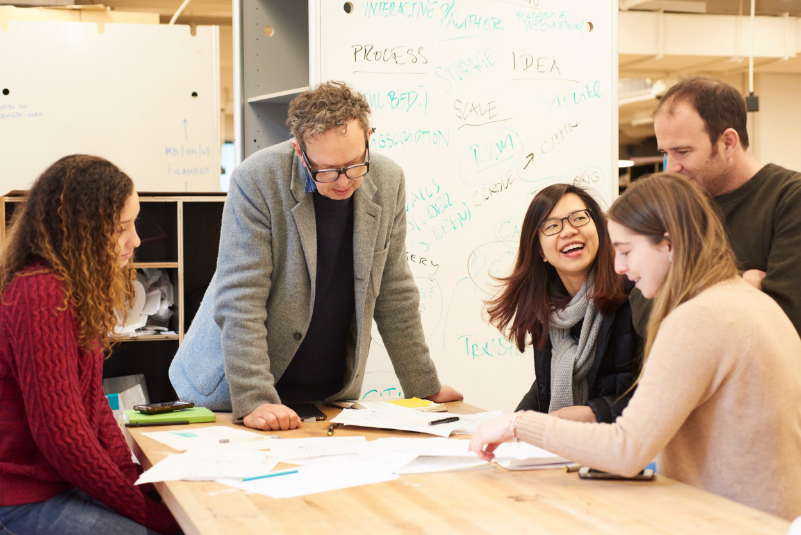 Parsons Students Team with Tom Dixon and IKEA on Design Solutions
At IKEA, the Swedish furniture and decor powerhouse, product design is propelled by a desire to address human needs.
So, when IKEA was looking for a partner to help modify its DELAKTIG sofa platform, the company turned to a leading art and design school that's dedicated to using design for social good.
Recently, students and faculty members at The New School's Parsons School of Design worked with designer Tom Dixon and innovators from IKEA, including Head of Design/Design Manager Marcus Engman and Creative Leader James Futcher, during a four-day workshop at Parsons.
Hailing from design disciplines from across the school, 20 students designed modifications to DELAKTIG that responded to a variety of challenges, including accommodating newborns, living in small spaces, loneliness, and natural disasters.
"It's exciting to repurpose this platform for tons of different ideas," says Sarah Templin, MFA Industrial Design '18. "This project, with its open source thinking, can help people make a place their own."
Templin and fellow student Danielle Connelly developed a design to address the needs of new families.
"When you have a baby, your life, including your home, changes dramatically," Templin says. "So we decided to focus on new families and how the platform can cater for all the needs that come when you have a baby."
The four-day workshop combined the key aspects of Parsons' innovative approach to education: cross-disciplinary collaboration, using design to address real-world issues, and working with outside partners, including influential companies such as IKEA, to gain real-world experience.
"Through this workshop, our students, no matter their area study, had a unique opportunity to work together, and with a influential company, on design solutions for a product that improves peoples' lives," Alfred Zollinger, director of MFA Interior Design, says. "It is in this type of environment that innovations take shape."
Check out a video from the workshop courtesy of Fast Co. Design.