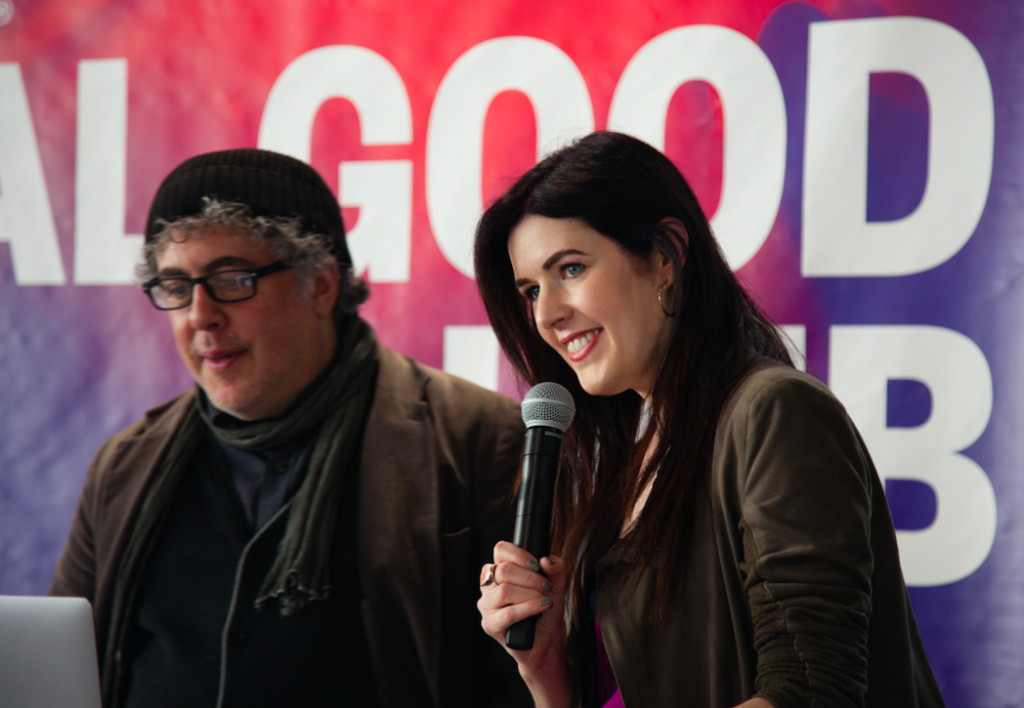 The New School + #SXSW: Lauren Walsh On How Tech Democratizes Historical Narratives
The following is one in a series of posts about The New School's participation in South by Southwest (SXSW) March 10-15. Students, faculty members, and alumni ​shared innovative projects and perspectives that embody ​the university's human­-centered approach to technology and design-inspired solutions to pressing social issues. For complete coverage of The New School at #SXSW, visit New School News.
"History is written by the winners," Lauren Walsh said, referring to the writing of George Orwell. "Implicit in that idea is that the 'losers' of history — the colonized, the oppressed, the marginalized — don't get to write it."
Walsh, a faculty member at The New School's Eugene Lang College, gave a striking example: the dominant narrative of the history of Christopher Columbus' arrival to the American continent is one of celebration; however, Walsh said, "this narrative cuts out entire populations' accounts of that moment, including indigenous people, who suffered great human rights injustices" as a result of Columbus' actions.
Walsh and war photojournalist Ron Haviv, are trying to flip the script on that reality. Haviv founded, with Walsh as project editor, Lost Rolls America, a public photo archive that aims to democratize historical narratives by inviting users to submit photos — found on undeveloped rolls of film — that are added to a digital repository of visual memories. This way, Walsh said, the "winners" won't be the only ones who can "lay claim to the narrative that will go down in history."
How does photography play into this mission? Joining Haviv for a SXSW panel, The New Archive: How Tech Democratizes Historical Narratives, Walsh said visible documentation plays an important role in how we document, and by extension remember, our personal and shared pasts.
Walsh showed as an example Associated Press photographer Nick Ut's famed image of Vietnamese children running down a road naked near Trang Bang after a South Vietnamese Air Force napalm attack.
"You might not know exactly where, when, and who. But everyone recognizes this photo from and the horrors of the Vietnam War," Walsh said. "This photo operates on a collective level; it is an example of an iconic image, which sustains over time, that even my students can recognize despite not being alive when it was taken."
She also pointed to the impact of visual documentation on raising awareness on police brutality.
"There are historical crises that receive less photo documentation, and this can lead to the crises being ignored; people don't pay attention," Walsh said. Referring to the domestic example of police killings of black men, she offered, "This is an endemic racial issue, but people weren't paying attention to it on a national level before all this visible documentation. The idea is getting images out there on behalf of people who aren't represented."
Lost Rolls America invites visitors to fill out a form, send in their undeveloped rolls of film, and then have their images and accompanying information added to an online archive.
Said Walsh: "We're celebrating the role photographs play in shaping the construction of memory."