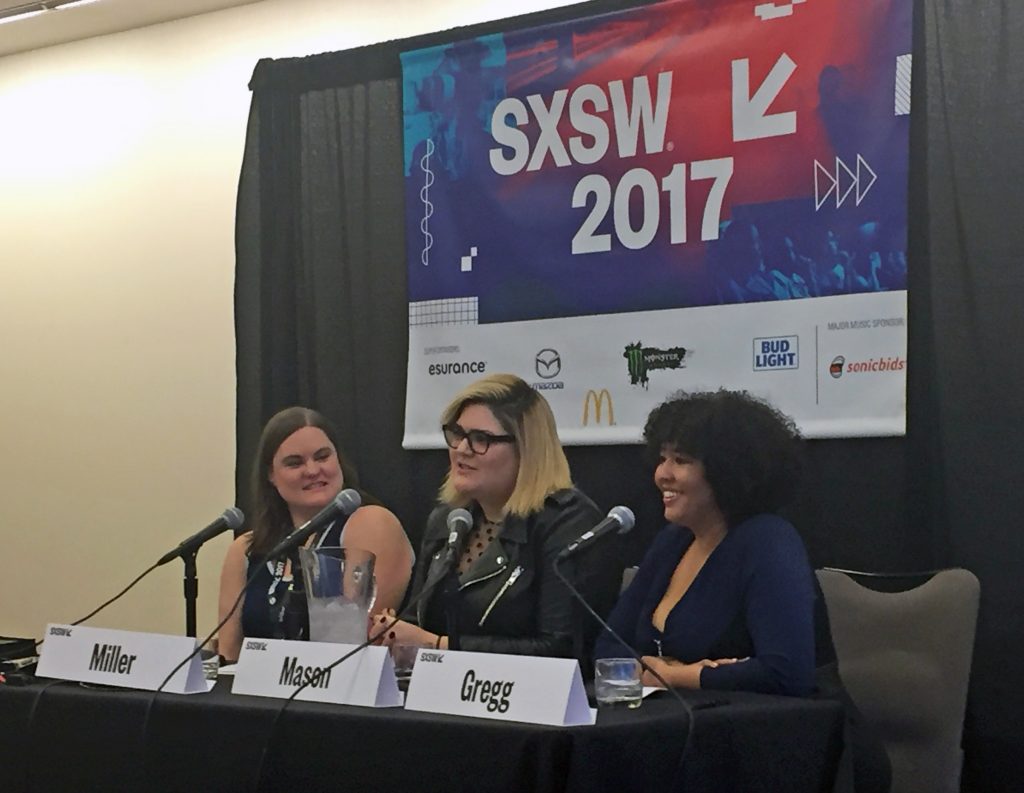 The New School + #SXSW: Nicolette Mason, BBA Strategic Design and Management '08, On the Mainstreaming of Body Positivity
The following is one in a series of posts about The New School's participation in South by Southwest (SXSW) March 10-15. Students, faculty members, and alumni ​shared innovative projects and perspectives that embody ​the university's human­-centered approach to technology and design-inspired solutions to pressing social issues. For complete coverage of The New School at #SXSW, visit New School News.
As a public of face and a self-described "woman on the internet of a certain size," Nicolette Mason, BBA Strategic Design and Management '08, has won her fair share of admirers — and haters.
"The overwhelming response is positive and affirming, but I'm a woman on the internet of a certain size who's Middle Eastern, Jewish, and queer — people are threatened by those identities," said Mason, a fashion influencer and an influential voice in the LGBTQ and "curvy girl" communities. "You get a lot of harassment and trolling comments. My partner and I are fat dykes — and people are really upset about that."
Mason shared her thoughts in My Body Is NSFW, a panel at #SXSW about the mainstreaming of body positivity and the backlash against it. The Parsons School of Design alum was joined by Kelsey Miller, founder of The Anti-Diet Project on Refinery29, and Gabi Gregg, a Los Angeles-based brand consultant who helped launched the #fatkini revolution.
Since Miller launched The Anti-Diet Project in 2013, the radical concept of body positivity has gone mainstream: the anti-retouching movement began, #fatkini took off, and Tess Holliday became the first size 22 supermodel. While celebrating the progress that's been made, Mason, Miller, and Gregg made it clear that society still has a long way to go in embracing bodies of all shapes and sizes.
The panelists noted that large bodies are still flagged as "inappropriate" and trolls voice "concerns" about what they are "promoting."
"For some reason, we can't talk about the fat body without talking about health," Mason said. "I'm not a doctor, I'm a fashion writer; I'm not adept at giving health advice. Posting under the guise of health is really a means to criticize."
She added, "People of size are made to feel like they always have to have a conversation about their health."
Mason also noted that criticisms of the fat body fail to account for socioeconomic issues.
"We can't talk about the fat body and health issues without talking about equal access to healthcare for all genders and races and unjust food systems," Mason said. "People in marginalized communities don't enjoy the same access."
But confronting internet trolls isn't the only challenge facing body positivity advocates. Even in progressive circles, people are "uncomfortable with acknowledging that fat body is anything other than ugly," Mason said.
"Sometimes, people will say, 'You're not fat, you're pretty,'" she added. "I'll tell them, 'Did I say I wasn't pretty?'"