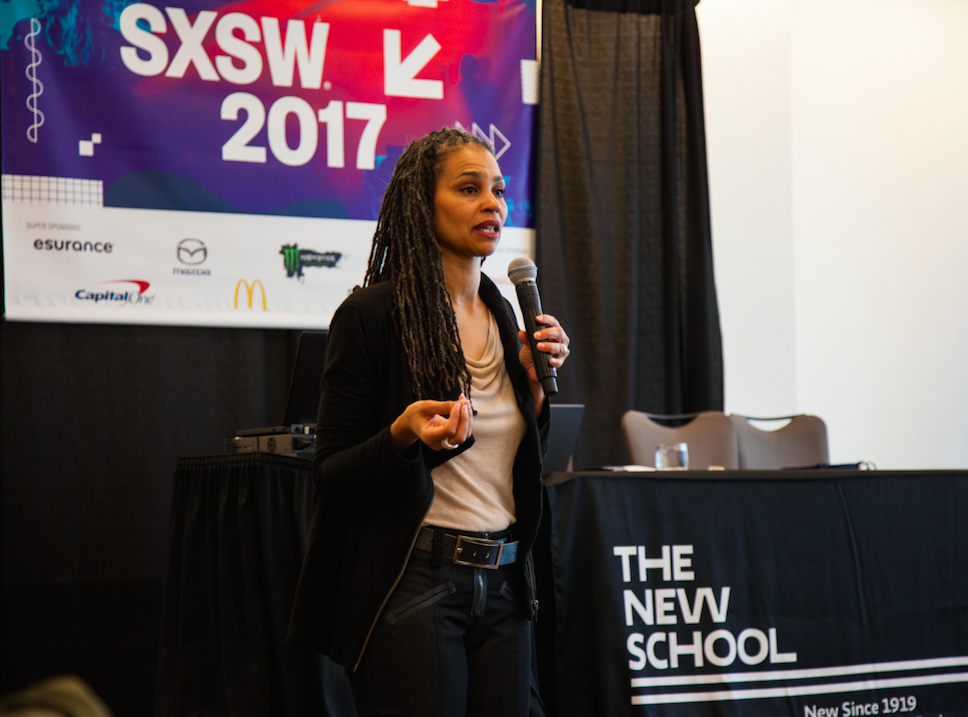 The New School + #SXSW: Maya Wiley Points to Policy Solutions to Close the Digital Divide
The following is one in a series of posts about The New School's participation in South by Southwest (SXSW) March 10-15. Students, faculty members, and alumni ​shared innovative projects and perspectives that embody ​the university's human­-centered approach to technology and design-inspired solutions to pressing social issues. For complete coverage of The New School at #SXSW, visit New School News.
When class gets out in schools across the country, crowds of students can be found tapping away at their smartphones across the street and on nearby stoops.
At first glance, you might assume they're playing games or texting friends. But in many cases, students are trying to pick up their school's wireless signal so they can download their homework.
That's because many students don't have access to broadband internet access at home.
"If these students are relying on their smartphones for service, how can they do their homework?" Maya Wiley, civil rights activist, former counsel to the Mayor of New York City and vice president of social justice at The New School, says. "You can't do your homework on a smartphone. But for so many kids, this is what they're being asked to do."
These students are among the 55 million Americans — roughly 17 percent of the population — living without meaningful access to the Web. In an era in which the Internet is critical to how we work, learn, and connect to one another, Wiley says "this digital divide is nothing short of a digital disaster."
Wiley made her remarks during Digital Equity as Public Policy in the Trump Era, her #SXSW panel focusing on opportunities for expanding high-speed Internet to Americans who lack it.
Today, millions of people use high-speed Internet for a host of needs, from searching for and applying for jobs, to signing up for health care. But for those who don't have it — primarily residents of disadvantaged communities — those essential activities are difficult to accomplish.
Wiley pointed to policy as the culprit for the digital divide. She cited a decision by AT&T to "redline low-income communities of color in Cleveland" as the company was making upgrades to its network. In addition, AT&T refused to provide a promised $5-per-month Internet service to poor individuals in areas where the company hadn't made the upgrades.
"The more affluent suburbs of Cleveland got the upgrades, but many people in the low-income areas were left out," says Wiley, who is also Henry Cohen Professor of Urban Policy and Management at the Milano School. "People are paying full price for Internet that is so slow it's virtually meaningless."
City governments and local communities have been stepping up to address the issue. As counsel to the Mayor of New York City, Wiley worked with New York City Mayor Bill de Blasio and members of city government and local agencies to launch LinkNYC, an initiative transforming New York City's old pay phones into Wi-Fi kiosks to create the world's largest and fastest free public Wi-Fi network.
Beyond community-based models, Wiley urged more private competition while "holding big telecoms companies accountable for what they deliver"; "getting policy up to date with technology"; maintaining net neutrality; and a passing bill in which "we commit money to broadband infrastructure."
"When looking at solutions for economic inclusion, and better outcomes from communities and societies — you can't do that without broadband," Wiley says. "Today, high-speed internet access is a necessity and not a luxury as it is increasingly how we find and connect to better opportunities."