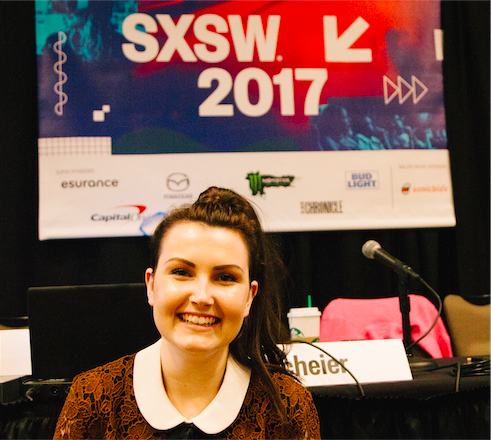 The New School + #SXSW: Lucy Jones, BFA Fashion Design '15, is Designing Clothes for the Differently-abled
The following is one in a series of posts about The New School's participation in South by Southwest (SXSW) March 10-15. Students, faculty members, and alumni ​shared innovative projects and perspectives that embody ​the university's human­-centered approach to technology and design-inspired solutions to pressing social issues. For complete coverage of The New School at #SXSW, visit New School News.
Lucy Jones, BFA Fashion Design '15, and Jillian Mercado, a fashion model who is a wheel chair user, were late to their panel at #SXSW.
They couldn't find a cab to accommodate Mercado's wheelchair.
For Jones, who finally arrived with Mercado about halfway through Fashion for the Differently-abled, it was a stark reminder of the myriad ways in which society fails to meet the needs of people of different physical abilities.
Jones, the 2015 Womenswear Designer of the Year, told an audience at SXSW that it was time that "We address the entire lifestyle of the person with a disability, no matter if they're shopping or catching a cab." At Parsons and in her career, she's confronted that issue through fashion.
"In five years time, I would like to see that we've addressed all these moving parts," said Jones, the creator of Seated Design, a collection of minimal, elegant clothes for wheelchair users. "I'm thinking about the consumer experience, but it goes far beyond that."
Jones, along with Mercado and Mindy Scheier, founder of Runway of Dreams — a nonprofit organization that partners with the fashion industry, including designers like Jones, to modify brand-name apparel to make fashion accessible for all — discussed the monumental strides the fashion industry has made in diversity and inclusion. 
Scheier jokingly recalled having "stalked" Jones after the Parsons alum won Kering's Empowering Imagination competition. She praised Jones— and The New School's Parsons School of Design — for their focus on fashion for social good.
"The fact that Parsons would choose her to be Womenswear Designer of the Year, and that they look at design from the perspective of helping differently abled people, is really worth celebrating," Scheier said. "It's embedded in their curriculum."
Jones noted that when she studied at Parsons, she was "kind of a lone ranger" in fashion design for people with disabilities. However, since she graduated, the field has "really blown up."
"People are saying, 'I feel underserved. Serve me,' and I think that's powerful," she said. "There's a growing community and it's only getting louder."
Jones hopes that in the not too distant future, she and Mercado will exist in a reality where catching a cab is easy, no matter who's hailing it.