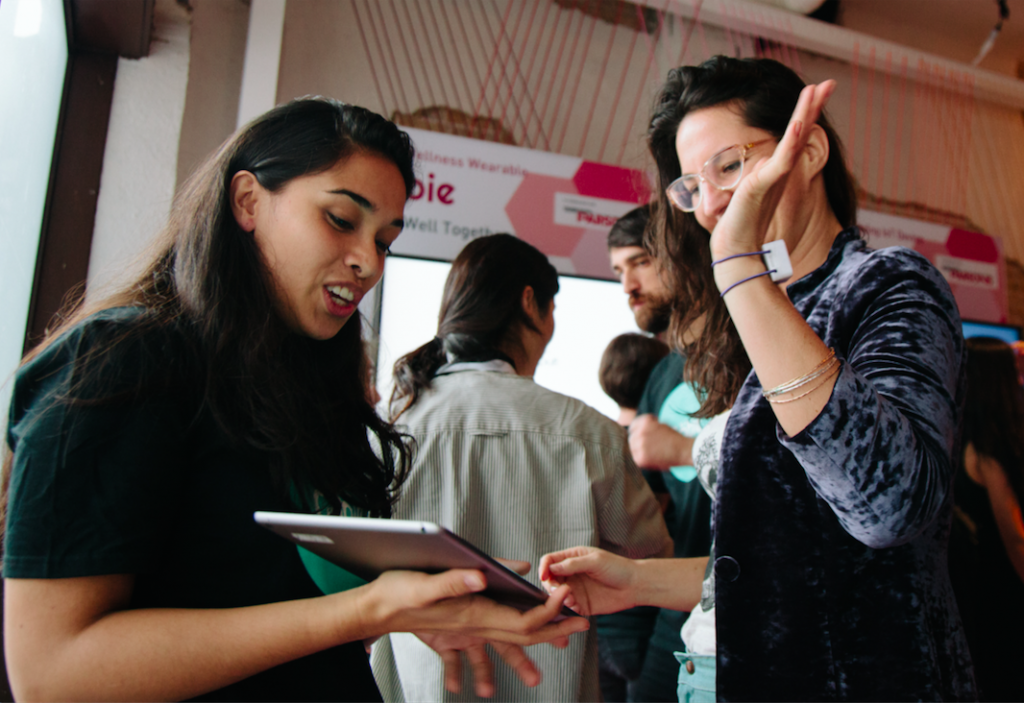 The New School + #SXSW: Parsons and Panasonic Present Wearable Tech for Wellness
The following is one in a series of posts about The New School's participation in South by Southwest (SXSW) March 10-15. Students, faculty members, and alumni ​shared innovative projects and perspectives that embody ​the university's human­-centered approach to technology and design-inspired solutions to pressing social issues. For complete coverage of The New School at #SXSW, visit New School News.
Hideto Shimizu and Tatsyuki Ishikawa, a pair of Toshiba executives, put their hands in the air and waived them from side to side while Courtney Snavely kept them on rhythm.
Telling by their laughter, Shimizu and Tatsyuki weren't prepared to show off their dance moves that day. But it is exactly the sort of pop-up play experience that Göbie, a wearable tech device designed to improve social wellness, was intended to produce.
"You're dancing to better your social interaction," Snavely, MFA Design and Technology '17, said during a demonstration of Göbie at Panasonic House at #SXSW. "When you master this dance, you get to level up to something more challenging."
Göbie is one of two (the other being Sleepwise) wearable technology devices and experiences designed for wellness created by students from The New School's Parsons School of Design and Panasonic that were presented during #SXSW. Working together at Parsons, members of Game Changer Catapult — business leaders, engineers and a UX designer at Panasonic — and students from Parsons' MFA Industrial Design, MFA Design and Technology, and BBA Strategic Design and Management programs, designed products and experience that highlight the important role design and technology play in improving peoples' lives.
"As embedded technology becomes more prevalent, Parsons is training young designers to use it for social good, " said Parsons Design Lab director Anu Malhotra, who is overseeing the project. "Collaborating across disciplines — in this case, breaking down the boundaries between designers and technologists — and working with a leading technology company such as Panasonic is great way of furthering this approach."
Using haptic feedback, gesture recognition, and a visual LED language, the wearable device encourages users to interact outside of a screen interface. Its connected app recognizes when other Göbie users are near and prompts a spontaneous play experience that fosters a sense of community no matter the location.
The genesis for the project came from research conducted by the Göbie team — Tim Ronco, MFA Industrial Design; Courtney Snavely, MFA Design and Technology; Qinzi Tan, MFA Design and Technology; and Jane Mitchell, MFA Design and Technology — showing that "face to face interaction makes you happier," Snavely said.
"The more you interact the more tone there is in your vagus," she added, referring to the nerve in your brain that engages unconscious body functions.
Sleepwise is a compact wearable device that helps users create a personally designed environment, at home or on the road, to get a better night's sleep. It reads body temperature and movement in the user and adjusts the temperature of the room, air quality, humidity, and lighting accordingly.
"It's building a bridge between technology and your environment," Iris Xiaoyu Qu, MFA Design and Technology, said, adding that the idea from Sleepwise arose from sleeping problems experienced by the Sleepwise team.
Akimoto Nobuhiro, who leads wellness support innovation initiatives for Panasonic, hopes that, after further refinement, Göbie and Sleepwise can be manufactured and brought to market.
"The debut of these products and experiences at SXSW will be the first step toward getting them to market and into the hands of consumers, who can use them to transform the way they manage wellness," Nobuhiro said. "Working with Parsons, the leading art and design school, amplifies our ongoing efforts to foster a collaborative culture and accelerate innovation."