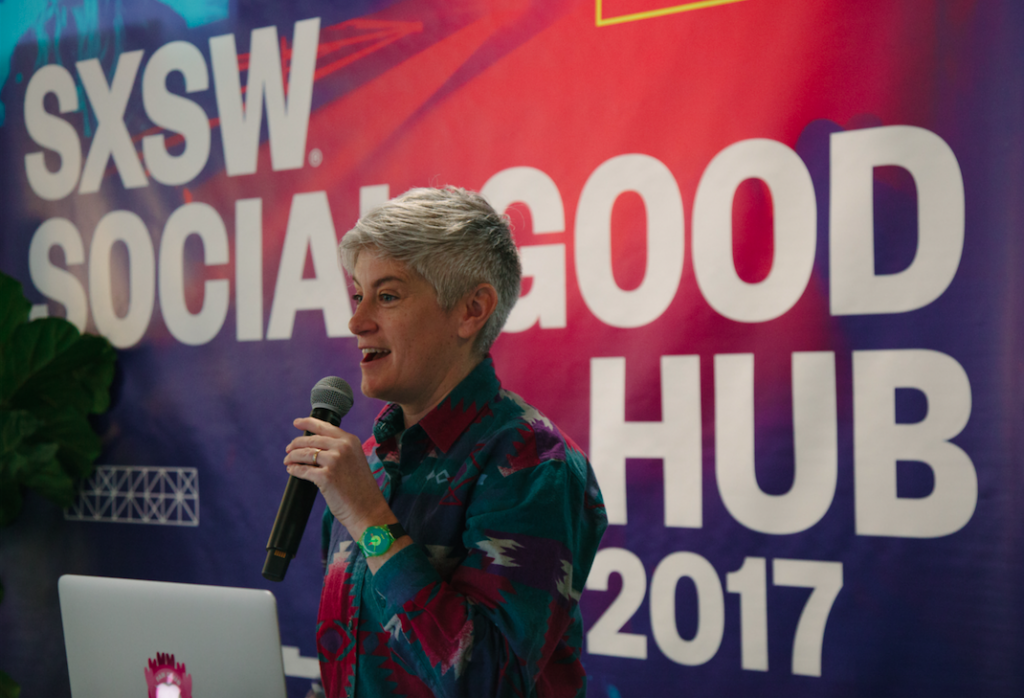 The New School + #SXSW: Parsons Faculty Member Colleen Macklin on Metagaming the Future
The following is one in a series of posts about The New School's participation in South by Southwest (SXSW) March 10-15. Students, faculty members, and alumni ​shared innovative projects and perspectives that embody ​the university's human­-centered approach to technology and design-inspired solutions to pressing social issues. For complete coverage of The New School at #SXSW, visit New School News.
Colleen Macklin drew a card from her deck, flipped it over, and read the question on the back.
"Does anyone have a good card for dictators?" Macklin, an associate professor of Design and Technology at The New School's Parsons School of Design, asked a gathering of #SXSW attendees.
Iris Xiaoyu Qu, MFA Design and Technology, had one that couldn't be topped.
"Twitter!" she said, eliciting laughter and applause.
"Do you want to drop the mic?" Macklin asked. "That's pretty hard to beat."
This was a session of Metagame, a card game co-created by Macklin that's designed to spark fresh discussion on pressing social issues. To play the game, Macklin pulled a series of question cards and audience members were challenged to choose the best one from a deck of answer cards they were given in advance.
Macklin led the game as part of Metagaming the Future: A Lab for Discussion. The workshop, which was held at the SXSW Social Good Hub at Tech Space Austin, focused on the broader subject of gaming and how it can be used for social good.
"Games are about developing empathy, generating systems thinking, and helping us figure out the future," Macklin said, adding, "We can learn how the world works by messing around in it."
As Macklin noted, gaming is a safe way of learning about the world. For example, "We can learn about the feline species through house pets."
"It's hard to learn about them by playing with tigers," she said. "Tigers are real-world systems. It's dangerous to trifle with them."
Macklin wrapped up the session by challenging audience members to create their own cards based on the topic: "Things you will find in the future." It is through this exercise that participants envisioned a future they wanted to see.
Said Macklin, "Games allow us to live in a utopian version of the world, and overcome obstacles, and improve our skills to make a positive impact."