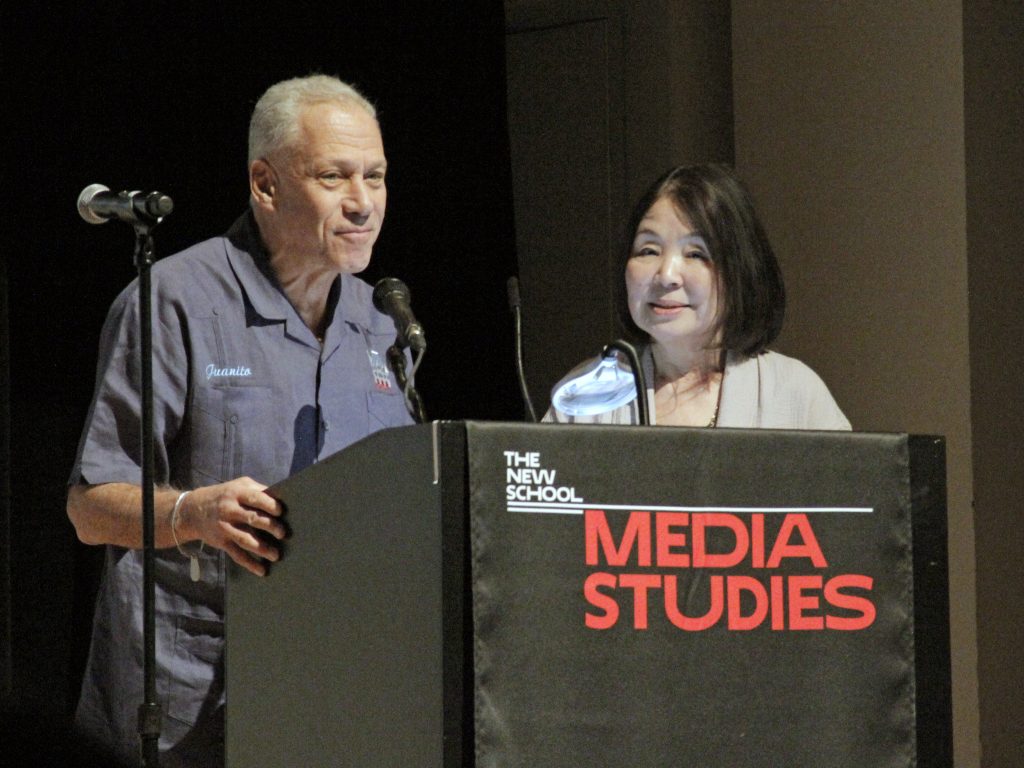 Jon Alpert and Keiko Tsuno Share Lessons for Socially Engaged Filmmaking
Forty years ago, doctors in white gowns huddled around a critically ill patient in an overcrowded emergency room at Kings County Hospital in Brooklyn.
Lacking adequate medical supplies and functioning equipment, the doctors were struggling to treat him.
"This man, Mr. Spinelli, has just had a heart attack," said Jon Alpert, who moved his video camera closer to the scene. "He has already stopped breathing."  
Alpert was there on that day to expose, in graphic detail, the disparity of health care services for the rich and the poor in the United States. While Downstate Medical Center, a private hospital across the street, was thriving, Kings County, a city-run hospital, was at times straining to keep its patients alive.
In Alpert's eyes, Spinelli's death was "the direct result of a broken medical system that favors wealthier patients over poorer ones."
Alpert shared the clip from his classic exposé, Healthcare: Your Money or Your Life, during a presentation to the New School community on the Downtown Community Television Center (DCTV), an organization founded by the Emmy Award–winning filmmaker and Keiko Tsuno, his wife and longtime collaborator, that produces documentaries exploring pressing social issues.
Hosted by the School of Media Studies, Five Decades of Community Media from Canal Street to Cuba featured Alpert and Tsuno, the 2017 Hirshon Artists-in-Residence, in a discussion of their life and work. The filmmakers have traveled all over the world, from Iraq and Afghanistan to Vietnam and Bolivia, and produced documentaries about everything from U.S. Army medics who fight to save the lives of American soldiers and Iraqis (Baghdad ER), to residents of a hard-luck Massachusetts town who turn to drug use after its economic collapse (High on Crack Street: Lost Lives in Lowell), to ordinary New Yorkers who, through a candid telling of their daily lives, reveal the complex social strata of a diverse city (Third Avenue: Only the Strong Survive).
At the same time, Alpert and Tsuno have shared the tools of the trade, providing free or low-cost production courses, as well as access to film equipment, to diverse communities, including an estimated 75,000 young New Yorkers. It's their belief, Alpert said, "that public access to electronic media strengthens democracy."
"Jon Alpert and Keiko Tsuno's DCTV community media project and filmmaking achievements are unparalleled in U.S. community media education," said Media Studies dean Carol Wilder. "Their steadfast 45-year commitment to youth media and to progressive documentary filmmaking establishes them as the gold standard for community media engagement."
The high caliber of their work is exemplified by the Emmy Award–winning Healthcare: Your Money or Your Life. A moving example of DCTV's advocacy journalism and a milestone in cinema verité documentary, the film puts the viewer in the middle of life-and-death dramas that unfolded in Kings County Hospital during the 1970s. With bold, often stirring footage, this indictment of the economics of the American medical system is articulated through the voices of the victimized patients and beleaguered hospital personnel.
"It's the first time, to our knowledge, that anyone had died on camera," Alpert told an audience gathered at the Auditorium at 66 West 12th Street. "It shows the effects of budget cutbacks on health care, which is an issue we're still talking about today."
Thirty years later, DCTV released Baghdad ER, another Emmy Award–winning film, detailing the lives of the 86th Combat Support Hospital in Baghdad, Iraq, as they work to save the lives of U.S. soldiers and Iraqis during the Iraq war.
"This film shows the heroism, but also the extraordinary costs of the wars we're fighting, especially the people who pay the ultimate price," Alpert said.
Alpert and Tsuno have come a long way since the release of Healthcare. When they first moved into their headquarters — a landmark firehouse at 87 Lafayette Street — in the 1980s, Alpert and Tsuno were amateurs, using whatever means, both technical and technological, at their disposal. However, that shoestring approach benefited them in  unexpected ways.
"Because we were poorly skilled, we never got the opportunity to think we were hot stuff, and our attachment to our community remains strong," Alpert said. "We came from the streets and we're still in the streets."
Alpert and Tsuno showed that media production wasn't only the domain of major broadcast networks and film studios. They imparted lessons on their approach to the community, enabling others to make their own films. At The New School, they will continue that mission, offering master classes to students as the 2017 Hirshon Artists-in-Residence.
"Our philosophy, if you want to call it that, is to use this equipment to give power to people who don't have it, to help people express themselves," Alpert said. "Within the context of our current political environment, we're going to depend on people to capture our everyday reality and communicate that to other people and advocate for improvement. This is a really critical time, and the students coming out of The New School will have an important job to do."