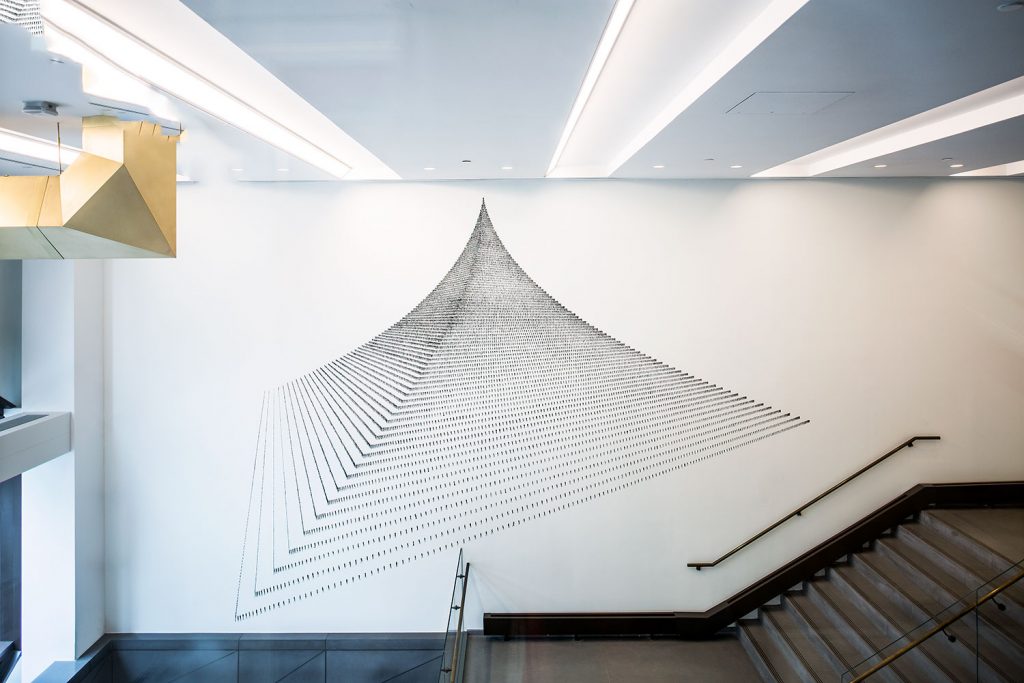 Majestic Site-Specific Commission by Agnes Denes Unveiled
Over lunch at the University Center, members of The New School community will marvel at a mural of thousands of expressive human figures forming the elegant, sweeping structure of a pyramid.
Recently unveiled by The New School Art Collection, the work is a monumentally-scaled version of pioneering artist Agnes Denes's Pascal's Perfect Probability Pyramid & the People Paradox – The Predicament (PPPPPPP). The 18 by 24 foot mural occupies the double-height wall in the Bernard and Irene Schwartz Commons Dining Hall of the Skidmore Owings & Merrill (SOM)-designed University Center.
Based on Denes's iconic and ongoing Pyramid Series, The New School mural has been redesigned and transferred from a drawing completed by the artist in 1980 that is in the collection of noted arts patron Agnes Gund.
Denes, who is now in her 80s, describes PPPPPPP as representing "humanity as fragile yet monumental, with thousands of individuals collectively forming a majestic pyramid of humanity."
"Although each figure is different, carefully drawn to represent distinct individuals acting out countless lives, ultimately they all seem identical and indistinguishable," she says. "The dissimilarities are almost imperceptible yet become quite noticeable at close scrutiny. The pyramid they form is a society of visual mathematics in which they are but patterns and processes, number components of a mathematical system who believe they are unique entities."
She adds, "It took almost two years to draw the thousands of tiny figures with the finest silver-tip pen available — careful not to make a mistake as any erasure or correction was not possible, especially in those so close to each other on top — using black India ink on silk vellum." "
Artist Agnes Denes with New School students at the University Center dining hall.
A groundbreaking conceptual artist whose work is currently included in documenta 14 in Athens, Greece and Kassel, Germany, Denes is best known for her 1982 work Wheatfield – A Confrontation. Considered by Guggenheim curator Jeffrey Weiss "one of Land Art's great transgressive masterpieces," the poetic gesture of planting a wheat field in the shadow of the World Trade Center challenged the capitalist ambitions of New York City's downtown landscape. Wheatfield was fully realized at the height of the Russian wheat embargo, as the recession of the 1970s gave way to the prosperity of the following decade. This single, elegant work raises complex questions, which continue to resonate, about land use, food production, population growth, migration, labor, power structures, and human engagement with the natural world.
Denes's other ambitious earthworks include Tree Mountain — A Living Time Capsule, a conifer forest in Finland; and A Forest for Australia, native saplings planted in the form of five spiraling steps in Melbourne. Most recently, in 2015, Denes was commissioned to create The Living Pyramid for the Socrates Sculpture Park in Long Island City, New York.
Born in Hungary in 1931, raised in Sweden, and educated in the United States, Denes has participated in more than 500 solo and group exhibitions at galleries and museums throughout the world including international surveys such as the Biennale of Sydney in 1976; documenta 6 in Kassel, Germany in 1977; and the Venice Biennale in 1978, 2001, and 2003, and currently documenta 14 in Athens, Greece and Kassel, Germany (April-Sept 2017).
PPPPPPP is the most recent in a series of site-specific artworks commissioned by The New School Art Collection, including works by Glenn Ligon, Alfredo Jaar, and Rita McBride, as well as earlier commissioned works by Sol LeWitt, Kara Walker, Brian Tolle, Martin Puryear and Michael Van Valkenburgh, Dave Muller, and Gonzalo Fonseca.