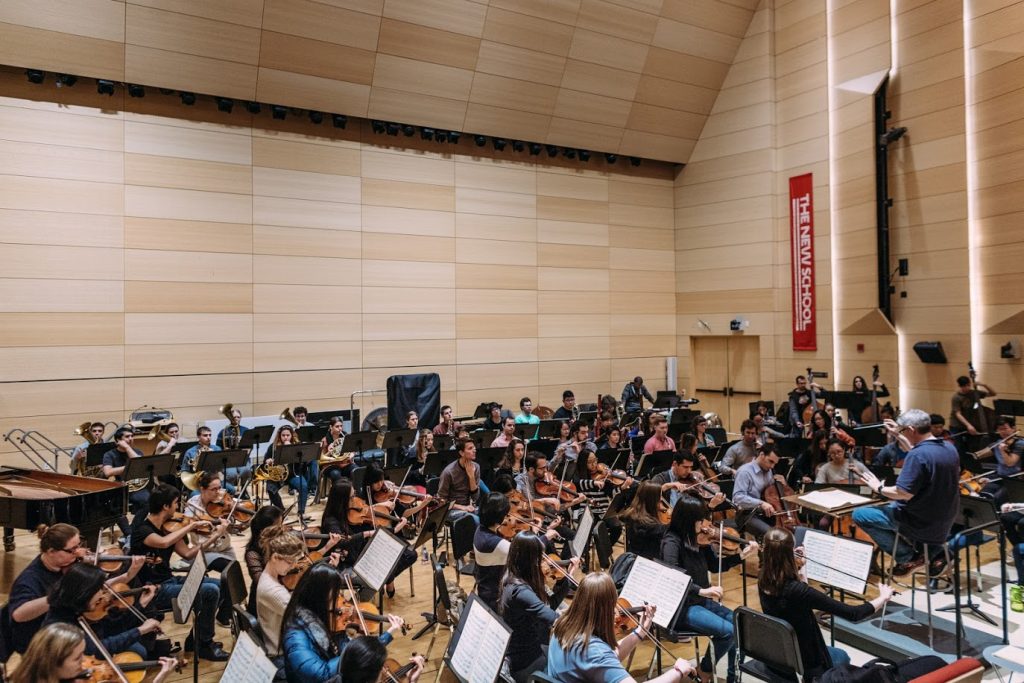 Mannes School of Music Celebrates Centennial at Carnegie Hall
When the New York City Orchestra concertmaster David Mannes and his wife, Clara Damrosch, founded the David Mannes Music School 100 years ago, it was a small community music school with just a handful of students. Their mission: to nurture a love of music.
But it didn't stay confined to its Upper East Side building — or that mission — for long.
Through the work of their son, Leopold Mannes, the co-creator of Kodachrome, the school was transformed into a full-fledged institution accepting dozens of accomplished young musicians and offering a three-year Artist Diploma.
Continuing that evolution, Mannes — now known as Mannes School of Music — today is a world-class conservatory, with an education driven by the study of the Western classical music canon, a diverse curriculum with a focus on entrepreneurship, and collaborative learning opportunities across the College of Performing Arts, where the school is now housed.
To celebrate Mannes' 100th anniversary, its remarkable evolution, and the groundbreaking musicians who have studied there, the school will host a concert at Carnegie Hall on April 25, 7:00–10:00 p.m. The concert — part of a centennial series that kicked off last fall with a performance conducted by JoAnn Falletta, BM Performance '76 — will feature live performances by renowned alumni, past and present faculty, and students, including Michel Camilo, Simone Dinnerstein, Frederica von Stade, Ricky Ian Gordon, the Orion String Quartet, and The Mannes Orchestra.
Mannes celebrates its 100th year at a time of immense challenges — a shrinking audience, vanishing recording studios, and a shift away from a focus on the soloist — in the classical music industry. The school, says Richard Kessler, dean of Mannes and executive dean of the College of Performing Arts, has responded by "transforming the role and nature of the conservatory."
"Our diverse group of students is led by a world-class faculty, and we have worked hard to ensure that our graduates know, understand, and are able to do what the professional world demands of them today."
Following a move from its former home at 150 West 85th Street to 55 West 13th Street, near the rest of the New School campus, Mannes hired new faculty members, added a host of technically inspired ensembles and curricular options, and began to focus on collaborative opportunities with the broader New School community, including the School of Drama and the School of Jazz, with which Mannes joined to create the College of Performing Arts last year. This approach has led to unique projects, including a musical based on the Hermann Hesse novel Steppenwolf, as well as new garments for the Baltimore Symphony Orchestra co-designed by students from Mannes and Parsons School of Design. Recently students staged Dust, an experimental opera that underscored the collaborative and revolutionary nature of Mannes performances.
"We prepare students to not only compose and perform for orchestras, opera companies, and chamber ensembles but also make music in a wide range of styles and art forms," Kessler says. "As major institutions and record companies give way to independent artists who manage all aspects of their careers, Mannes equips students with a range of skills enabling them to work as arts administrators and teachers, to negotiate contracts, to raise funds, and also to promote and produce their own work."
Current Mannes students have benefited from the changes implemented by Kessler, while alums have highlighted the school's progressive approach to education with their celebrated work and careers, including recent Fulbright Award winner Melissa Danas and Michael Gilsinan, who started his own music school in New Jersey. Building upon David Mannes and Clara Damrosch's century-old mission to nurture a love of music, Mannes today is a leading conservatory respected and admired the world over.
"David and Clara started this school in order to provide the best music education possible, and I believe they would be proud to see how well Mannes is doing 100 years after its doors first opened," says Kessler. "I look forward to collaborating more widely across The New School in the years to come and continuing to train musicians to succeed in the 21st century."