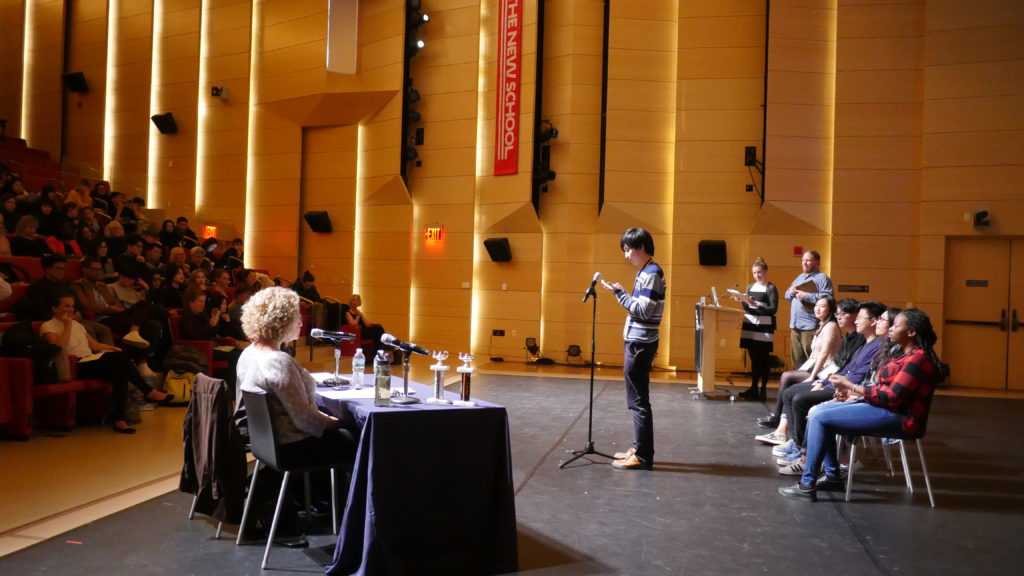 New School and Pace University Students Compete in First-ever spELLing bee
"Exacerbate." "Acquisition." "Silhouette." These are just a few of the words that English-language learners were challenged to spell in the final competition of the first-ever intercollegiate spELLing bee between New School and Pace University students in April.
Held at Tishman Auditorium, the spELLing bee put 14 students' orthographic skills to the test across 16 riveting rounds. New School student Sophie Moon of Korea emerged as the winner of the Lower Divison, while Pace University student Jungmok (Mok) Lee of Korea came out on top in the Upper Division. The winners of the spELLing bee in each division, as well as the winner of a poster design competition, were awarded Kindle Fires presented by event sponsor Pearson.
The final segment of the spELLing bee was the culmination of a semester-long series of classroom spelling competitions in which 160 students participated. Fourteen students — hailing from diverse countries including India, China, Korea, Japan, Burkina Faso, and the Dominican Republic — advanced to the finals.
The spELLing bee was designed by Jacqueline Smith, assistant director of the English as a Second Language program at The New School, and project development advisor Tamara Kirson.
According to competition organizers, the spELLing bee project was designed for students to expand their vocabularies, develop study group skills, foster cultural awareness, and create community. The co-creative nature of the program reflects the ESL program's commitment to project-based learning.
"The Intercollegiate spELLing bee is many months, many hands and many minds in the making," English Language Studies program director Caitlin Morgan said in her opening remarks. "It showcases the very best we can be as a collaborative, dedicated, daring and creative learning community."