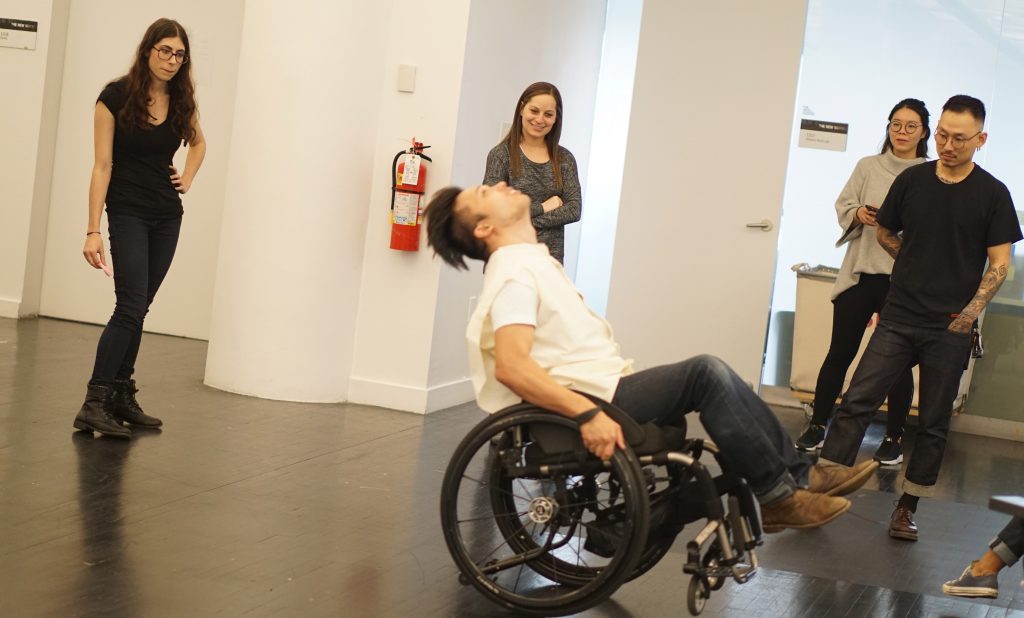 Parsons' Open Style Lab is Designing Fashions for People of All Abilities
Whenever it rains, Peter Trojic knows he'll get soaked, regardless of what he wears. He finds it difficult to juggle an umbrella while operating a wheelchair, especially on the jam-packed streets of New York City. Luckily for Smith, and other people of diverse abilities, a new class at Parsons School of Design is creating garments that address their specific needs.
Parsons students are creating inclusive designs through Open Style Lab (OSL). Founded by Dr. Grace Teo and Alice Tin, and initially funded as a public service project by MIT in 2014, the lab is now a full-time class at Parsons. OSL is housed in the Parsons Design Lab, where students and faculty members of diverse disciplines partner to develop innovative design solutions.
Parsons' commitment to cross-disciplinary collaboration and designing for the social good makes the leading art and design school the ideal home for OSL.
"Parsons is one of the best places for OSL because of the interdisciplinary setting and our social justice initiatives," says OSL executive director Grace Jun, Design and Technology '16. "We're creating work at the nexus of fashion, design, engineering, and therapy and health. Wearable spaces are the next frontier."
At OSL, students in programs ranging from Fashion Design, Fine Arts, Product Design, and Transdisciplinary Design collaborate with engineers, physical therapists, and people of varying abilities to design bespoke garments for their clients. By training students to think and design in new ways, OSL is preparing the next generation of designers to excel in the ever-evolving design industry, and work to elevate a culture of health.
"Physical disabilities can impact all aspects of people's lives, sometimes in ways that aren't so obvious," says OSL student Noah Litvin, Transdisciplinary Design '17. "Bringing different disciplines together can help uncover opportunities that might otherwise be missed."
OSL is part of a broader educational approach in which students are challenged to create solutions to pressing social issues. Lucy Jones, Fashion Design '15, designed a collection that makes it easier for people in wheelchairs to get dressed. Angela Luna, Fashion Design '16, designed jackets that transform into tents and sleeping bags to aid refugees.
"Designers in the future will be forced and challenged to create new materials and fabrics, and they'll have to learn more than just sewing and cutting," says Jun. "We are inventing so many new materials that designers will have to work with engineers, biologists, and more."
Jun hopes programs like OSL will be implemented at design schools throughout the country. While students in the class are focused on creating bespoke products for individual clients now, rising demand for universal designs could lead them to create mass-market products for global companies in the future.
"I do see brands from Prada and Burberry to Uniqlo eventually designing rain jackets that someone who's in a wheelchair and someone who isn't can both wear," says Jun. "We're getting older, living longer. We should see disability as part of our lifecycle because it will start to affect more people."