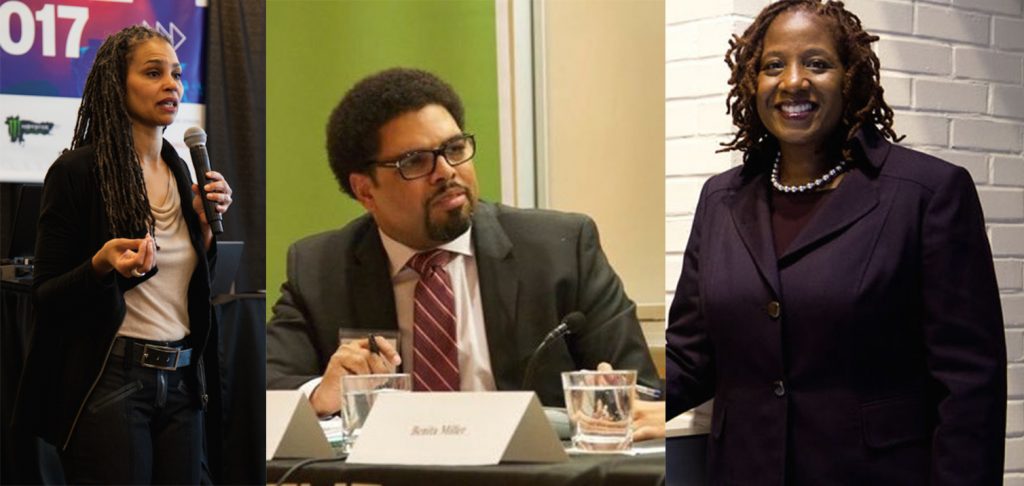 Race in the USA Course Tackles Issues of Race in Real Time
As the tragic events in Charlottesville have made explicitly clear, race is a pressing issue that demands our attention.
Following in its tradition of responding to urgent issues in real time, The New School is offering a new course, Race in the United States. Convened by New School faculty members Maya Wiley, Michelle DePass, and Darrick Hamilton, the course brings together prominent scholars, experts, thought leaders, and activists to examine such issues as racial stratification, implicit bias, and the complex, intersectional relationships between race, gender, and class.
"The 2016 U.S. Presidential election revealed the stubborn persistence of bigotry in the United States, and demonstrated that race continues to play a significant, if changing, role in how we define our communities, develop our public policy, and shape our democratic institutions," according to a description of Race in the USA, which invokes the legacy of The New School's landmark 1964 Voices of Crisis: American Race Crisis lecture series featuring Dr. Martin Luther King, Jr.
Through the course, members of The New School community will seek to answer such questions as "What is race and how do we understand it today?", "How are demographic shifts driving wedges between communities and/or fostering pluralism?," "How democratic is our pluralist society?", "What is the role of racial divides in fomenting political partisanship?" and "What impact does racialized discourse have on such issues as the social safety net, immigration, criminal justice, technology, voting, and urban policy?"
Race in the USA is sponsored by the Provost's Office and the 2017 Henry Cohen Lecture Series of The Milano School.