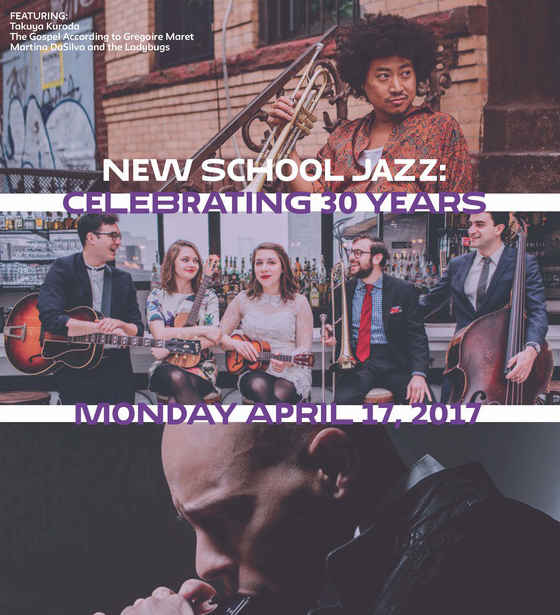 School of Jazz Celebrates 30 Years at Le Poisson Rouge
During his time studying at the Conservatoire de Musique de Genève, and later, the School of Jazz, Grégoire Maret, Jazz '97, evolved into a harmonica prodigy. He went on to record albums with musical legends including Toots Thielemans and Cassandra Wilson, and has played in concert with Sting, Elton John, and Herbie Hancock's band.
Maret, along with many acclaimed School of Jazz alums, will perform in a one-night celebration of the 30th anniversary of the founding of the school at Le Poisson Rouge on Monday, April 17, 6-10 p.m. Trumpeter and composer Takuya Kuroda, Jazz '06, will headline the concert, which will also feature a performance by The Ladybugs, a traditional jazz vocal group featuring alums as well.
Kuroda, whose work jumps between jazz, soul, hip-hop, Afrobeat, and electronica, will perform with members of his regular band, with whom he has collaborated since they were students at School of Jazz. The Ladybugs, led by Martina DaSilva, Jazz '14, will open the concert with their intricate harmonies and experimental arrangements infused with old-school swing, country, and blues.