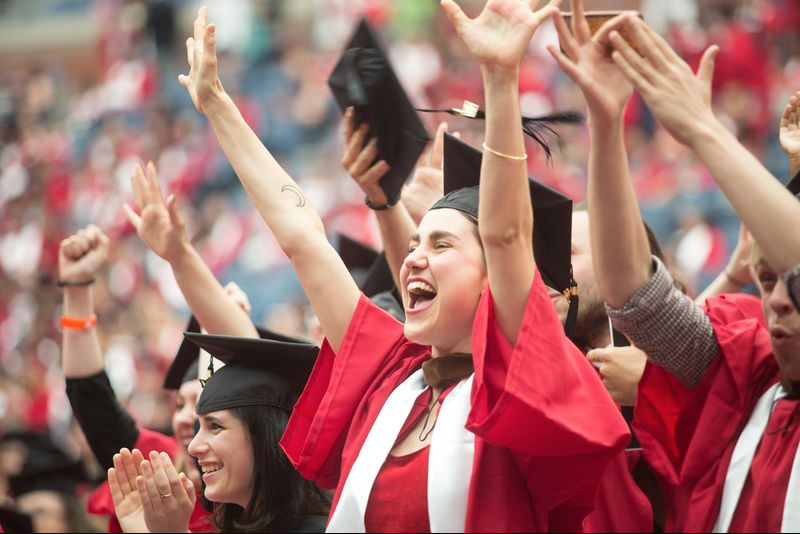 At 81st Commencement, The New School Evokes 'Peace Through Understanding'
Speaking before thousands of New School graduates and their parents at Arthur Ashe Stadium, David Van Zandt recalled attending the 1964 New York World's Fair, an historic international exhibition held a stones throw away in Flushing Meadows Park, Queens.
"The theme of the Fair was 'Peace Through Understanding,'" Van Zandt, The New School's president, said. "The world celebrated diverse populations coming together for the greater good. That's what were all about at The New School."
"Now, more than ever, The New School is dedicated to keeping its doors open to students form around the world, regardless of citizenship status," he added to thunderous applause.
Cheers coming from Arthur Ashe Stadium, the largest tennis-specific stadium in the world, are usually meant for the sport's biggest stars. But this time, it was for The New School — a progressive New York City university that values academic freedom, tolerance, and experimentation — and thousands of its innovative, socially engaged graduates receiving their hard-earned diplomas.
The New School celebrated its 81st Commencement exercises on a sun-drenched afternoon in May, celebrating the achievements of its freshly minted alumni, the faculty members who taught them, and the people who raised them.
In addition to its graduates, The New School honored a trio of inspirational women who, after receiving honorary degrees from university provost Tim Marshall, delivered brief, impactful talks to the audience at Arthur Ashe Stadium. They were Anna Sui, a New York fashion design icon who attended The New School's Parsons School of Design; Ai-jen Poo, an activist on behalf of domestic workers and the elderly who worked to ensure passage of the New York State Domestic Workers' Bill of Rights; and Barbara Hillary, an explorer, cancer survivor, and New School alum, who, at the age of 75, was the first African American woman to reach the North Pole.
Sui, who attended Parsons but never graduated, said it was the dream of her mom, Grace, for her to graduate from college.
"Receiving the honorary degree completes a journey of achievement," she said. "Mom, here I am as a PhD!"
Looking to the graduates in attendance, Sui urged them not to be afraid of "challenging the status quo and making your own path" — hallmarks of The New School's educational approach.
"In fact, actively seek ways to be unique and unconventional — I always have," she said. "I believe my best work was born of moments when I have pushed boundaries. Critics have said of my work, 'Difficult to define.' I say, 'Great!''"
Poo said that in our uncertain social and political climate, it was up to New School graduates to create positive change.
"In each and every arena of change, it could go either way — toward making life in America better, more promising, more inclusive, more generative for all of us. Or, it could go all wrong. It could end up only enriching a few people at the top at the expense of the vast majority us who are already struggling," she said. "The outcome on the other side of all this change could be very good for our country and for humanity, or it could be very bad. And the difference will be up to you."
"Your children and grandchildren will ask you where were you and what you were doing in this moment in history," she added. "I want you to have a good answer."
Hillary encouraged graduates to turn to the same ideas she did in reaching the North and South Poles: "Perseverance, determination, and respect for the way my mother raised me."
"I was raised in Harlem. My father died when I was two. And we were poor. We were sub-Depression poor. But there was no such thing as mental poverty in our home," she said. "There was no such thing as 'Woe is me.' My mother always told me, 'If you want something in this world, get off your ass and work for it.'"
The New School's Commencement was the first-ever graduation ceremony — and the first-ever non-tennis event — to be held at at the Arthur Ashe Stadium at the USTA Billie Jean King National Tennis Center.
Following the ceremony, The New School hosted a celebratory festival featuring a performance by Moon Hooch, a Brooklyn-based band comprised of James Muschler, BFA Jazz and Contemporary Music '11, Mike Wilbur, and Wenzl McGowen, who met at The New School. The festival also featured participatory activities including screen-printing by Parsons Making Center, local food trucks, live Haiku creation and illustrations, and various photo booths. Students also took the opportunity to take photographs in front of the famed Unisphere, a spherical stainless steel representation of the Earth commissioned as part of the 1964 New York World's Fair.
Student Commencement speaker Maurice Dusault, BBA Strategic Design and Management '17, encouraged his peers to continue seeking out the kind of cross-cultural experiences that make The New School, one of the world's most international universities, so unique.
"We have been and will always be a sanctuary for free and creative expression — a place where you can not only think different, but also be different," he said. "Just like the city that houses it, The New School is truly a melting pot of cultures. This coming together of different minds in an environment of mutual understanding and respect creates a discourse that makes this place so special."