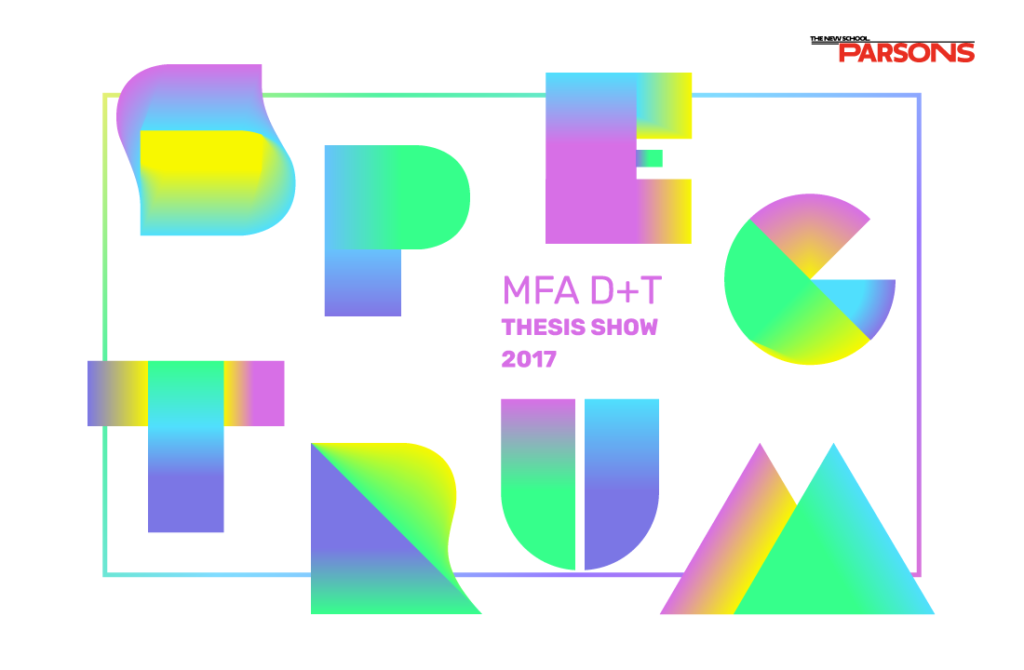 MFA Design and Technology Students Share Innovative, Socially Engaged VR, Games, and Tech at 'Spectrum'
Stephanie Leone, Communications Design / Literary Studies '15, put on a VR headset and entered a pastel-drenched digi-scape where she experienced what it's like to be sexually objectified on social media.
And she did it as an eggplant.
Leone was trying out "Perfect Eggplants Don't Exist," a virtual reality experience created by Mikei Huang, Design and Technology '17, that was one of the dozens of projects on view as part of Spectrum, Parson School of Design's MFA Design and Technology thesis show.
The exhibition, which is on view at 6 East 16th St., 12th Floor, May 11-19, features projects spanning augmented and virtual reality, video, games, wearable technology, and more. Many of the projects raise awareness of or seek to address pressing social issues.
Perfect Eggplants Don't Exist, for example, is designed to make players experience "the doubling effect of sexual objectification in the gay culture through body modification to meet society's arbitrary expectations," Huang says.
"In this game, players are able to experience self objectification, objectification of others, and being objectified by others through interactions such as customizing their own bodies, taking selfies, and being judged and influenced by social media," he said. "The game substitutes male bodies with an eggplant avatar to directly objectify male bodies as merely sexual objects."
Other projects include Jonathan Beilin and Magnus Pind Bjerre's "Teratogenesis," a digital opera; Audrey Fox, "nettle" and Iot project; Priyal Parikh's "imbrace," a wearable technology garment that addresses low back pain in female millennials; Jasmine Oh's "beyondme," an online platform to Curate your digital legacy; Danli Hu's "touching The Void," virtual objects in a space; and Jed Segovia's "Pusher," a tabletop game that shed's light on the deadly war on drugs taking place in the Philippine's.