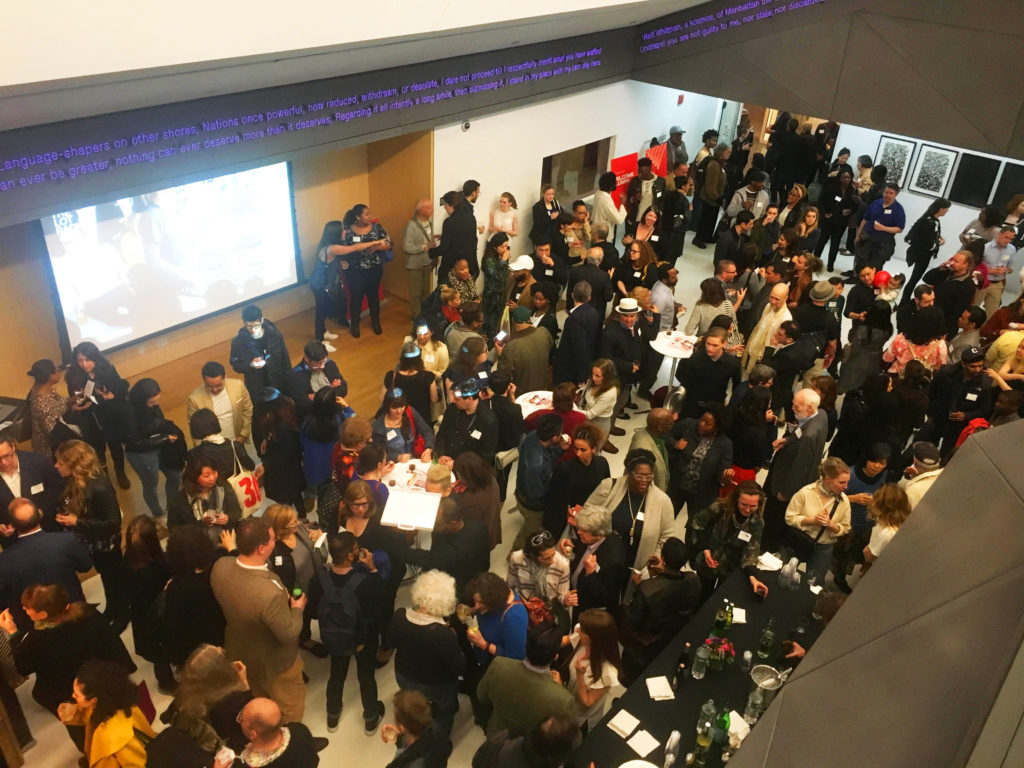 New School Graduates Descend on Alma Mater in Record Numbers for Annual Alumni Day
Since 2013, New School faculty members have risen to the challenge of delivering a fully realized lecture in just 60 seconds to #NewSchoolAlumni on Alumni Day.
For this year's New School Minute, Jamer Hunt, Associate Professor of Transdisciplinary Design, faced the doubly daunting task of not only giving a compelling lecture, but also making it — the 100th such lecture in the five-year series — memorable.
He did just that, delivering an informative (and hilarious) talk, "Design and the Unknown Unknowns."
Repurposing a now-infamous quote from former Secretary of Defense Donald Rumsfeld in the lead up to the Iraq War, Hunt touched on areas of human awareness: "known knowns" (i.e. things we know we know); "known unknowns" (i.e. things we do not know); and "unknown unknowns" (i.e. thing we don't know we don't know).
"How do we set up the conditions of possibility for surfacing the unknown unknowns — for whole new discoveries?" asked Hunt, Associate Professor of Transdisciplinary Design at Parsons School of Design at The New School. "There's three ways we do that: by colliding disciplines, by decentralizing authority and agency in the classroom, and by encouraging mutation through experimentation."
Those three pillars of The New School's pedagogical approach were the driving force of The New School's annual Alumni Day (see photos from the event on Facebook). The celebration, which saw the highest-ever attendance in its six-year history, featured a series of activities highlighted by #NewSchoolAlumni and was capped off by a closing party attended by hundreds of university graduates.
In addition to New School Minute, which was emceed by School of Drama Dean Pippin Parker, Alumni Day featured a lively conversation with author and New School artist-in-residence bell hooks, who was introduced by Yahdon Israel, MFA Creative Writing '16; and an appearance by Bekah Brunstetter, MFA Playwriting '07, who hosted a screening of and Q-and-A about the NBC drama for which she writes, "This Is Us."
Alumnae in leadership positions at social justice organizations shared their experiences in a compelling panel discussion. They were Evette Banfield, MS Urban Policy Analysis and Management '97, the vice president of economic development policy and wealth building strategies at Coalition for Nonprofit Housing and Economic Development; Danielle Chynoweth, MA Politics '00, township supervisor for the City of Urbana, Ill. and former organizing director at the Center for Media Justice; Ana Oliveira, MA Anthropology '04, president and CEO of The New York Women's Foundation and 2012 New School honorary degree recipient; Irene Pedruelo Tapia, MA International Affairs '15, lead strategist at DoSomething.org; and Andre Singleton, BA The Arts '11, founder of #TheVeryBlackProject, who introduced the panel.
In addition two alumnae fashion designers — Autumn Adeigbo, '05 and Amber Groen, '17 — shared their designs in a pop-up show hosted by Parsons' AAS Fashion Design program.
#NewSchoolAlumni who gathered for the event spanned all graduating years and subjects. Edwin Fancher, BA Liberal Arts '49 and MA Psychology '51, co-founder of The Village Voice, got a shout out from New School President David Van Zandt for attending his sixth straight Alumni Day. Fancher served as honorary chair of this year's celebration.
Joann Tansman, BFA Illustration '77, Alumni Day Host Committee Member who introduced New School Minute, recalled not only the joy of attending Parsons, but also the convenience of "living literally across the street from the school."
"So, this is my home in more ways than one and it's your home, too," she said. "Bravo to The New School for such a fantastic day."