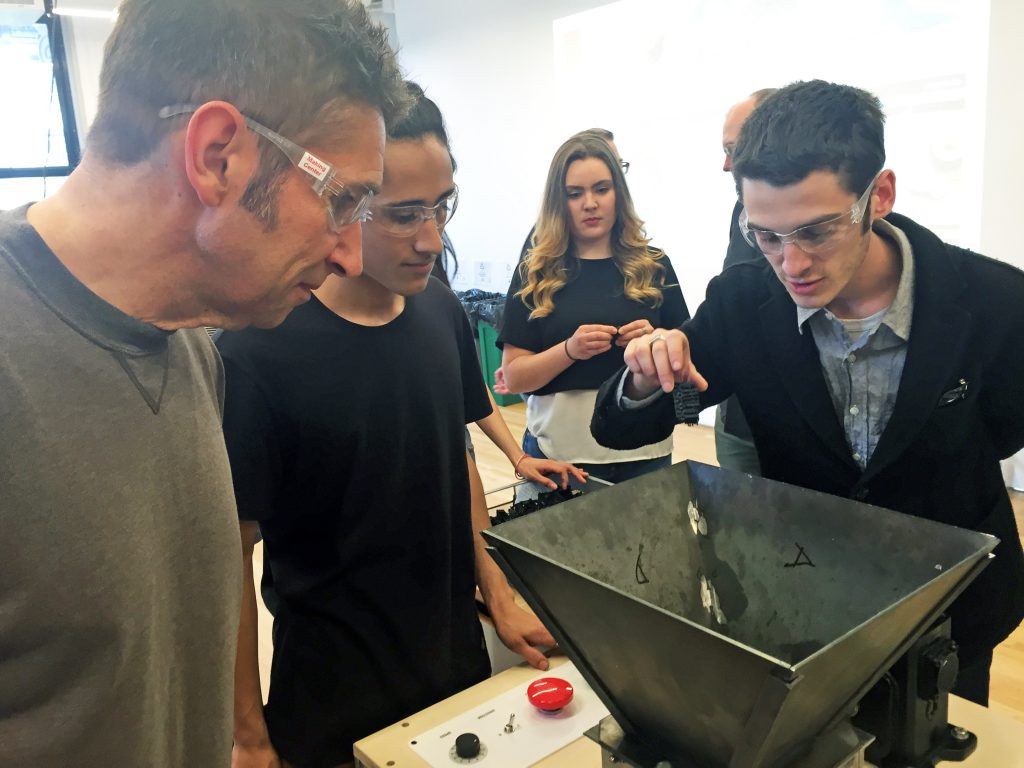 Parsons Students Build Their Own Factories for Recycling Material
Max Kitchell, BFA Product Design '17, ran a hunk of black plastic through the machine and watched as its curled stainless steel teeth churned the material into tiny chips.
"Does anyone want to shred something?" Kitchell said, offering a bin filled with more of the the black plastic to a group of intrigued onlookers.
Kitchell was demonstrating how to use the shredder he and his classmates designed and built as part of Parsons School of Design's Build Your Own Factory class. Taught by David Marin, assistant professor of modeling technology, the semester-long course gave students the opportunity to build machines to recycle and reuse thermoform plastics and "mass produce" products within Parsons Making Center.
Inspired, in part, by the Precious Plastics initiative, the class embodies Parsons' ongoing commitment to teaching students about a range of manufacturing processes and to sustainability through the upcycling of used materials.
"The idea is to create awareness about the recycling process, teaching about the steps of collection, sorting, and cleaning that are all a part of the recycling and reuse of materials," Marin said, adding that the shredder and other student-build machines could ultimately integrate with Trash Talk, Parsons' School of Constructed Environment's ongoing material recycling program.
In addition to the shredder, students also completed an extruder, a machine that melts and reforms the recycled plastic, and fabricated parts for an injection molder.