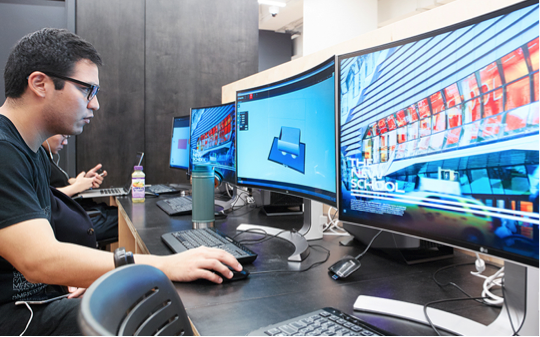 Parsons Students Expand on Innovative Work with UltraWide Monitors from LG
Students at Parsons School of Design at The New School are getting access to new technology that will help them to expand on — both literally and figuratively — the innovative, socially engaged work they're creating at the leading art and design school.
Thanks to LG, students are working in a new state-of-the-art computer lab outfitted with LG 34" Class 21:9 UltraWide Monitors. The monitors, located in the Making Center's 3D printing lab, were gifted to Parsons as part of LG's UltraWide Academy Sponsorship Program.
The screens allow students to work more comfortably and efficiently. The wide screens offer seamless multitasking through dozens of windows, and feature accurate color representation and an ergonomic curved design that wraps around the user.
"LG has partnered with leading design institutions to provide UltraWide Monitors to help students produce work that'll transform their industries, from architecture to product design," according to the company.