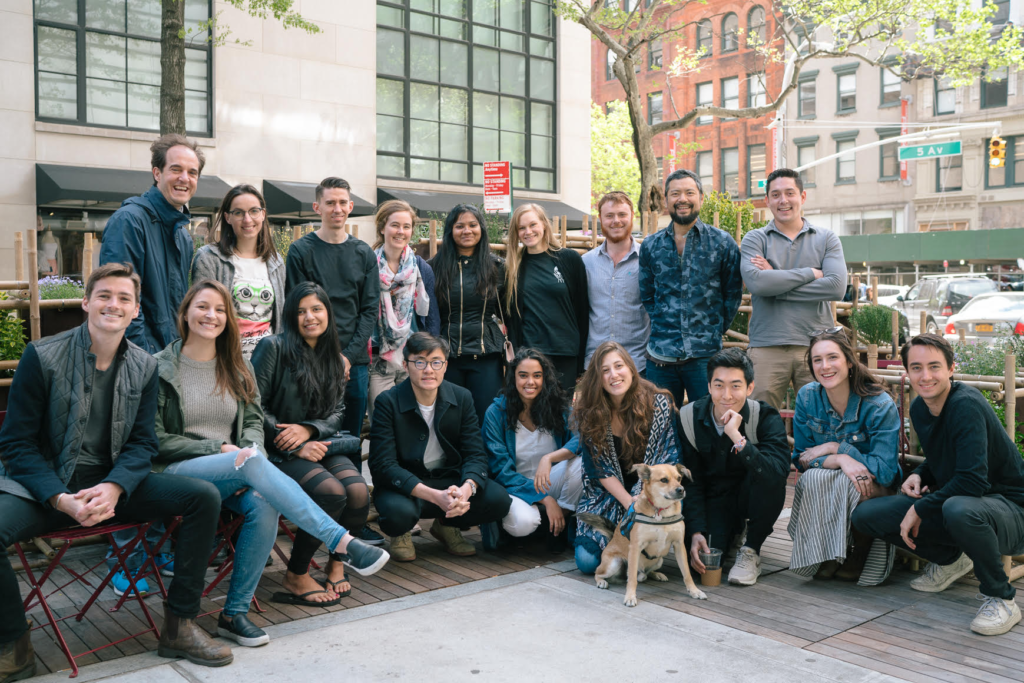 Street Seats 2017 is a Public Seating Space that Evolves
This year's Street Seats — Parsons School of Design at The New School's annual student-designed pop-up seating space presented in collaboration with the NYC Department of Transportation — is constantly evolving.
Featuring myriad planters and movable seating, the project will have taken many forms when it's taken apart during the fall semester. It is both a living design-build project and a space for the public to relax and enjoy.
Designed and built by students of Parsons' BFA Architectural Design, Integrated Design, and Product Design programs, and overseen by Parsons faculty members Huy Bui and Carlos Gomez de Llarena, the project is one of the sites of Street Seats, a program of the Department of Transportation that enables the creation of seasonal public open spaces at locations where sidewalk seating is not normally available.
This year's Street Seats was constructed using bamboo, a sustainable material; drought-resistant plants, which reduce maintenance needs; and Voltaic Systems Arduino-donated solar panels and LED lights, which connect to a microcomputer that turns the lights on at night and lets their batteries recharge during the day. It is located just around the corner from the entrance to the University Center on 13th Street and Fifth Avenue.
Reflecting Parsons' commitment to social engagement, Street Seats is designed with an eye toward sustainability and improving the quality of life for everyday New Yorkers. Previous iterations of the project were constructed primarily out of paper tubes, which are made of completely recycled paperboard, and sustainably harvested Ipe wood.
The project is the creation of BFA Architectural Design students Reem S. Abi Samra, Javier Contreras, Yeshayahu Gansburg, Finn Harries, Albert Liu, Naiky Paradis, Mahalakshmi Sivakumar, and Pranati Kotriwala; BFA Product Design students Russell Conway, Seung Chae Kang, and Michael Phillips; and Alyson Thompson; and BFA Integrated Design students Katelin Collier and Charlotte Hoefer. Research assistant were Jeana Chesnik, MFA Design and Technology and Gabrijela Korac, MFA Lighting Design.