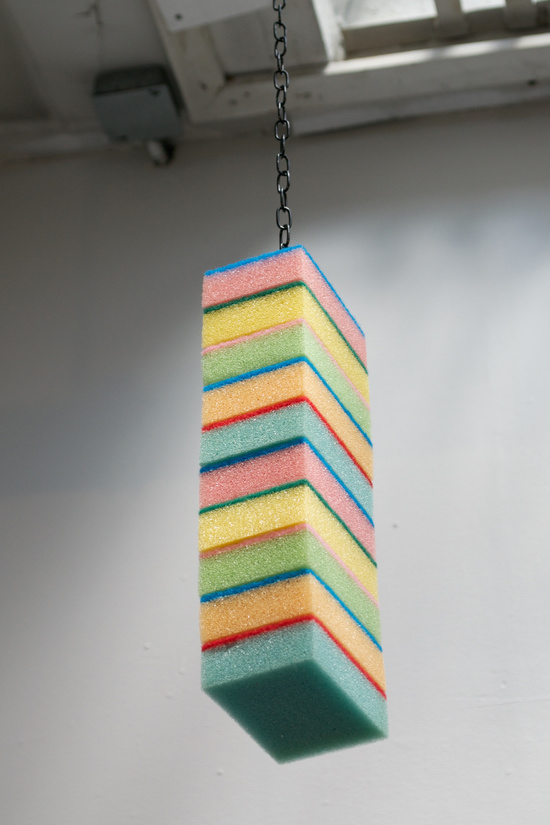 Paloma Jimenez, MFA Fine Arts '18, Wins International Sculpture Award
Paloma Jimenez, MFA Fine Arts '18, creates art that is inspired by the "overlooked poetry" of typical objects, which often results in work that is both familiar and thoroughly original. This is especially true for "Sparkle Aplenty," a sculpture created from stacked sponges, which hangs from the ceiling on a metal chain.
The inventive piece, which "explores the humanity and potential for beauty in the daily chore of washing the dishes," underscores Jimenez's approach to art, and recently won her the Outstanding Student Achievement in Contemporary Sculpture Award from the International Sculpture Center. Jimenez follows in the footsteps of Logan Lape, MFA Fine Arts '15, who won the award in 2015.
"It has been a real privilege to be a part of the Parsons Fine Arts Community," says Jimenez. "I am constantly pushed to extend the limits of my work."
Jimenez, who is also a painter, hopes to continue her work with sculpture on a broader scale.
"I am currently working on multiple sculptures, with the ultimate goal of creating a large installation of material riddles," says Jimenez. "I am always looking to expand my tactile knowledge of the world, through which I can begin to understand and reimagine the existing systems of logic."