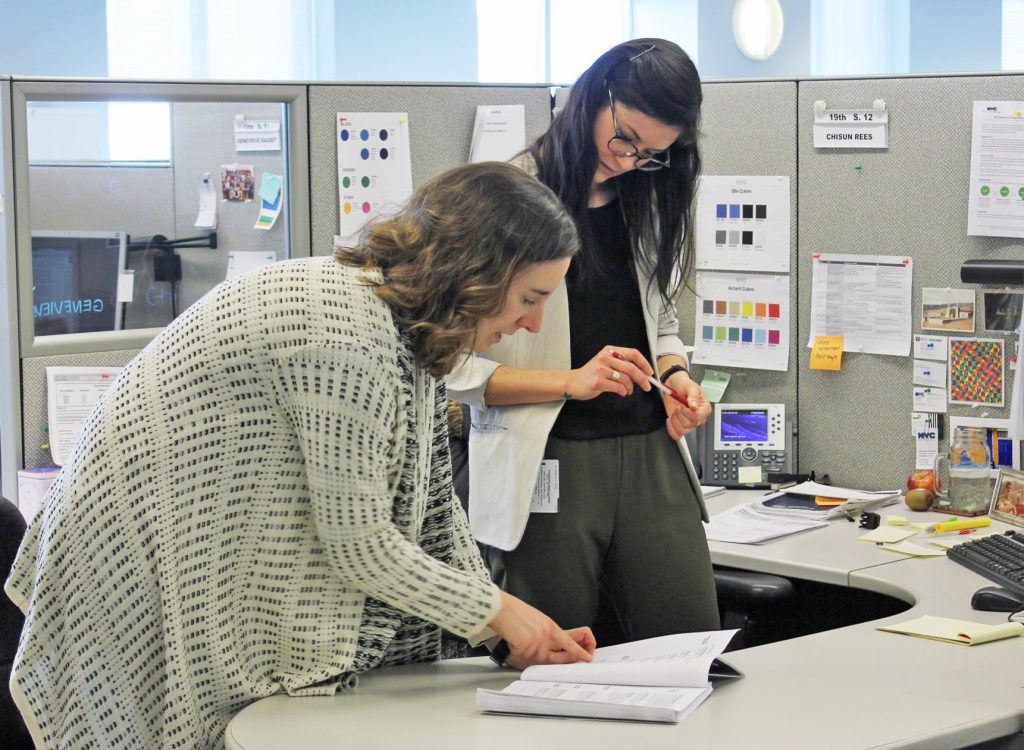 Parsons Alums Are Using Service Design to Better Serve New York City's Homeless Population
By Ariel Kennan's reckoning, as many as 20 government agencies work to address the needs — from health and housing to food and employment — of New York City's homeless population.
The way the government is set up, Kennan says, it "looks at each stop a homeless person makes" as they transition from living on the street to finding permanent housing.
"But it doesn't always look at the person's entire journey," she adds.
The result is a system that has sometimes created hurdles for both the individual receiving services, and the institution providing them. Kennan, BFA Integrated Design '08, along with her colleague, Chisun Rees, Transdisciplinary Design '15, are helping to transform that reality — through service design.
In their roles in the Center for Economic Opportunity (the Center) in New York City's Mayor's Office of Operations, the Parsons School of Design alums work with a team of approximately 50 employees across myriad skillsets — research, policy, data, technology, design, and more — to design systems to streamline service delivery for low-income New Yorkers.
Kennan and Rees' work is a reflection of the commitment to socially engaged design and collaboration at the core of Parsons' educational approach.
"I wanted to use my design skills to help people through services," says Rees, deputy director of design at the Center. "Parsons gave me the opportunity to do that."
For her thesis project, Rees created Prodega, a pilot program in which uncooked, pre-packaged healthy meal boxes would be delivered to bodegas and then sold to customers.
"With its focus on multi-disciplinary thinking, and thinking beyond the traditional ways that design is used, Parsons put me on the path to where I am today," says Kennan, design and product director at the Center. "Put into practice, this approach is very effective — we can have a direct impact on people's lives."
One way in which Kennan, Rees, and their team are using design to impact people's lives is through HOME-STAT, Mayor Bill de Blasio's initiative to help people living on the streets. Kennan and her team worked with City colleagues to design the means to both track the progress of homeless individuals as they navigate the services delivery ecosystem, and create lines of communication between the various agencies that comprise that ecosystem.
"We talked to everyone who touches services, including people who are actually on the street," Kennan says. "Then, we journey-mapped the entire experience from end-to-end and brought different stakeholders together to co-create enhancements that they would like to see — from policy to communications to data to tech."
What's more, Kennan, Rees, and their team designed a public-facing dashboard that provides information on service delivery and population and encourages New York City residents to request outreach assistance (by dialing 311 or using the 311 mobile app) for people they observe living on the streets. That data is collected, geo-mapped, and shared with the city agencies and the wider public.
"This gives greater transparency to work that the city is doing," Kennan says.
As students at Parsons, Kennan and Rees regularly worked in a collaborative, multidisciplinary environment — an experience they brought to their work at the Center. Through this approach, "program leaders are listened to and understood" and "employees have the freedom to work across teams to develop innovations," Kennan says.
"Now that I lead my own teams, I'm working to ensure we have a collaborative and co-creative process," she adds. "We should not only be working among ourselves as designers but working closely with stakeholders and users to understand their needs."
Service design — an emerging field of design that deals with the activity of planning and organizing people, infrastructure, communication and material components of a service to innovate and improve its quality and the interaction between service provider and customers — is only just being adopted by the City of New York. However, as the success of HOME-STAT shows, it has the potential to have an enormous impact going forward.
Kennan and Rees believe that service design can be used to enhance the delivery of a host of other services — and potentially improve the lives of many thousands of New Yorkers.
Says Kennan, "We're creating an awareness that design in public sector is much needed thing."