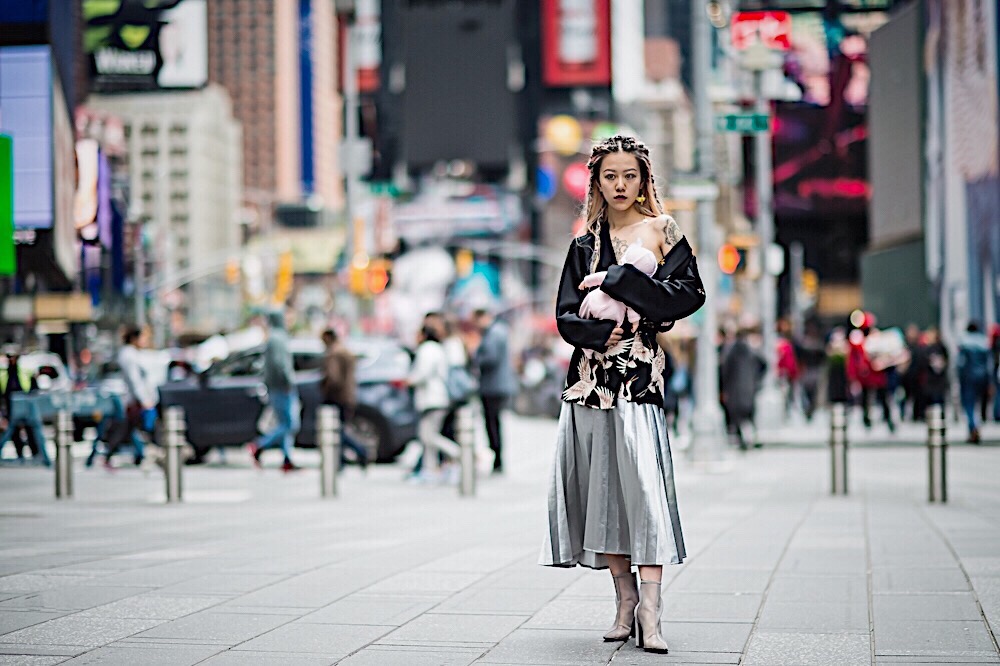 Parsons Language Support Students Explore Fashion and Social Activism Through Research
When roughly three million women around the world participated in the Women's March, many of them wore pink "pussy hats" that were instantly recognizable for their bright shade of pink and little cat ears. While it may not be thought of as such, design has played an integral role in social justice movements.
That is a lesson Parsons lecturers Tamar Samir and Lauren Krauze are imparting to their First Year Language Support students. For the first time this past spring, students in the program explored the connection between fashion and pressing social issues through research and practice.
"We wanted to show students that they could use their passion for fashion to take on meaningful topics that were important to them," says Samir. "This approach created a tangible experience of discovery, curiosity, and meaning within the research process, which leads to them making a statement, creating awareness, or even solving a problem."
Addressing pressing issues in their thesis projects, students researched a series of high fashion photos that aim to empower women who breastfeed, a customizable coat for homeless people in New York, and a style book that documents the often cruel process of turning animal skins into luxury leather products.
Students also highlighted issues that are not typically in the mainstream news, underscoring their global backgrounds. A video created by a Korean student promotes awareness of Korean 'comfort women' who were violated by the Japanese army during World War Two. Another student reimagined the stepsisters from Cinderella as role models for young women.
"We created this foundational research experience in the first year so they can incorporate these research tools and techniques during their next three years at Parsons," says Krauze. "Many students also learn that they approach research topics with preconceived notions and stereotypes, but with the information they discover — which is often surprising to them — they are led to create, and later support, their own theories and opinions."
Parsons and The New School have a long history of supporting social justice movements and educating activists. The curriculum is constantly evolving to tackle social issues, which includes Open Style Labs in Parsons, a class where students learn how to design for people of all abilities, and is highlighted by recent partnerships with Yoox and Kering, which highlight sustainability and The New School's commitment to the environment.
"In our class, we watched documentaries on the growing human and environmental costs of the fashion industry, and invited guest speakers who are using their design educations to solve social issues," said Samir. "Design has the potential to cause harm, but it can also help solve problems."