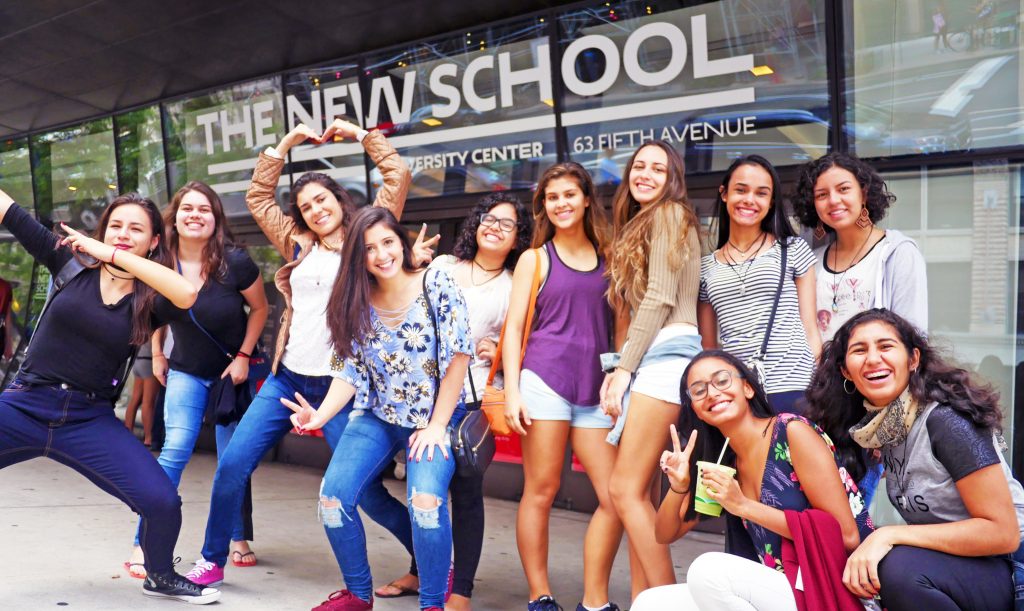 Brazilian Women Immersed in Academic Life as Part of English Language Studies Pre-College Intensive
In Brazil, women are in the majority — not just in terms of population, but also the labor market and university enrollment. In other words, the success of Brazil rests on the success of women.
Based on the belief that educating and empowering women is the main avenue for development in Brazil, The New School's English Language Studies department hosted 11 students from the country for the inaugural year of its Pre-College Intensive English Program developed in partnership with Barnard College and Brazil's CSN Foundation.
Selected from a highly competitive pool of 800 applicants as part of the CSN Foundation's Winning the World Scholarship, 16- to 18-year-old students — chess champions, NASA aeronautic enthusiasts, social justice bloggers, rock band members, and more — earned the opportunity to study English language immersion in a New School classroom and explore the rich cultural life of New York City. They also heard lectures by New School faculty members in a range of subjects, including data visualization, New York immigrant history, sustainability, and design.
"While advancing their learning academic English skills, the students had the opportunity to develop a creative and critical voice and make impactful cross-disciplinary connections," says Caitlin Morgan, Director of English Language Studies, who led a team of ESL instructors and staff to shape the Pre-College Intensive English Program.
After their experience at The New School, students will return to shape their home country and its future.
"Being selected by the Winning The World Program opened doors for me that I never expected to open," says Carolina Losada, a participant in the Pre-College Intensive English Program. "It showed me how big the world is and that with the help of the right people, you can conquer it."