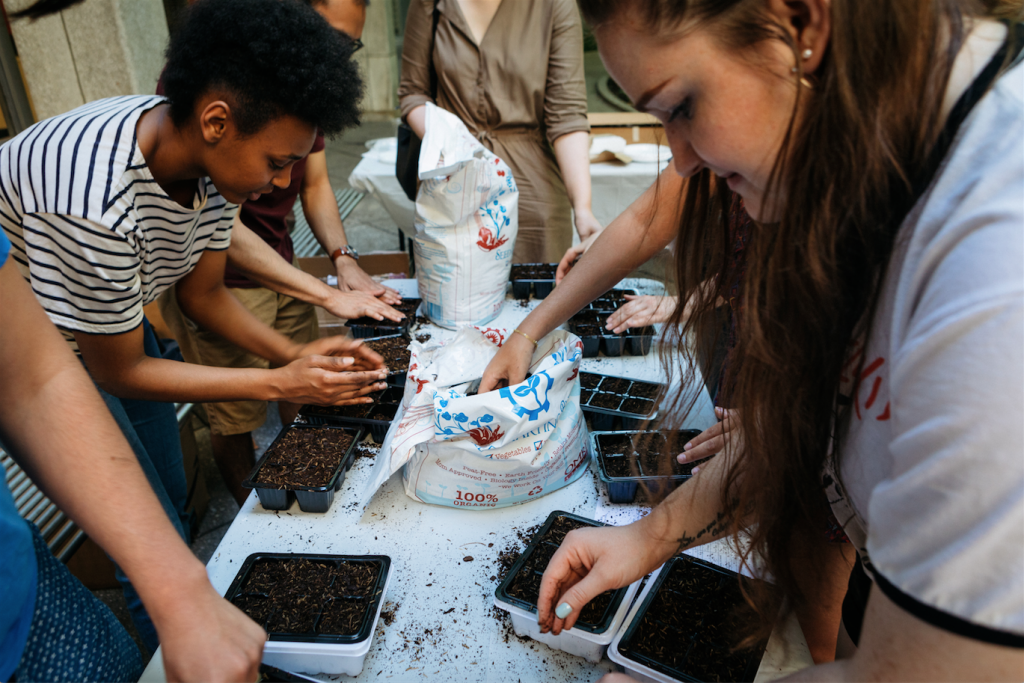 New School Students Propagate Ballast Seeds for Vera List Center Exhibition Exploring Human Migration
In the centuries leading up to World War One, international trade ships traversed the sea-lanes as they delivered goods — and people — to European port cities.
In many cases, the ships were balanced by ballast made from soil that carried seeds, collected from the European continent, which were then dumped along the shores of New York City.
Recently, in the Eugene Lang College courtyard, New School students gathered to propagate and grow seeds of the same species of plants that travelled in the ballast soil. Once grown, the plants will represent the rich history of human migration.
The plants will be featured in an exhibition by Brazilian artist Maria Thereza Alves, winner of the 2016-2018 Vera List Center (VLC) Prize for Art and Politics. The biennial prize honors an artist or group of artists for a project that advances social justice in profound and visionary ways.
Co-curated by Carin Kuoni and Amanda Parmer of the VLC, the exhibition, Maria Thereza Alves, Seeds of Change: New York—A Botany of Colonization, is the first iteration of Alves's Seeds of Change project in the United States. Through the project, Alves reveals contemporary and century-old patterns, temporalities, and instruments of colonialism, slavery, and globalization. The exhibition opens at the Arnold and Sheila Aronson Galleries in the Sheila C. Johnson Design Center at Parsons School of Design on November 3.
Developed by Alves in various cities since 1999, Seeds of Change has taken several forms, including a floating garden containing plants grown from the seeds of ballast plants.
In planting and caring for the plants, students are not only participating in the creation of the exhibition, but also "learning about an often overlooked history and means of tracing colonial trade," says Carin Kuoni, director of the VLC.
Progress on the project will be reported through a weekly newsletter produced by participating students and Sanna Almajedi, curatorial intern at the VLC, and published on the VLC's website and social media.