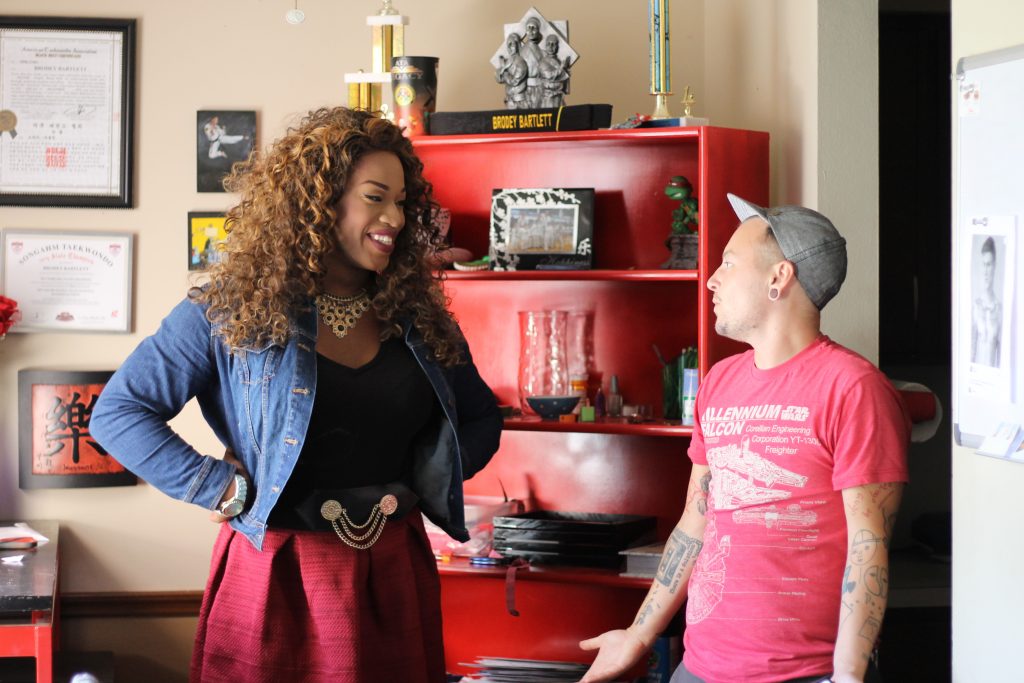 Students Design 'Prized Solutions' to Pressing Issues in Inaugural CNYCA Contest
When HB2 — a bill barring transgender people from using government restrooms and changing facilities that corresponded to their gender identity — was approved in North Carolina, supporters saw it as a "common-sense law designed to ensure public safety."
Basil Soper saw something nefarious: An attempt to legislate discrimination against trans people and curtail their right to exist in public spaces.
"I transitioned in North Carolina," Soper, BPATS '18, recalls. "I understood the horrifying impact that HB2 would have on trans people, not just there or in the Southeast, but all over the United States."
Soper decided to take action to combat the transphobia epitomized by this "de-humanizing legislation." To that end, he and his colleague, fellow New School student Johanna Case, BPATS '18, created Transilient, a project "promoting trans humanization by engaging with trans and gender-nonconforming folks," Soper says. The project, which has been praised by Buzzfeed and Mashable, is a digital repository of raw, unedited interviews and photographs of 50 diverse trans and gender-nonconforming people from across New York City and the United States.
Transilient is one of five winners of Prized Solutions: Reimagining NYC. Organized by the Center for New York City Affairs (CNYCA) at The New School, the competition challenged students to submit research and proposals aimed at addressing the most challenging social and economic problems facing communities in New York City.
"This is truly The New School at its best," says Kristin Morse, executive director of CNYCA. "The winners of this competition are tackling relevant social issues through rigorous research and remarkable creativity."
In addition to Transilient, the winners include:
Stories on Air

, a project by MFA Transdisciplinary Design students Lauren Atkins, Noa Bartfeld, and Haijing Zhang that enlists satellite technology in the battle for environmental justice

Family Shelters in NYC

, a series of data visualizations by Kobi Loehr, Urban Policy Analysis and Management '17, that offers insights on the connection between city shelters and the stresses of homelessness

Sunset Park Connect

, a project by MA Urban Design and Ecology students Lyric Kelkar, Eduarda Aun, and Zara Faroo that combines extensive neighborhood research with interviews, surveys, and "participatory mapping" exercises to address school overcrowding in a heavily immigrant community

Biodiesel and NYC: Acting locally — and creatively — to attack global climate change

, a proposal by Marriele Robinson, MA Environmental Policy and Sustainability Management '17, to encourage greater use of biodiesel fuels as an alternative to more heavily polluting fossil fuel heating oils
Through Transilient, Soper and Case are tackling one of the country's most pressing social issues. Traveling a 10,000-mile loop around the country, Soper and Case interviewed and photographed dozens of trans and nonconforming people, creating a rich, humanizing portrait of a marginalized group.
"We chose photography as a way to make it so viewers couldn't pick apart a trans person by hearing their voice or analyzing their body movements," Case says. "We wanted to take candid photos and have easy conversations and not stage anything. This way, people can see trans people as being more relatable and stop continuing to 'other' them."
Looking ahead, Soper and Case are hoping to team up with other organizations to broaden their message and travel around the world to uncover the stories of trans and gender-nonconforming individuals in other countries.
Says Soper, "We're hopeful about living in a world that is more inclusive of all of us."